| | |
| --- | --- |
| Address: | 323 Alexandra Road, Park Hotel Alexandra, Level 7 Singapore 159972 |
| Tel: | +65 68288880 |
| Operating Hours: | 6.30pm to 10pm Monday to Sunday |
| Website: | http://www.parkhotelgroup.com/alexandra/the-carvery-,dining_viewItem_392-en.html |
Prices:
Sunday to Thursday
S$78++/adult,
S$42++/child (between 5 to 12 years old)
Friday & Saturday
S$88+/adult,
S$48/child (between 5 to 12 years old)
''The Great Meat Feast'' will be available from 28th September 2016 to 22nd October 2016.
Throwback to about a month ago where I had a very satisfying beef dinner at The Carvery. Tried all the beef that are going to be available on the buffet line and they are all perfectly roasted.
''The Great Meat Feast'' is an addition to the existing roasts and hot dishes like Rotisserie Chicken, New Zealand Roasted Leg of Lamb, Pork Knuckle, Mashed Potatoes, Yorkshire Pudding etc.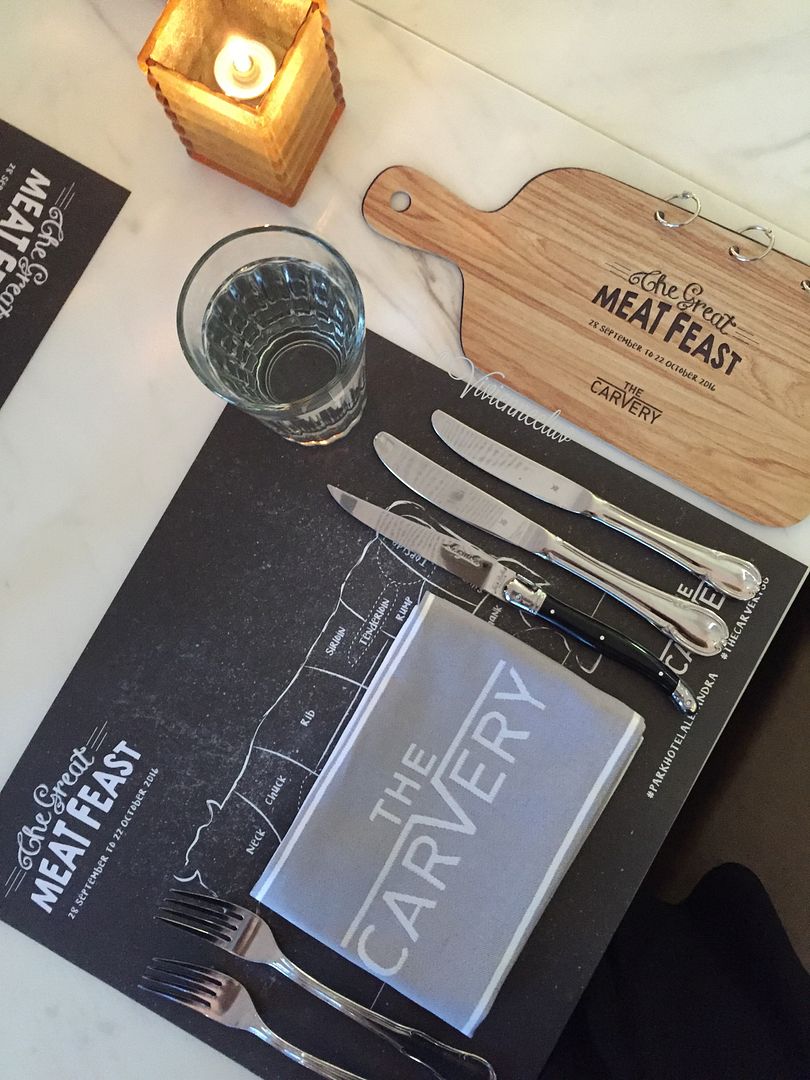 The cuts of beef will be on a rotating basis, however the same types of beef will all be available.
These are what to expect in ''The Great Meat Feast'':
Mayura Full-Blood Wagyu (Australia): 500-day chocolate and grain-fed cattle gives this beef an iconic sweet and nutty nuance.
Cape Grim (Tasmania): Grass-fed and free-roaming cattle from Cape Grim which is ''home to the cleanest air in the world''. Meat from these cattle is known to be big in beta carotene and antioxidants.
Zebu (Brazil): Brazil's national favourite meat garnered from the hump of the gras-fed cattle, is specifically used all across churrascaria's worldwide and is prized for its firm texture and strong taste.
Black Angus (USA): This grain-fed meat is famous for its finely and evenly marbled flesh, which is tender, juicy and intense on the palate.
New Zealand Beef: Usually known for its good quality and value-for-money, free of antibiotics, Hormone Growth Promotants and Genetically Modified Organisms, essentially organic.
Aomori Rice Beef (Japan) that will only be available on Friday & Saturday: 20-month old cattle from Northern Japan that is fed whole rice plants and fresh spring water from Mount Hakkoda. (My personal favourite!)
There are condiments and sauces to go with your meats:
Truffle Butter (which is my favourite) for chicken and beef, but I actually paired it with EVERYTHING
Anchovy Butter for any meat
Veal Jus, Red Wine Sauce, Chicken Gravy for all the roasts
Black Lava Salt
Pink Himalayan Salt
Malden Sea Salt
Chili-Infused Salt
Thank you The Carvery for the kind invitation to an awesome meat feast preview.