| | |
| --- | --- |
| Website: | http://www.pokka.com.sg/pokka/ |
| Facebook: | https://www.facebook.com/POKKA/ |
''Fight Cancer Together, One Litre at a Time'' campaign is currently ongoing from 1st August 2016 to 30th September 2016.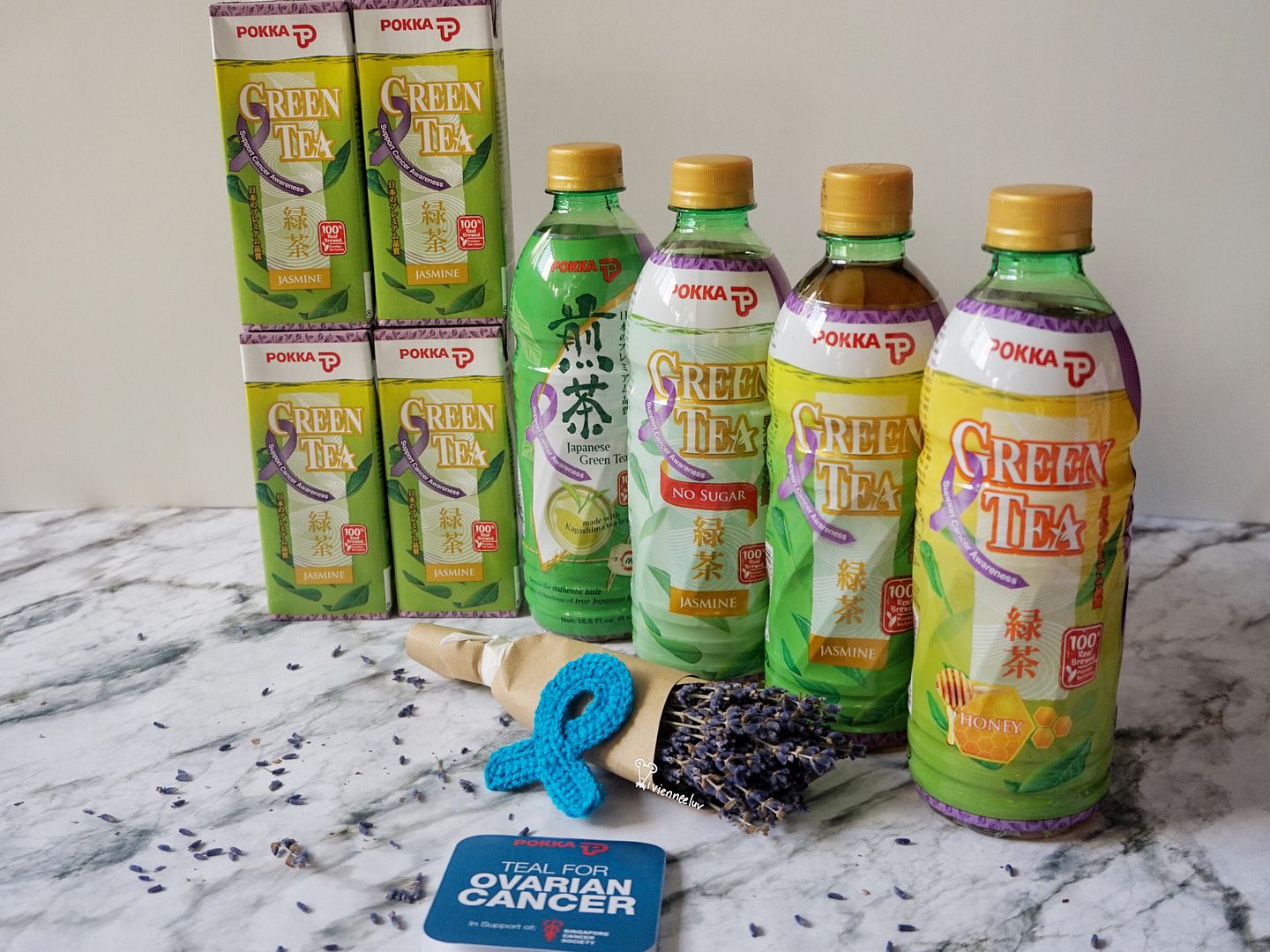 POKKA has always been a household name and is Singapore's leading beverage company with one of the widest selection of healthier-choice drinks certified by Health Promotion Board.
In order to raise cancer awareness and ease the financial burden of cancer patients in Singapore, POKKA is working with
Singapore Cancer Society
to roll out ''Fight Cancer Together, One Litre at a Time'' campaign.
Love the package that I received from POKKA a few days back.
During the campaign period, POKKA released a limited edition packaging (featuring a lavender ribbon in support of the fight against cancer) for its Green Tea Variants (Jasmine Green Tea, Honey Green Tea, Jasmine Green Tea No Sugar, Japanese Green Tea).
Less than 1 million litre sold: 0.6 cents/litre will be donated
Less than 2.5 million litres sold: 0.8 cents/litre from 1 million litre onwards will be donated
Less than 5 million litres sold: 1 cent/litre from 2.5 million litres onwards will be donated
5 million litres and above sold: S$50,000 will be donated
As of 8th September 2016, 2.5 million litres were sold, S$18,000 is collected.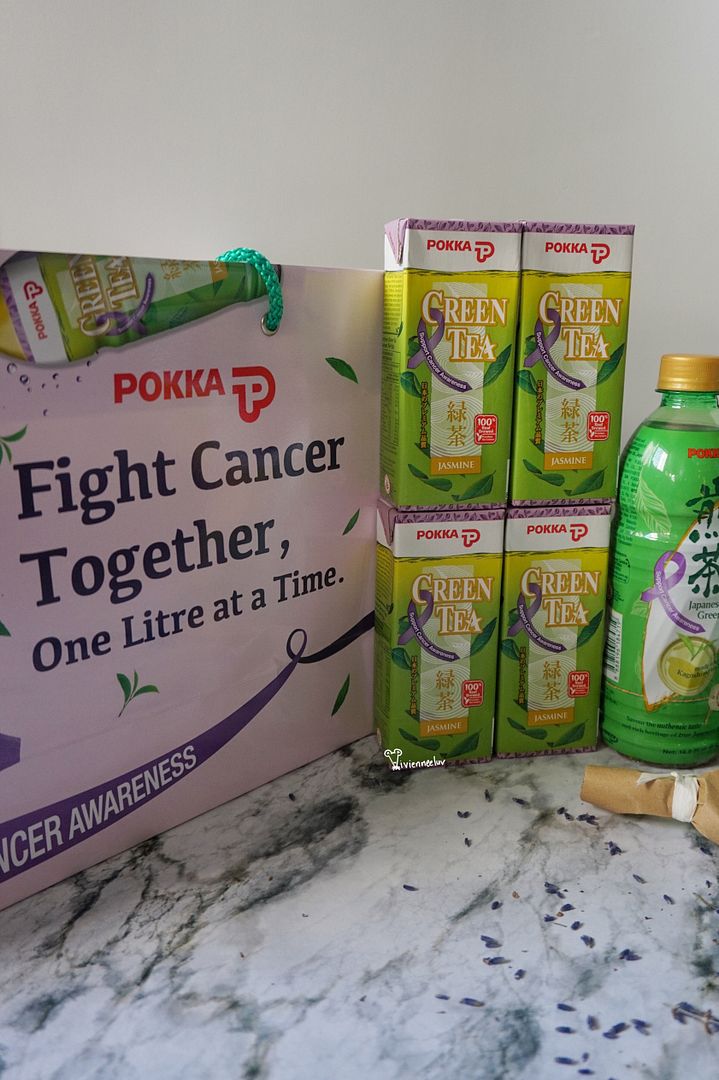 There will also be roadshows where the public can participate in games and activities with the purchase of any POKKA Green Tea drink.
Roadshow schedule 12pm to 8pm:
17th September to 18th September 2016: FairPrice Hyper NEX
24th September to 25th September 2016: Giant Vivocity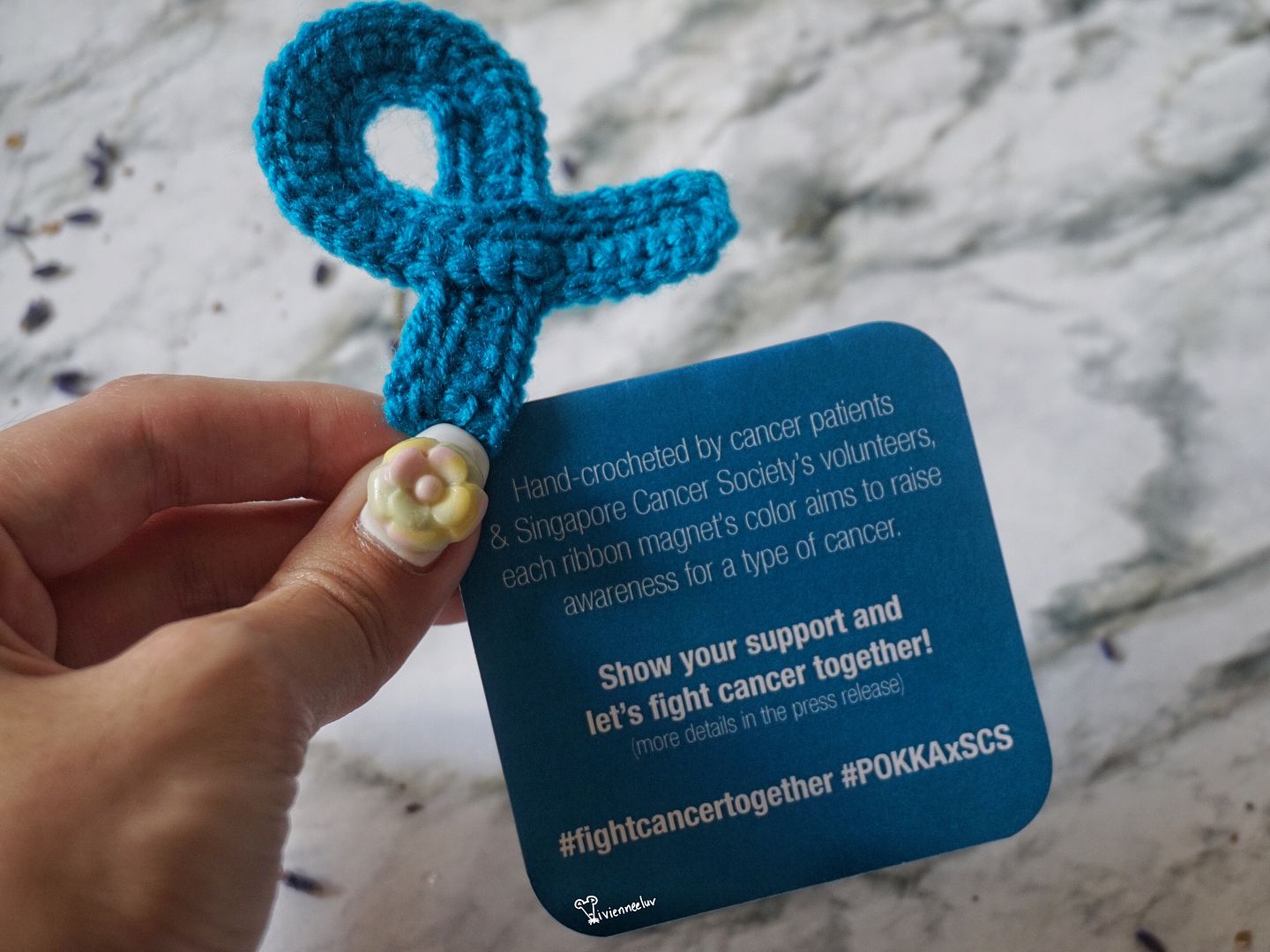 At the roadshows, these lovely hand-crocheted magnets (by Singapore Cancer Society's Crochet of Love volunteers) will be sold and 100% of the sales proceeds will go to Singapore Cancer Society.
There are a total of 5 colours variations, each representing a different type of cancer. The one I am holding here is in Teal, for ovarian cancer.
The rest will be:
White: Lung Cancer
Light Blue: Prostate Cancer
Royal Blue: Colorectal Cancer
Lavender: General support of the fight against cancer
Show our support and fight cancer together!
Thank you POKKA for the lovely package.