Website: http://www.dintaifung.com.sg
Promotions:
Pearl Rice Dumpling with Pork & Yam in Lotus Leaves Wrap is available from 1st May 2015 to 30th June 2015. Exclusively available at 10 restaurants.
Customers will receive a complimentary Red Bean Rice Dumpling with a minimum spending of S$100 (Citibank Cardholders - minimum S$90 spent)
Purchase a pretty limited edition Insulated Picnic Bag at S$8.90 with any purchase.
Red Bean Rice Dumpling S$5.50
Specially air-flown from Din Tai Fung Taiwan, these unique rectangular, handmade dumplings consist of finely-mashed red bean paste, which is not overly sweet, it taste perfect together with the soft, chewy glutinous rice.
And most importantly, its on Din Tai Fung's regular menu so I can have it anytime!
Pearl Rice Dumplings with Pork & Yam in Lotus Leaves Wrap S$12.80
I still remembered how tasty the savoury rice dumplings were, at Din Tai Fung
last year
.
This year's DragonBoat Festival, we were treated to their all new dumpling, maybe not quite a dumpling but more like a ''he ye fan'' to us.
The Taiwan glutinous rice is soft and springy, with a melt-in-mouth tender pork belly that has been braised for 4 hours and succulent deep-fried pork chop marinated with secert-recipe sauce, that tasted like the one we always had on our DTF's fried rice.
There are also premium japanese shiitake mushrooms, yellow beans, tian jin chestnuts, yam and dried shrimps to give this dumpling an extra oomph. It is huge and can be shared between 2 person, in my opinion.
Pearl Rice Dumplings with Pork & Yam in Lotus Leaves Wrap is exclusively available at 10 outlets:
Paragon
Breadtalk IHQ
JEM
Junction 8
Jurong Point
Marina Bay Link Mall
Marina Bay Sands
NEX
Waffles City
Tampines Mall
Although we were here for the dumplings, we couldn't resist ordering our hot favourites from DTF, which you may have seen many times in my Instagram & Blogpost.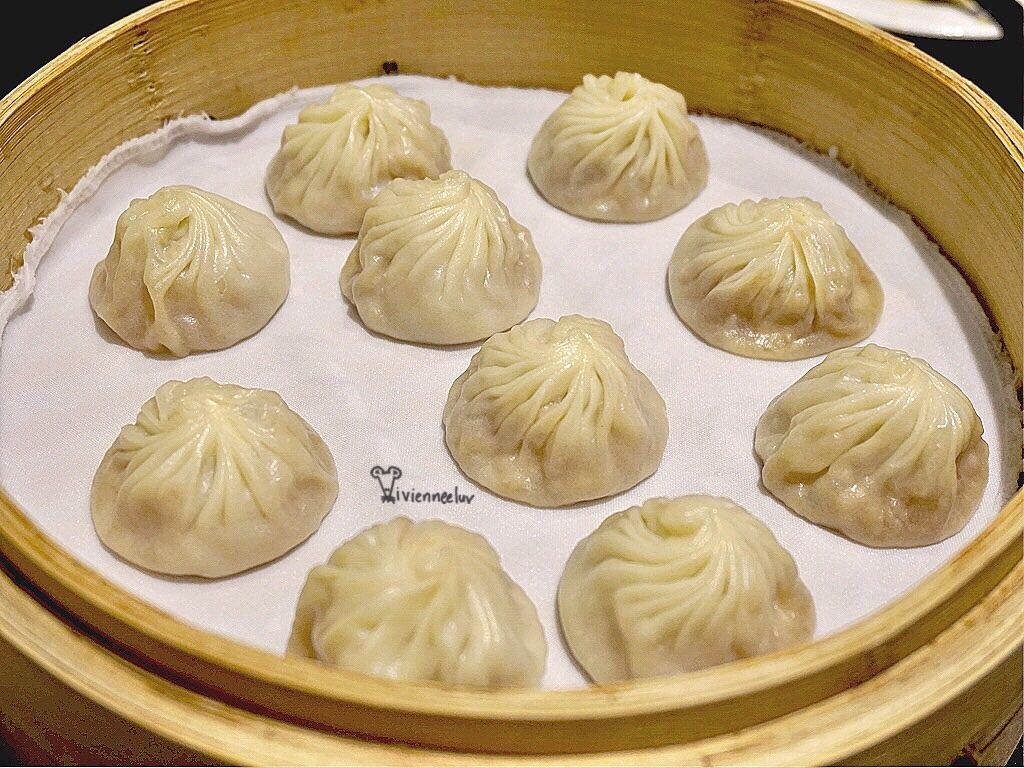 Steamed Pork Dumplings 小笼包 10 pcs S$10.30 / 6pcs S$7.80
Crispy Golden Prawn Pancake 酥脆腐皮虾饼 S$10.30
Consisting of fresh prawns wrapped in a delicate layer of bean curd skin and deep-fried to perfection, the Crispy Golden Prawn Pancake makes a scrumptious side dish that will leave one coming back for more.
Fried Rice with Shrimps & Eggs S$12.80
A classic dish comprising simple ingredients such as rice, shrimps, eggs and spring onions. Every grain of the premium Taiwan pearl rice is coated with egg and stir-fried with minimal seasoning so that the natural fragrance of the eggs and spring onions shine through.
Thank you Din Tai Fung for having us!