HAZE. This post shall mark the end of July 2013.
Life had been back to normal - pre-haze days. It seems so far away but yet it was only last month that the haze invaded our country.
This also shows how unprepared we were for situations. Any situation may happen. Anything.
We could not bear to stay at home because it is so warm, without air con, but yet we couldn't open the window, it is like ''hello haze, welcome to my house, fog my whole house.''
We have to brave through the haze to go out to take public transport so as to get to work. This is not all. Even the office is not excused. Haze is everywhere. The most powerful ''natural disaster'' is actually through air. Be it poisonous gas or anything that you can think of.
Months back, there is actually a drill in the office, not fire drill this time round, but is poisonous gas drill. For a moment I thought it was for real as nobody informed us anything about it and the announcement went like ''we have detected an unknown gas in the compound, please seal up all the windows/doors/openings, remain calm and wait for further instructions.''
I am not saying this is a big deal or no big deal, but through this situation, I realised everyone has to be prepared anyway, for anything to happen, like for an example stocking up N95 at home LOL! Well, I am serious though, and yes I stocked up about 20-30 N95 for my family ad maybe friends, just in case.
And I just want to say when you wear N95 and surgical mask, you will find surgical masks are as good as not wearing. N95 really blocked out 90% of the smell.
Anyway, pictures on the first day I find that the skies is clearer, so I actually went out for a walk!
Its as if seeing the whole town coming to life! Hippo bus came out to play too!
This, is normal to us now. But this was really heartwarming and bring tears to my eyes because we hardly see the sky last month.
NDP rehearsal was supposed to be cancelled. I guess that they saw that the weather is good so they had a rehearsal (with fireworks!)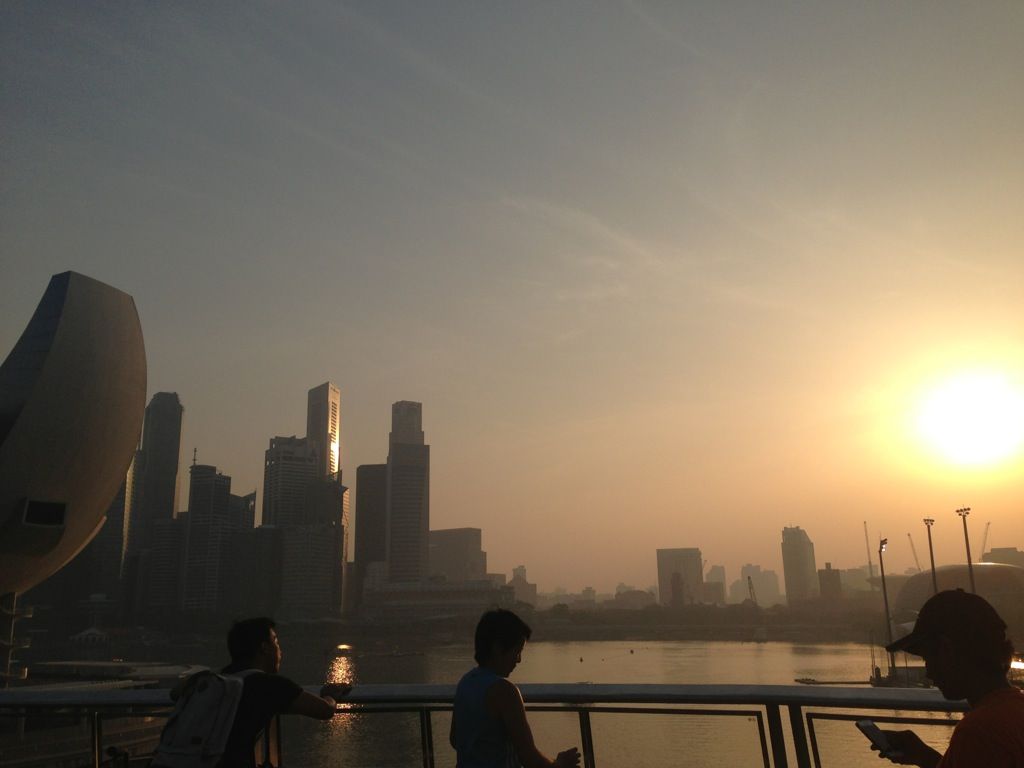 Still a little hazy, but heck! I sat outdoor for hours!
The sun is like what you see in the pic. Even sun is not shining at its brightest.
I guess everyone is feeling as happy as I am. :D
Top is on hazier days. Bottom is the 1st better night when the haze left us.
Appreciating every single thing/people in my life right now.