| | |
| --- | --- |
| Address: | 176 Orchard Road #02-52 & #02-K01 The Centrepoint Singapore 238843 |
| Tel: | +65 67376772 |
| Operating Hours: | 11.30am to 10pm Daily |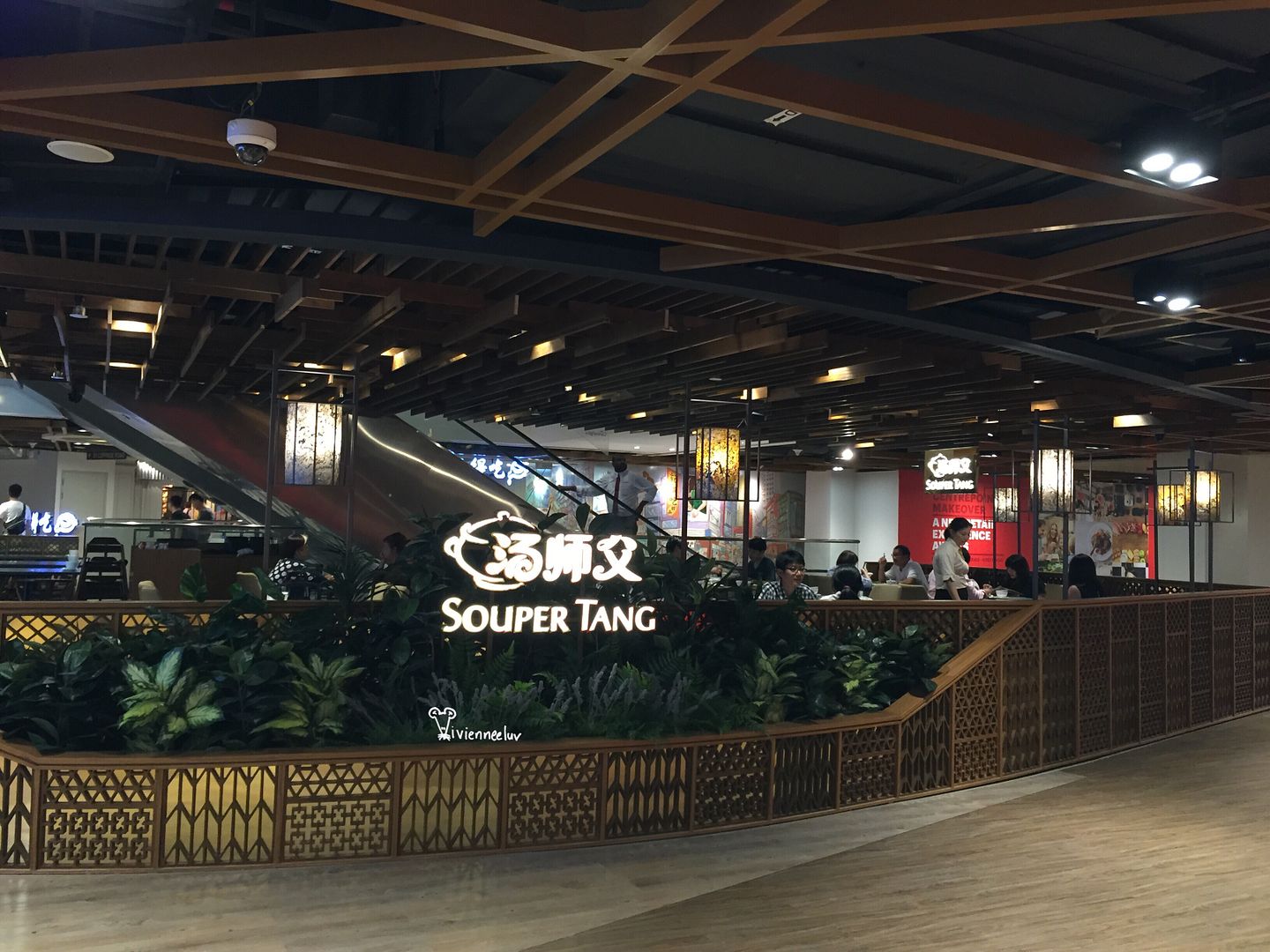 Super Tang, previously known as Tang Shifu (not an unfamiliar name if you have been to JB's City Square Mall often) opens first outlet out of Malaysia, here in Singapore. I haven't been to JB very often but Souper Tang leaves an impression, maybe its due to my love for soups. There are 18 Souper Tang outlets in Malaysia currently.
Centrepoint underwent a revamp and there are many eateries sprouting at the new wing.
Souper Tang has a shelf of buy-home packs of soup, honey vinegar, chicken essence, which are perfect for gifting.
There are 12 types of double boiled soups at Souper Tang and all the sups are simmered for 8 hours, and it takes another 2 hours to cook after other ingredients are added in.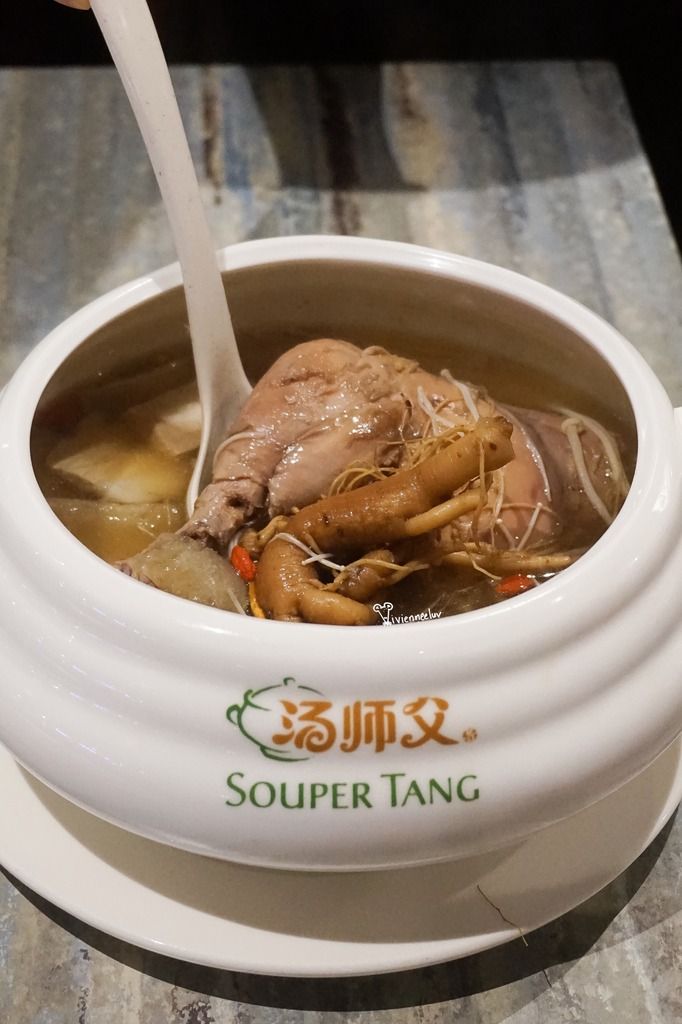 Souper Tang Signature Soup S$26.90 (serves 2)
First dish and its already so good!
Ginseng Chicken Soup needs no introduction. It comes with fish maw too! The chicken is boiled till tender, we can tear off the meat using chopsticks.
This soup helps regain vitality and ''qi'' while boosting concentration and has anti-ageing qualities.
There is also a bigger portion of S$39.90 that serves 4 person.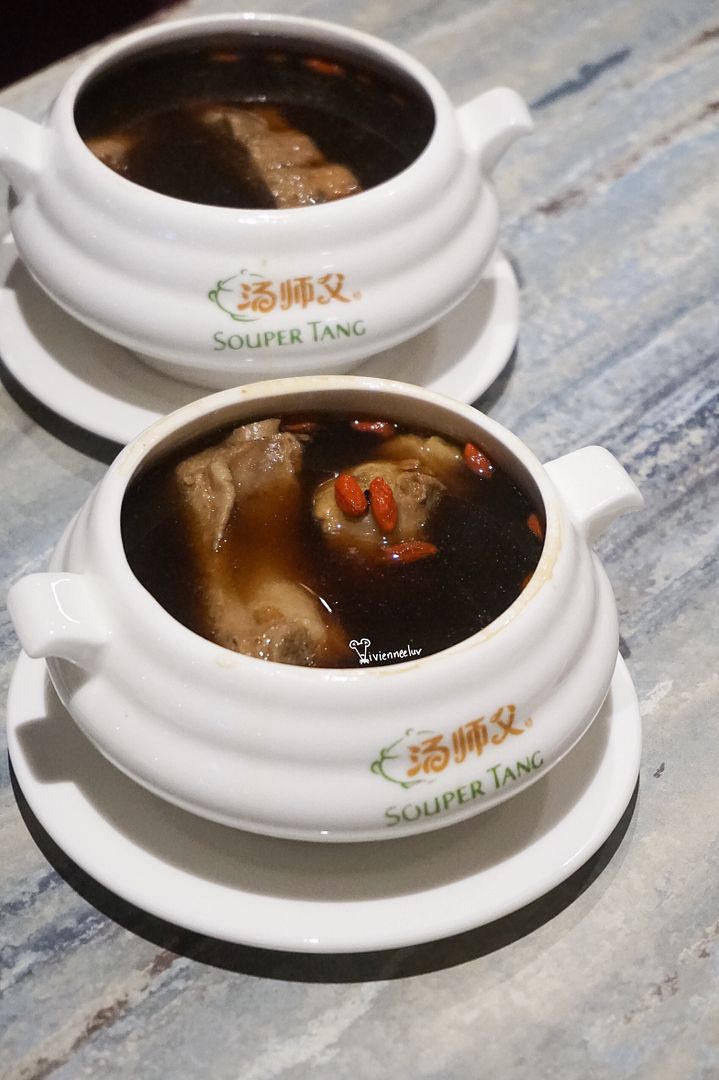 Shi Quan 10-Herb soup with Spare Ribs S$13.90
10-herb is the most common herbal formulas in Chinese medicines, which helps nourish the immune system by stimulating appetite (although I don't need any stimulation), and also helps reduce vertigo and ease symptoms of insomnia.
Claypot Atlantic Codfish Maw S$29.90
Any dish with codfish will not go wrong. High in protein and Omega-3 fatty acids, a whole piece of codfish fillet braised in the rich seafood stock with fish maw and nai bai. One of my favourite definitely!
Pesto Hotpot with Vegetable Basket S$25.90 (serves 2 to 3)
Indeed a special dish as its my first time seeing / drinking pesto + vegetables soup. Apart from pesto, basil, mint, laksa leaf, pine nuts and green vegetables are used in making this heathly-looking soup, therefore this is suitable for vegetarians. A pity this is way too healthy-tasting for me.
The hotpot comes with a basket of vegetables such as Chinese spinach, corn, enoki, eryngii mushrooms, thick beancurd skin, beancurd sheets, tau kwa, black fungus, and red sweet potato noodles.
Stewed Chicken Cordyceps Flower and Essence of Chicken S$19.90
A bottle of Souper Tang Chicken Essence is added into the claypot comprising of free-range chicken, ginger, goji berry and red dates. The chicken essence helps improve overall immunity.
I prefer drinking my chicken essence in one shot than sharing it in a pot. Definitely a very selfish person here.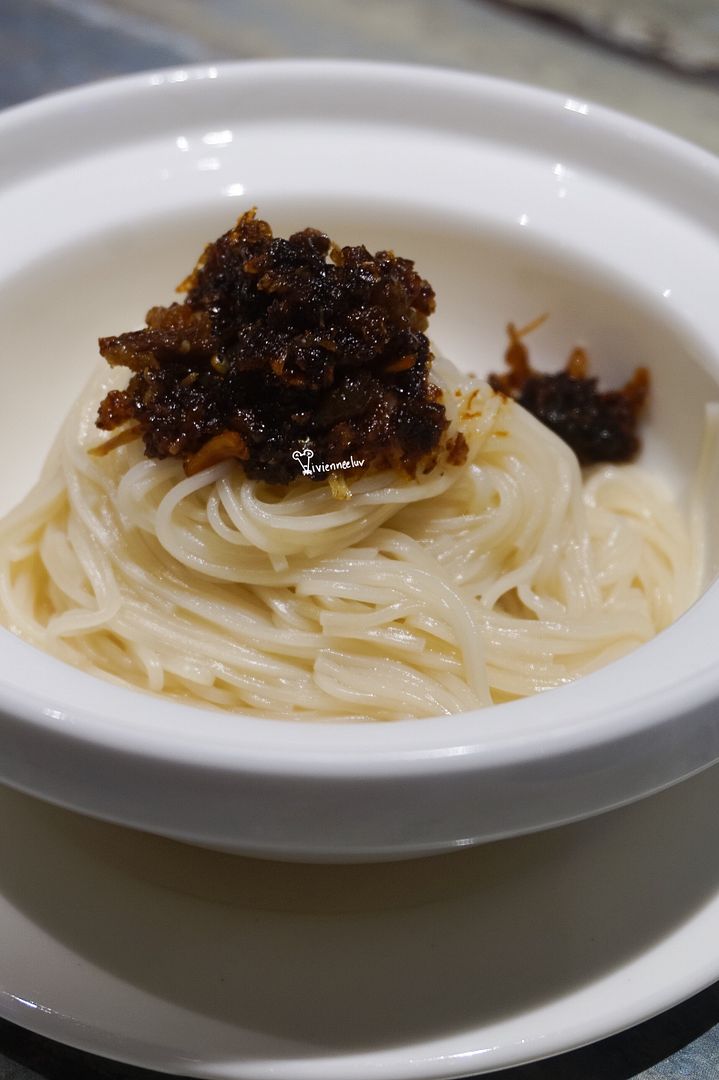 Mee Suah tossed in homemade XO Sauce and Abalone Sauce S$3.90
A mini portion of mee such simply tossed in XO sauce, replace our white rice that night. Its so good that I know my mum will love it. Cant wait to find a chance to bring her to orchard so that I can re-visit Souper Tang!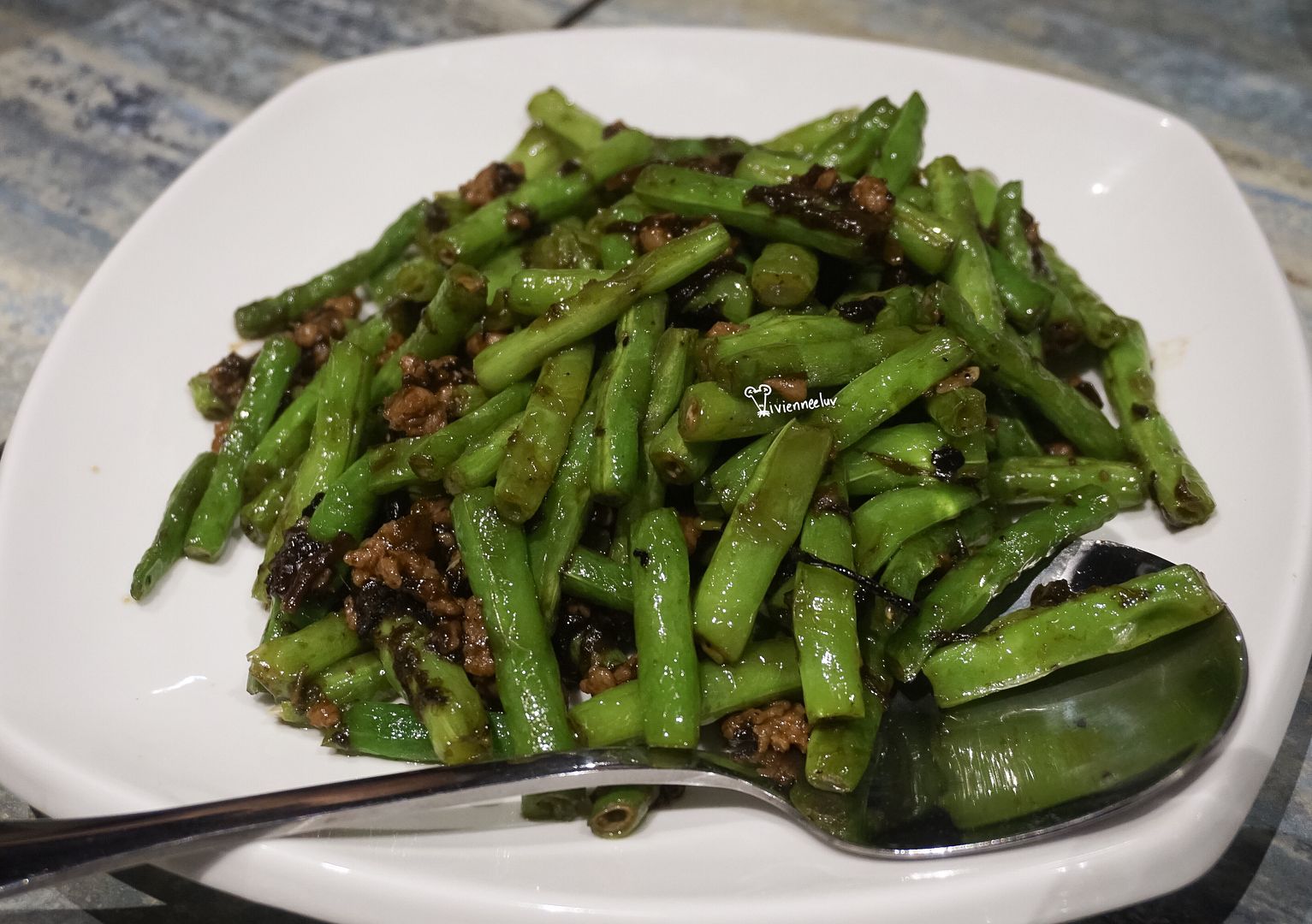 Stir Fried French Beans with Pu Er S$11.90
Very simple but delicious plate of french beans. The savoury sweet french beans make me feel like cleaning up the whole plate. I didn't know there is pu er tea added when frying up the french beans, couldn't really taste it but its already very good be it with or without. Typing this gets me mouth-watering all over again.
Home Braised Pork in Rich Dark Sauce S$18.90
Don't look appetising at all but trust me, when this dish was served to our table still sizzling hot, it smells great and taste even more fantastic.
The pork belly is cooked with oolong tea, angelica root, star anise and orange peel for 45 minutes, so its melt-in-your-mouth kind of texture. its served with homemade spinach mantou and cucumber sticks coated with a crisp walnut, sesame, and broad bean sauce.
The mantou smells so good and it totally smell and taste like pandan mantou instead. Not complaining because it is good.
Take a piece of pork belly and place it on the mantou with 2 sticks of cucumber, it taste really different as compared to eating the pork belly on its own.
Homemade Beancurd Pudding with Caramel Sauce S$3.50
Homemade Beancurd Pudding with Caramel Ginger Sauce S$3.90
We ended our meal with beancurd! The beancurd already tasted good on its own, you can choose between caramel sauce or caramel ginger sauce. I prefer the latter due to the spicy-sweet aftertaste.
And the beancurd are served in buckets, too cute!
A IG friend actually texted me after he saw my post, he was telling me the price difference as compared to Malaysia. Although its really more expensive here as compared to the prices in Malaysia, but I personally feel the prices are quite reasonable, taking into consideration the herbs and ingredients used. I am definitely going back to Souper Tang!
Thank you Souper Tang for the invitation.