| | |
| --- | --- |
| Address: | Marina Bay Financial Centre (Ground Plaza) #02-01 |
| Website: | http://www.crystaljade.com/index/ |
Weekend Brunch is available on every weekend from 1st May 2016 to 26th June 2016 between 11.30am to 3pm.
Its priced at S$58 per person (S$48 for Jadeite members paying by DBS/POSB cards), or you can opt for the brunch with free flow exquisite Verve Clicquot Yellow Label Champagne at S$98 per person (S$88 for Jadeite members paying by DBS/POSB cards).
Last weekend, I went to Crystal Jade Prestige again, this time its for the weekend brunch menu with 3 other friends! Who doesn't love dim sum?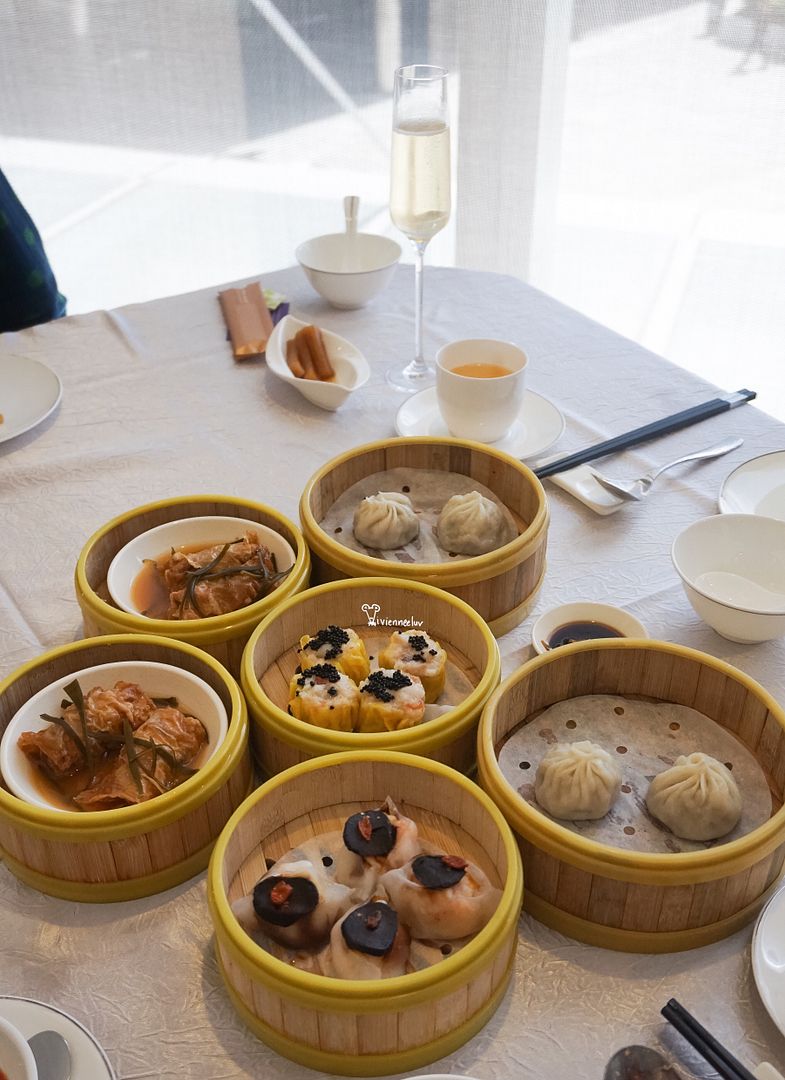 Weekend Brunch Menu
Customer can choose 5 dim sums, 1 appetiser, 1 roast, 1 soup, 1 wok-fried and 1 dessert.
Dim Sum
(Choose 5)
Baked Abalone & Diced Chicken Pastry
Set my expectation too high for these, and my first dish got me a little disappointed. The abalone are also diced, like the chicken, a pity we cannot really taste/tell which is abalone or mushroom?
Steamed Pork & Shrimp dumpling topped with caviar
Steamed Dumpling with Shrimp topped with Black Garlic
We also had Steamed Shanghai Xiao Long Bao. Fresh ingredients are the key to making good dim sums.
Poached Beancurd Skin rolled with Prawn in Superior Broth
Like how the beancurd roll with prawns got soaked in the flavourful broth.
Appetiser
Deep-Fried Cod Fish Cube with Passionfruit Sauce
Don't know why is this only an appetiser, because we feel that its so good to be one of the ''mains''. I am a cod fish lover and its lightly battered and then deep fried. We can't help but have a second piece.
Roast
(Choose 1)
Crispy Pork Belly
BBQ Pork with Honey Sauce
You can only choose 1 roast in this category, each person will have about 2 slices. A pure-cantonese friend commented that its not up to his standard. Its pretty hard to find a really GOOD roast compared to olden days.
Soup
(Choose 1)
Soup of the day
We did asked whats the soup of that day but i didn't really understand. Its light and perfect to go with this meal.
Scallop and Asparagus Thick Soup
Me, on the other hand had this instead. After this bowl I declared that I am full! Lots of tofu and scallops bits! Me & gf cleaned the bowl.
Wok-Fried Dish
(Choose 1)
Cripsy Chicken with Foie Gras and Mango
Eat this in 1 mouthful! Combi is very good even though I dislike foie gras.
Sautéed Prawn with White Pine Mushroom and Black Truffle Sauce
Prawns are very fresh but a pity we couldn't taste the truffle sauce.
Dessert
(Choose 1)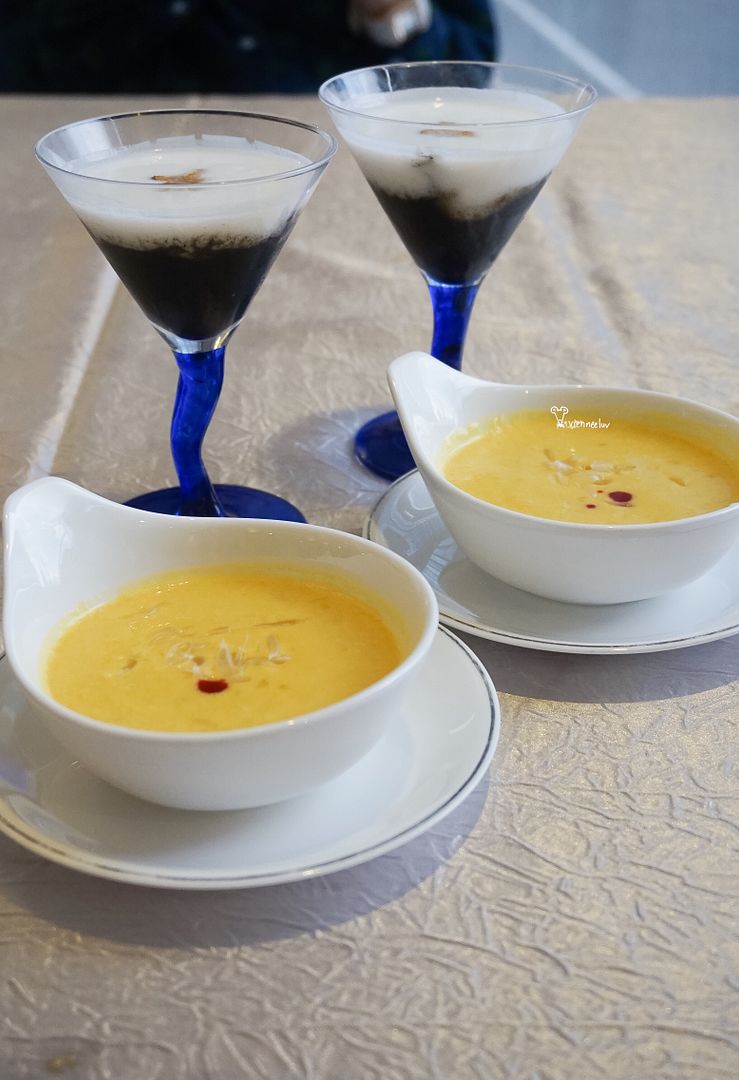 Chilled Mango Puree with Pomelo and Sago
Chilled Black Sesame with Coconut Milk
Decent desserts and we love the black sesame fragrance.
We ended our meal with another round of champagne!
Thank you Crystal Jade for having us!