2nd June 2016 Thursday (Temperature is around 34-35deg cel in the day)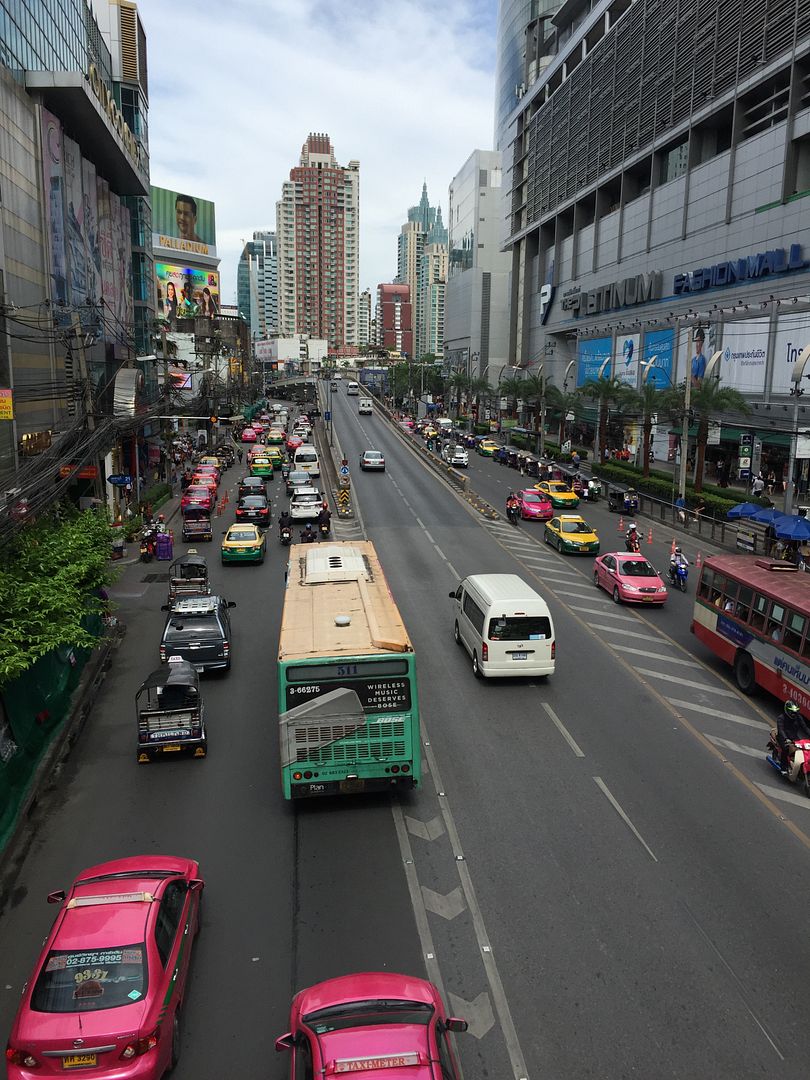 Hello!! Finally I am travelling (as what Cleo said, and she is freaking happy for me, like even more excited than me before I fly). Because work is so bad and hectic that I got no mood at all even the night before I am bound for Bangkok, so much that I even went jogging till late, and leaving with only 2.5 hours of sleep hahah!
I am thankful for this trip and travelling companions, it really keeps my mind off work COMPLETELY for that few days. I am also thankful that I have a no-fuss room partner
Hannah
, and the more BKK experience dong seangs
Jacq
&
Nikki
.
Hannah helped us to communicate a little in thai, and the dong seangs know roughly where to go, keep themselves awake on taxi rides to ensure our safety.
Set off from home and its my first time taking train (in SG) with my luggage, first few steps to independence.
I even checked the first train timing, as I need to arrive at airport at 6.30am.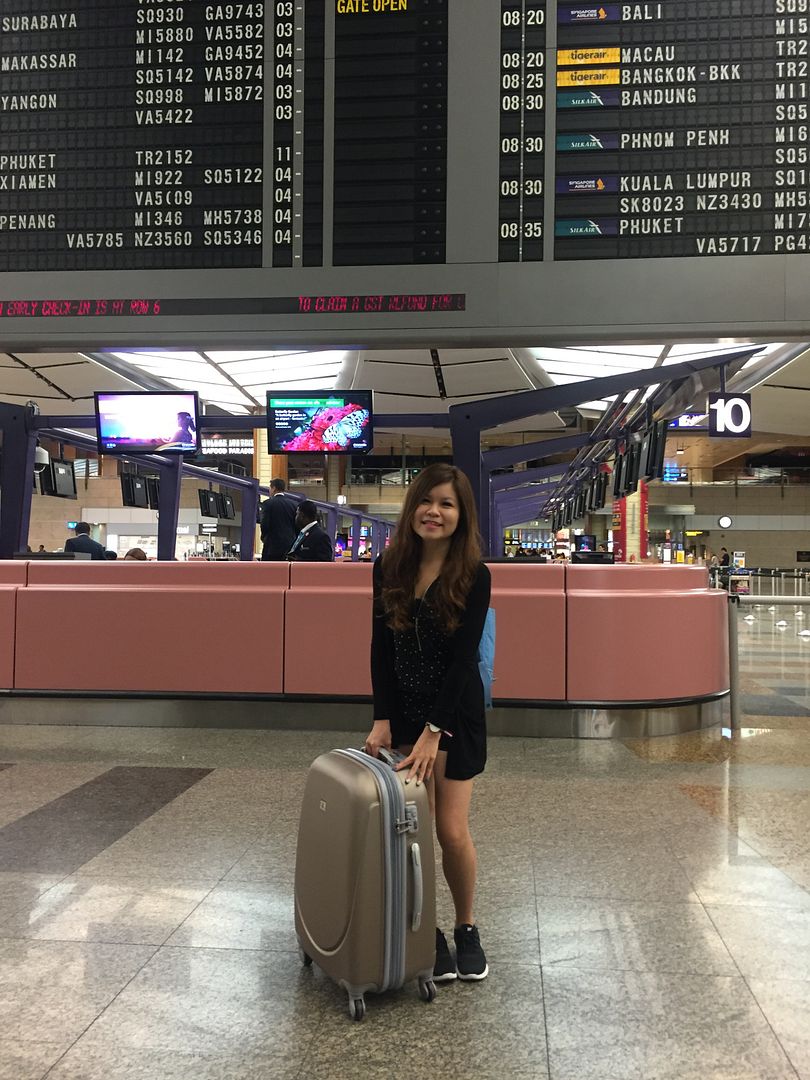 Met up with Hannah first and we took pictures while waiting for Jacq & Nikki. I think many more friends are happy for me because this pic gathered over a hundred likes on Facebook.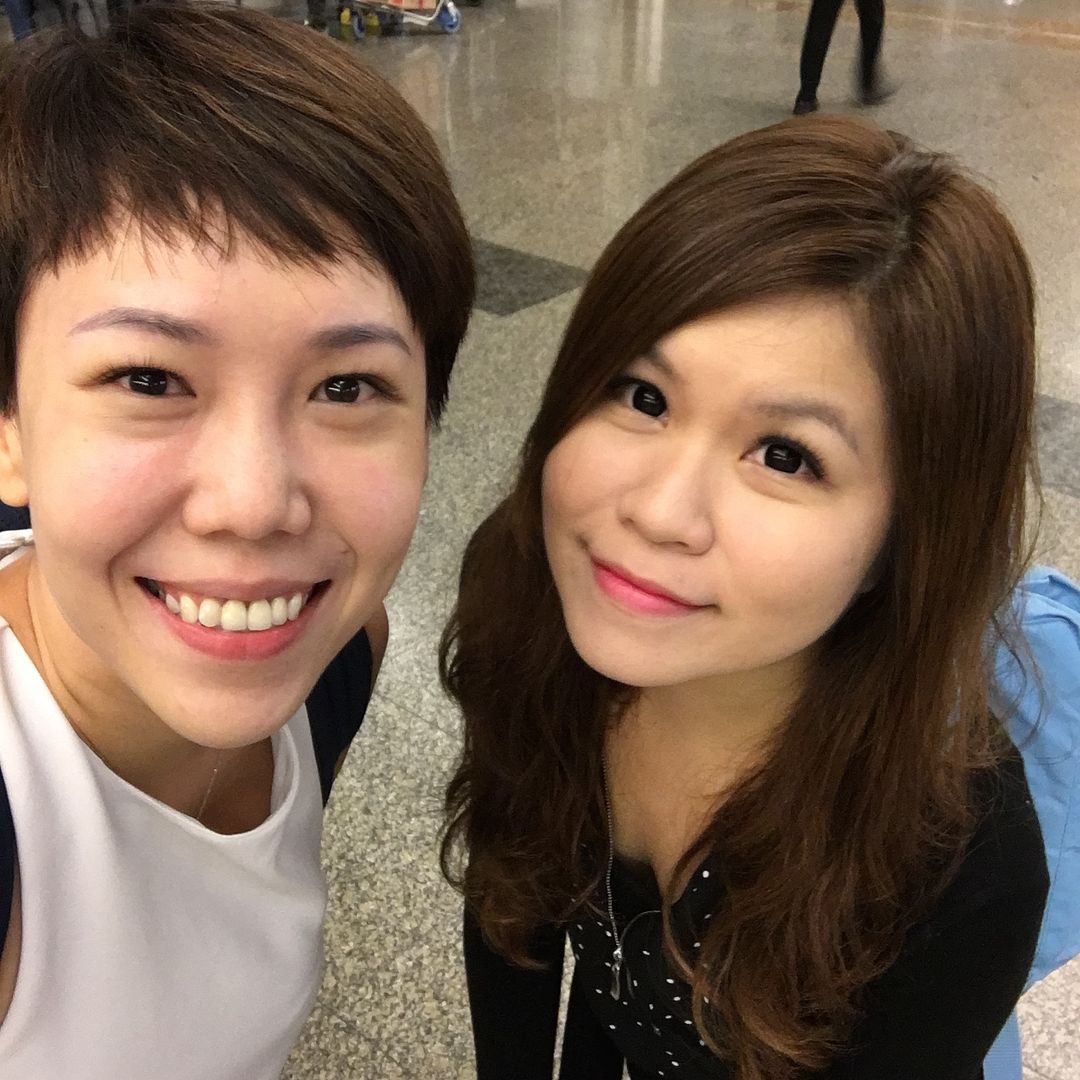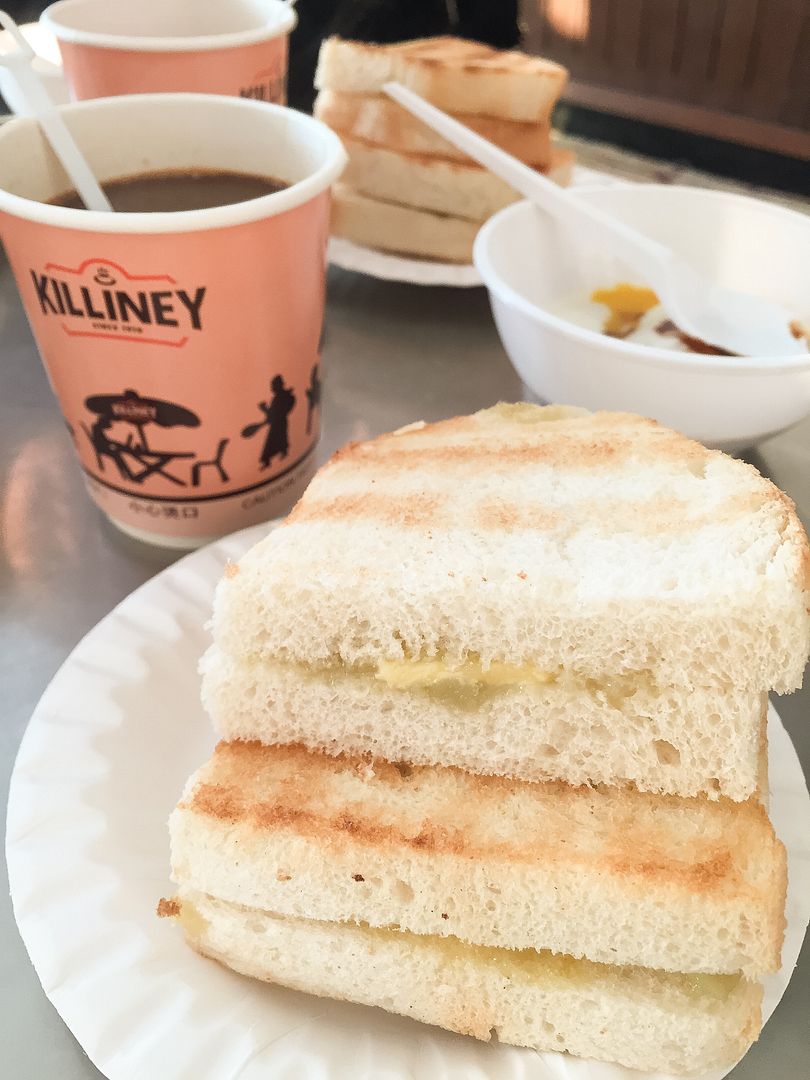 Breakfast after checking in! As we took a budget flight, filling up our tummies before we board, is a must. S$4 for mineral water, no thanks!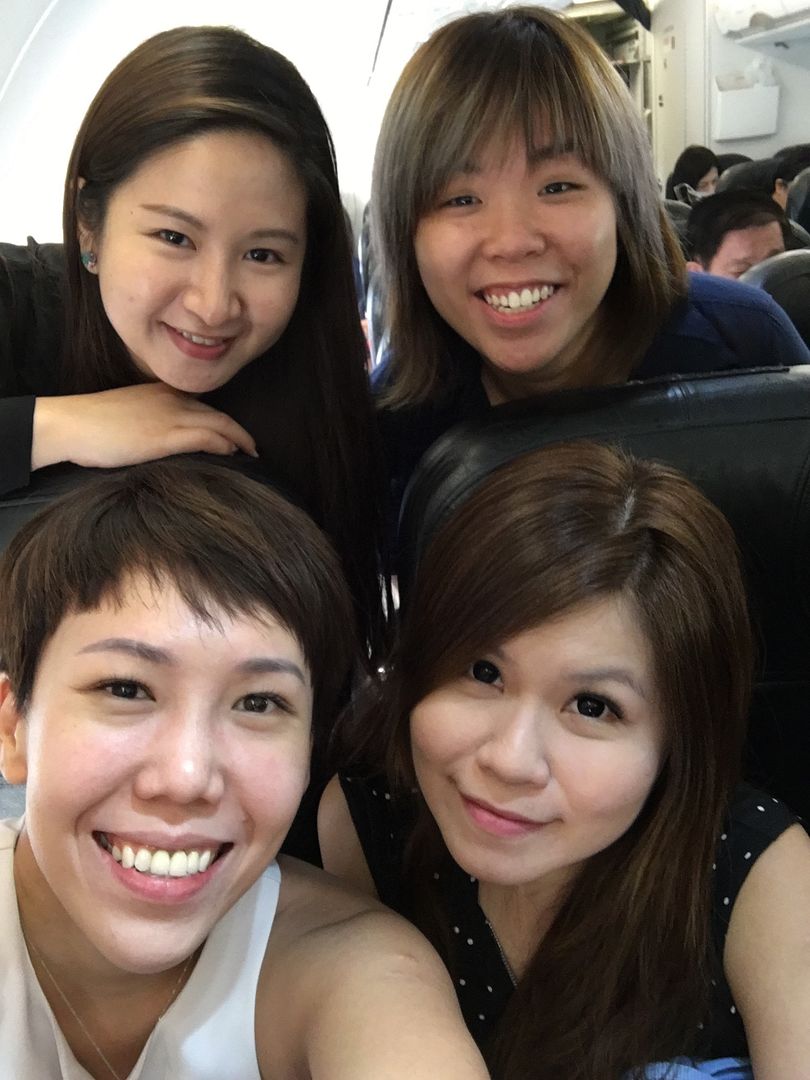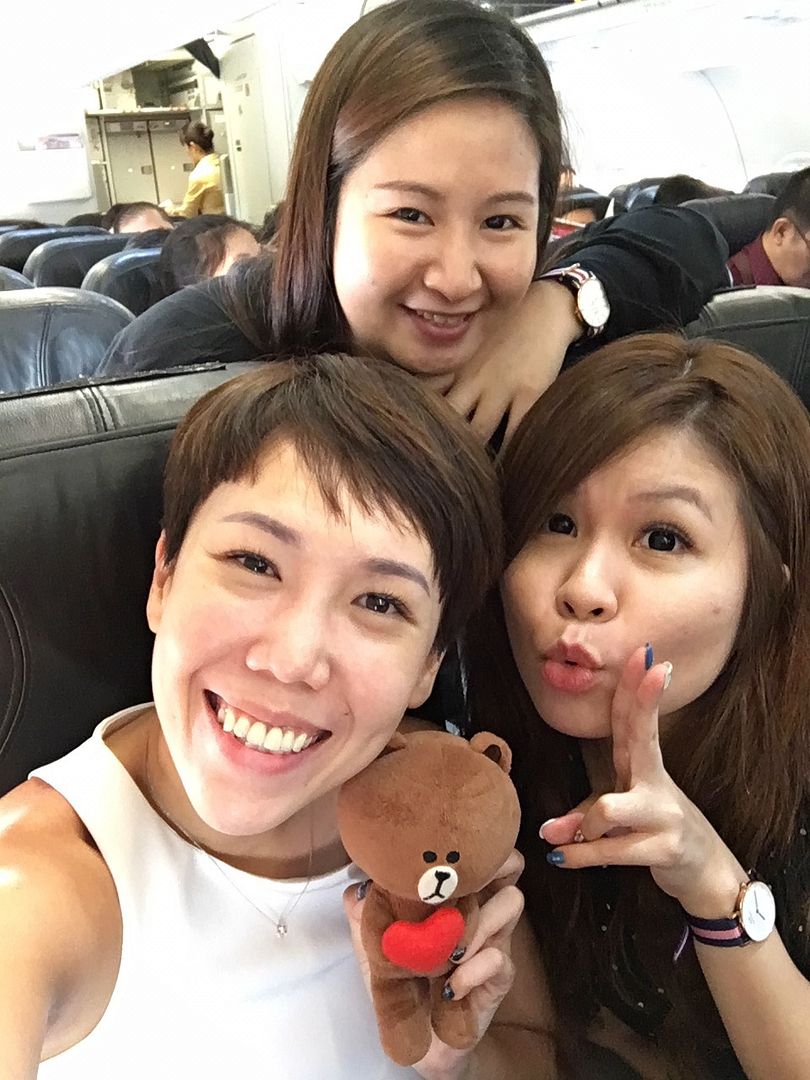 Taking pictures and laughing away as we took off! 3 ladies and a baby's fingers HAHA!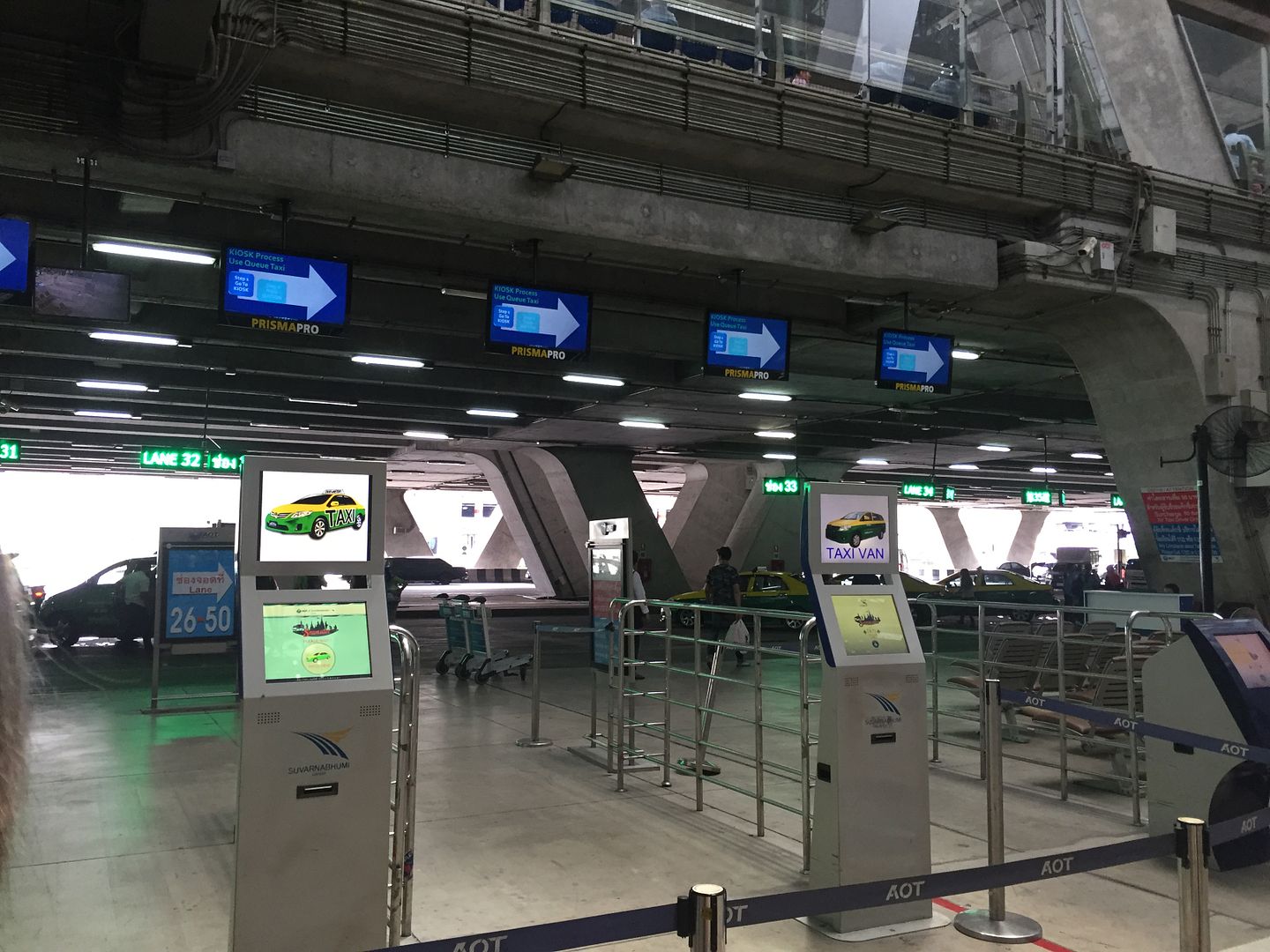 Reached BKK and we settled our sim card and off we go 1 level down to get a cab. The arrival hall at Suvarnabhumi Airport is all limousine taxis, so you have to go 1 level down for taxis for commoners like us. I can't recall how much is our cab ride to our hotel, maybe its around 600฿ ↝ S$23.40.
Reached our hotel, and we can check in immediately, awesome, so we unload everything and out we go. First stop is right at the alley of our hotel.
1. Thai Milk Tea (Opposite GAAM Hotel)
After reaching the hotel and checking in, we went to check out a nice Thai Green Milk Tea that is recommended by AroiMakMak. Its right opposite our hotel, GAAM Hotel. Opposite may sound far but its just a small alley only. Our hotel has 2 entrances, only 1 side has street food. And this is how the stall looks like. Missing this a lot as I am blogging.
Thai Milk Green Tea 20฿ ↝ S$0.78
Thai Milk Tea 20฿ ↝ S$0.78
Usually I am a thai milk tea > thai green milk tea kind of person, but the Thai Green Milk Tea is seriously nicer here!
Could drink this everyday, which Hannah & myself did except for the last day (Sunday) because they are closed. But of course that is if you are staying nearby, and not come all the way just to drink Thai Milk Tea.
2. Traditional Thai Food
Its really hard to describe where some eateries are, as they are all over, and I don't even know where was I. And most eateries do not have a shop name. So this is our lunch place, recommended by Jacq & Nikki.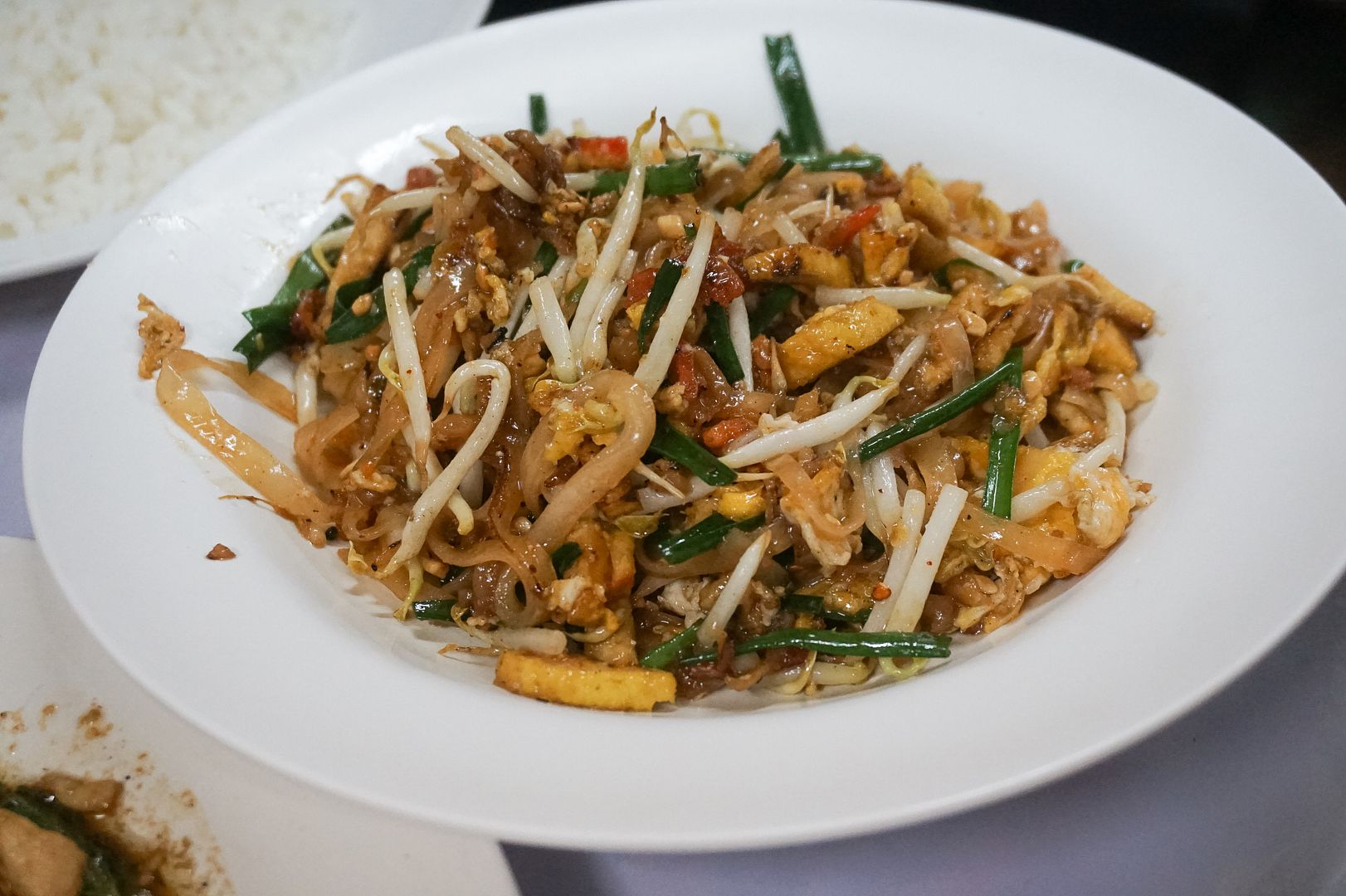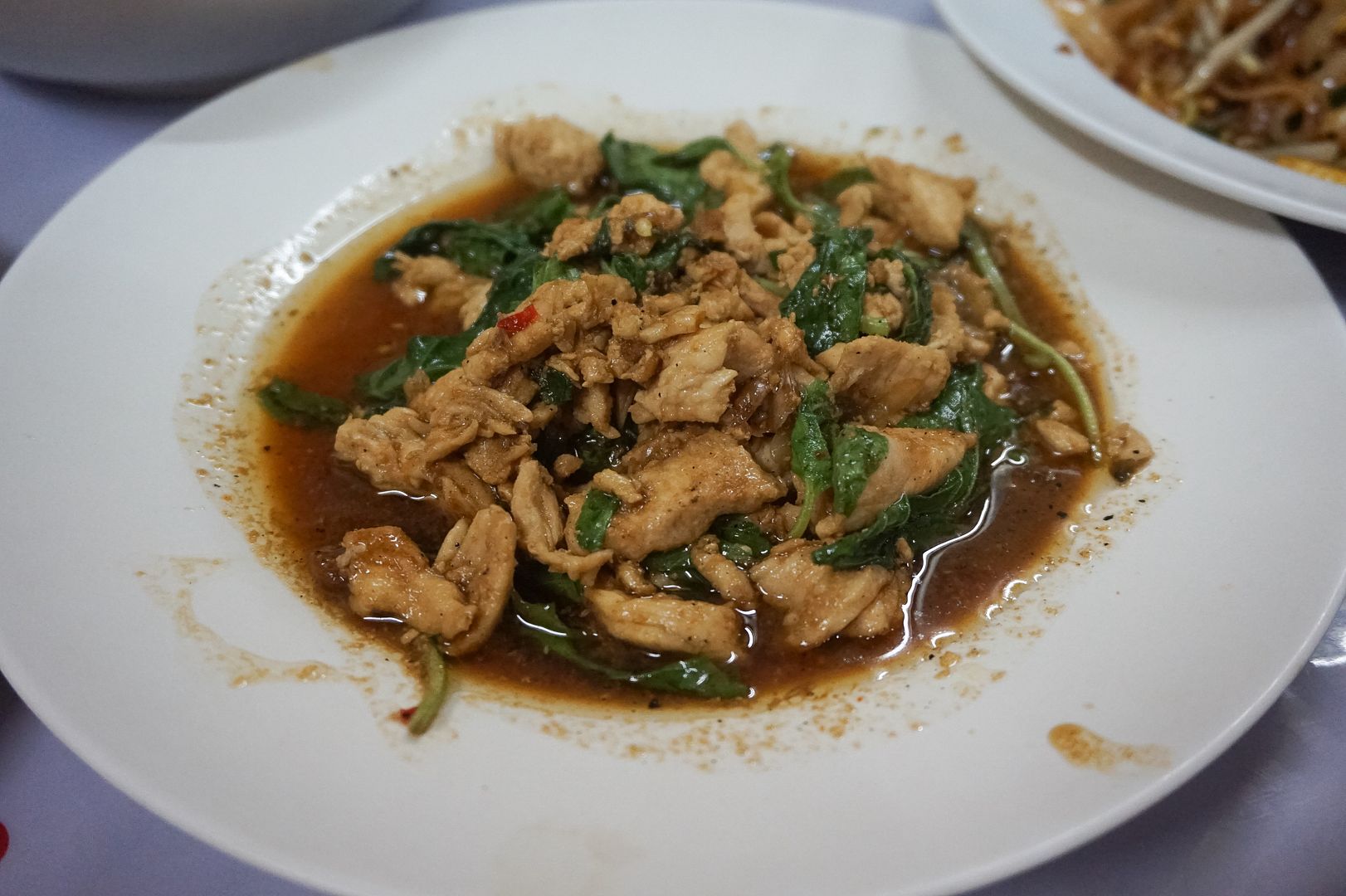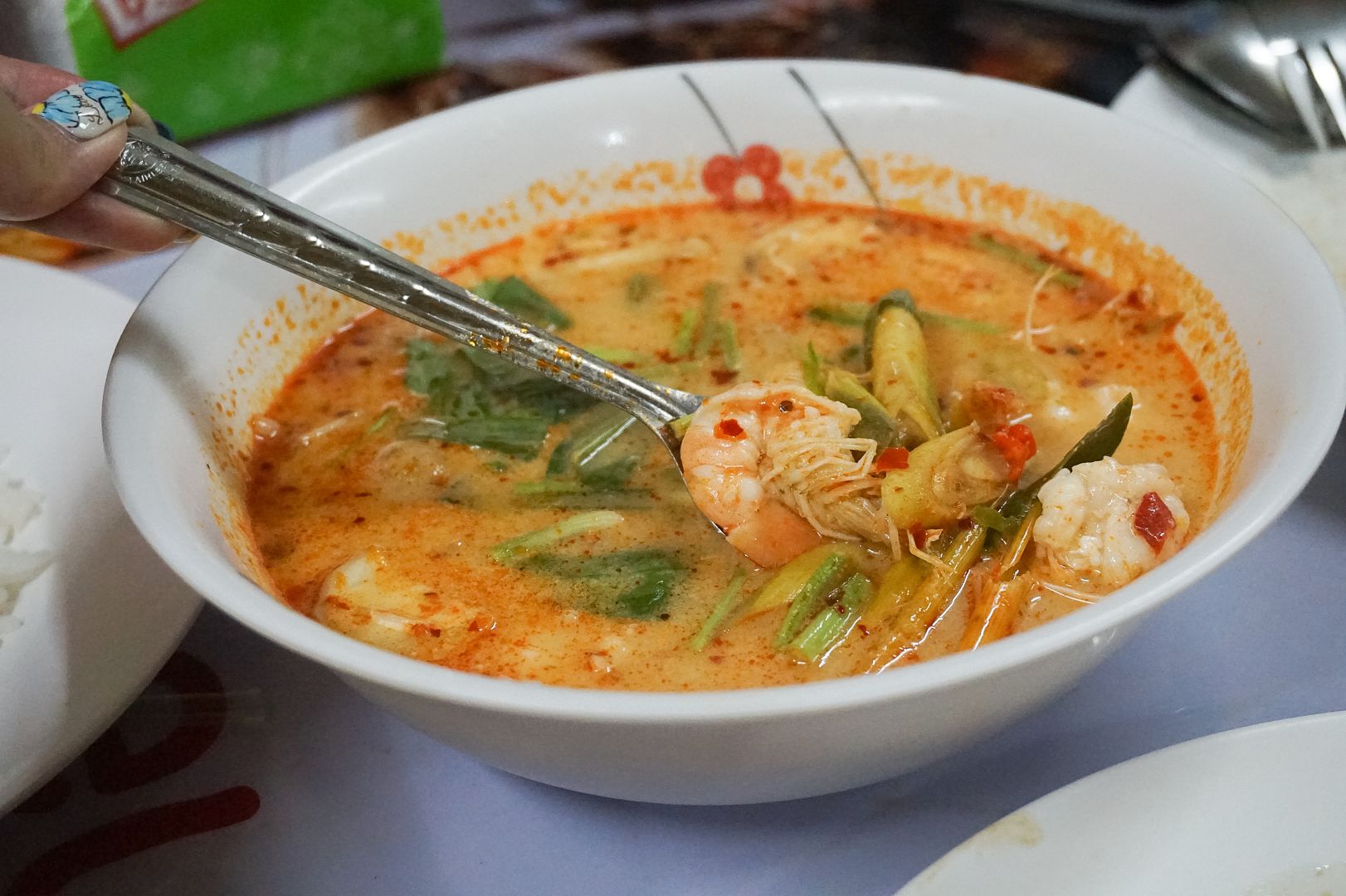 These 4 dishes cost us 340฿ ↝ S$13.25 only! I am so satisfied with our cheap and good lunch.
Street Food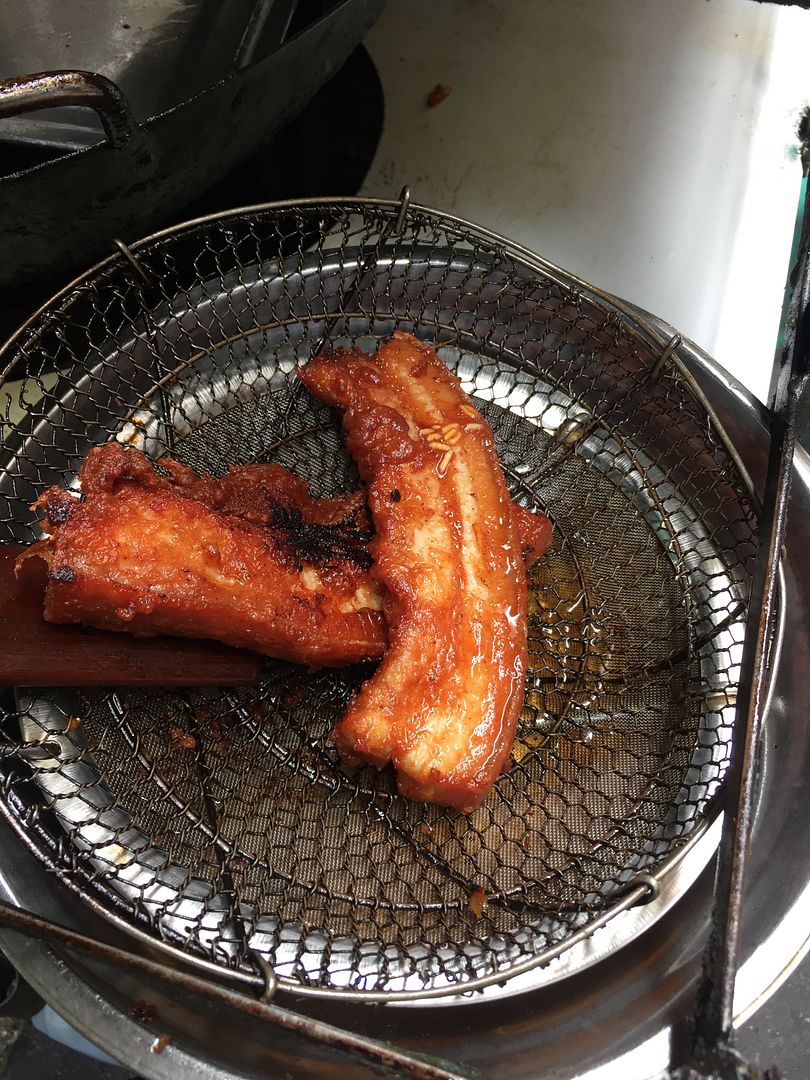 Right after our lunch, we bought street food - Deep Fried Pork Belly, which I had a piece. Its not too bad.
3. The Platinum Fashion Mall
On the bridge while waiting for Hannah to buy some clothes last minute, so we stopped to snap some pictures.
Then we stopped by the food court at Platinum, so its selfie time while waiting for Hannah to come back with food!
Me with my new cap which I bought at Krung Thong Plaza (the mall at the bridge connecting to Platinum Mall) for just 150฿ ↝ S$5.85 (after bargaining for a discount!)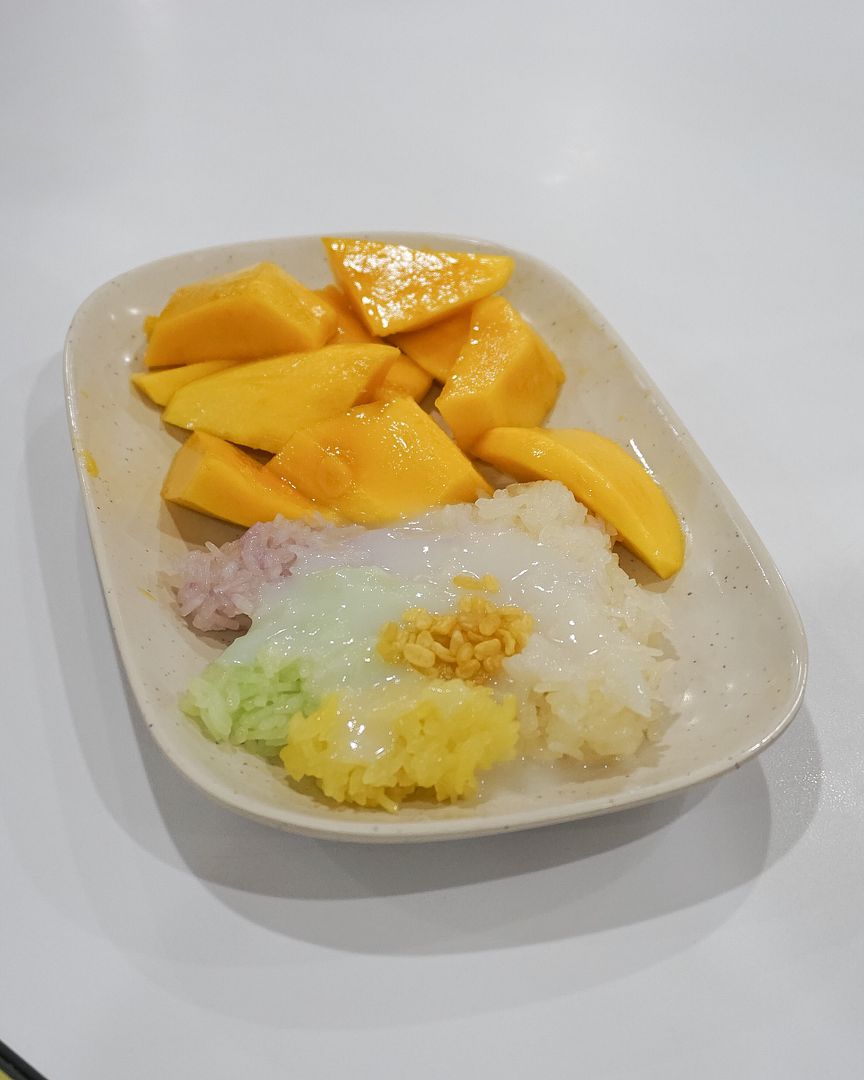 Mango Sticky Rice 100฿ ↝ S$3.90
Tea break before combing the whole mall, the mango is sooooo sweet but I don't fancy the rice. Although pretty and colourful but its hard and cold. No complaints, the mangoes in Thailand are so good to compensate for the rice.
Shopping is pretty good, especially the ladies level, I got to practise self-control as this is only the first day. So I bought a few pieces of clothes, a cute Tsum Tsum Piglet D-Ring for only 100฿ ↝ S$3.90 (picture next time!).
4. Demi Concept Soft Serve
Vanilla Charcoal Soft Serve with Chocolate Waffle 95฿ ↝ S$3.70
Matcha Soft Serve with Chocolate Waffle 95฿ ↝ S$3.70
Right outside the Mcdonalds at Platinum Mall. Hannah had warned us how bad this is, but we still insisted to try, and she is game for it too, thanks Hannah for compromising.
The weather is so hot and the soft serve melted too quickly before I can get a good shot. The vanilla charcoal is tasteless except sweet, green tea's is much better, but you can skip this la actually. Its really nothing fantastic.
Back to the hotel to clean up, as I sweat so much before heading out to Hua Mum Night Market!
5. ตลาดนัด หัวมุม เกษตรนวมิน Hua Mum Night Market
Hua Mum is so far away from our hotel, so we took a cab and the journey is about an hour. We decided to eat dinner first before the shopping, and we choose this similar to our ''Crab in the Bag'' place which is Talay Raberd but this name is no where displayed at the shop. Its beside a mookata shop.
(Edited: I was too blinded to see the sign hahah, there is actually a sign in front of the shop. Corrected by Nikki who was reading through my post shortly after I posted)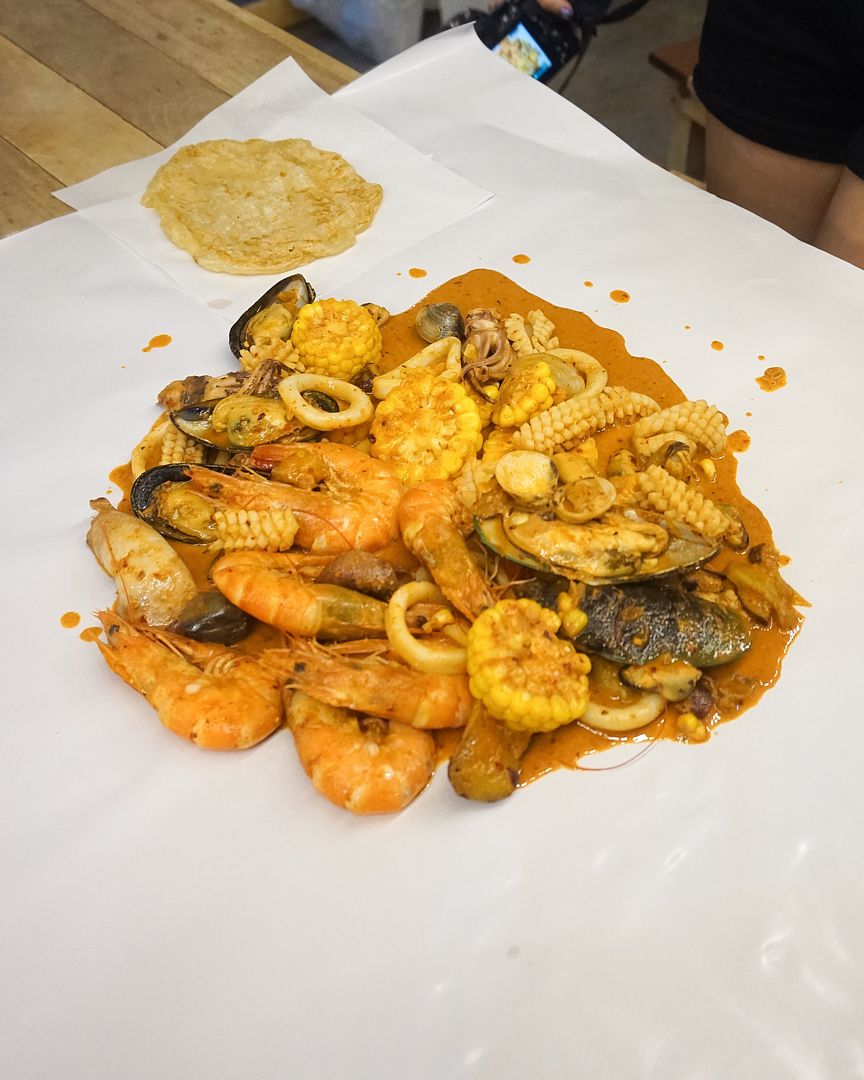 Seafood Set 499฿ ↝ S$19.45
You can choose form 2 kinds of sauce, Sea Bomb and Butter & Garlic. We had the former and requested for ''low medium''. Actually there is no ''low medium'' but the kind and good-looking boss is not sure what is our tolerance level for spiciness, therefore he gave us a ''low medium''.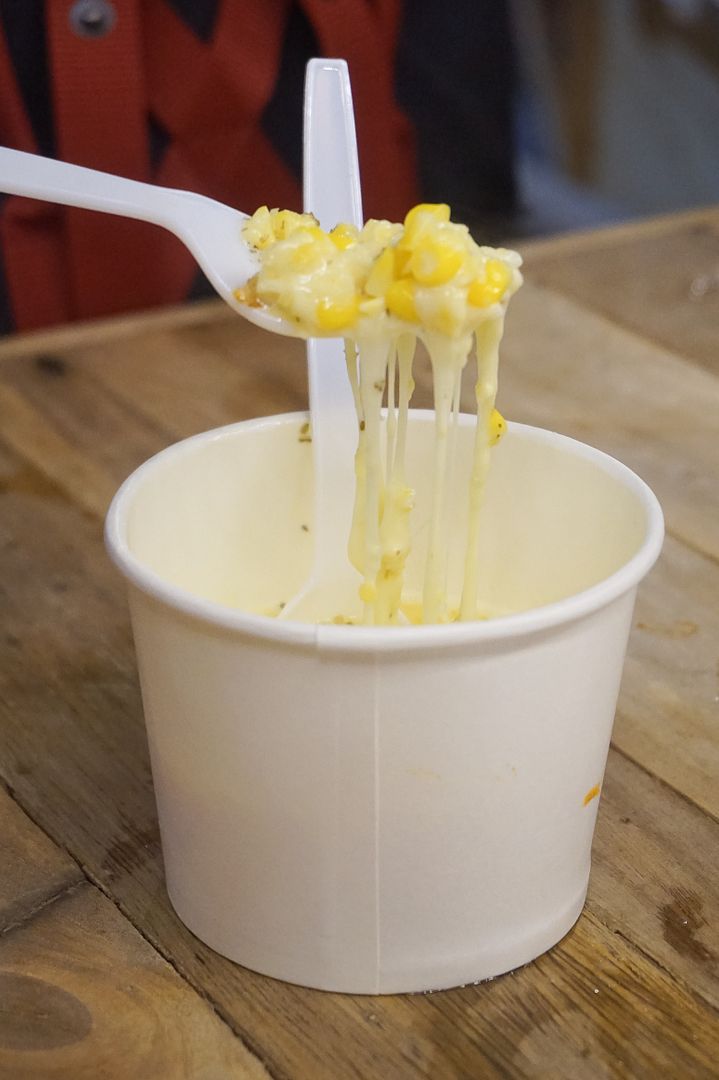 Cheesy Corn 49฿ ↝ S$1.90
Which is so good!
Fried Squid 69฿ ↝ S$2.70
Its a little under-seasoned, the batter is jus plain batter with no taste. Still prefer the seafood set and corn.
This is the nice and good looking boss whom I added on FB. But he is taken. boohoo.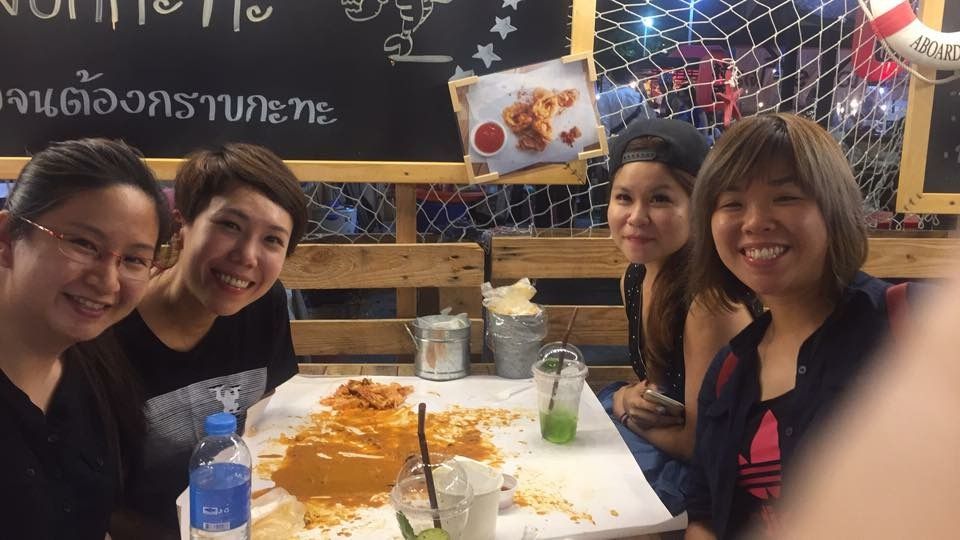 A picture he took of us just because he wants to show us how to geotag this place. But actually, ended up must tag this night market in thai words haha!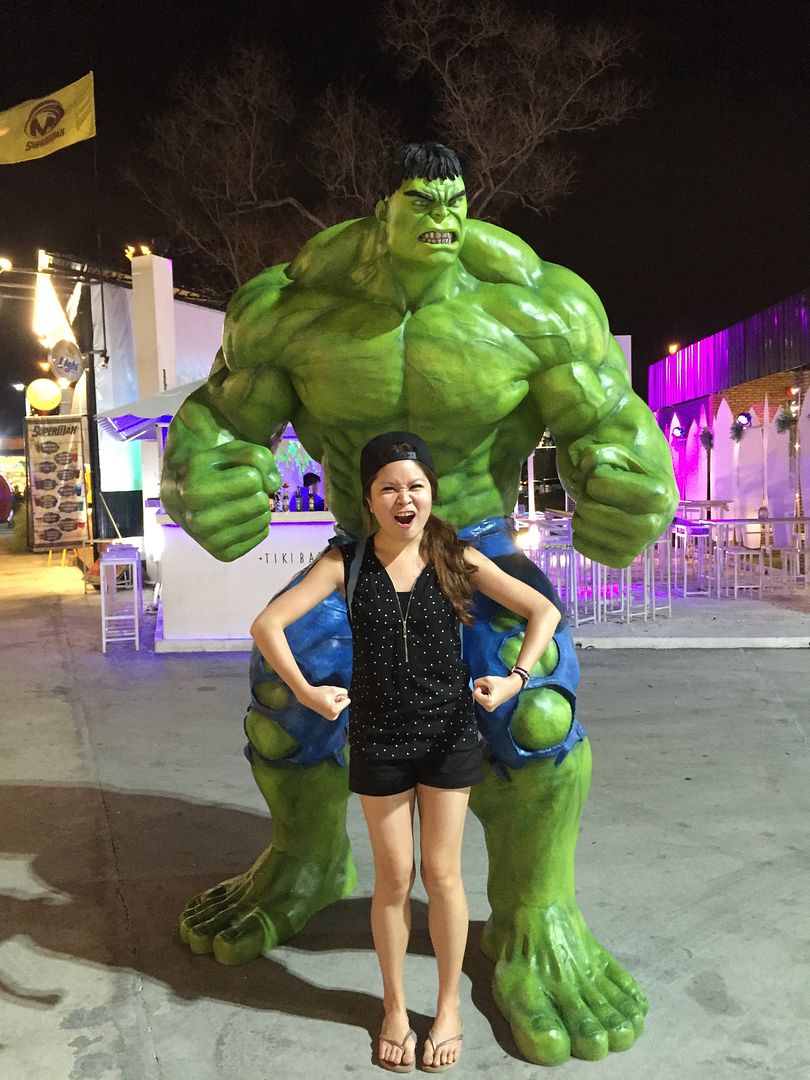 A quick shot taken by Jacq.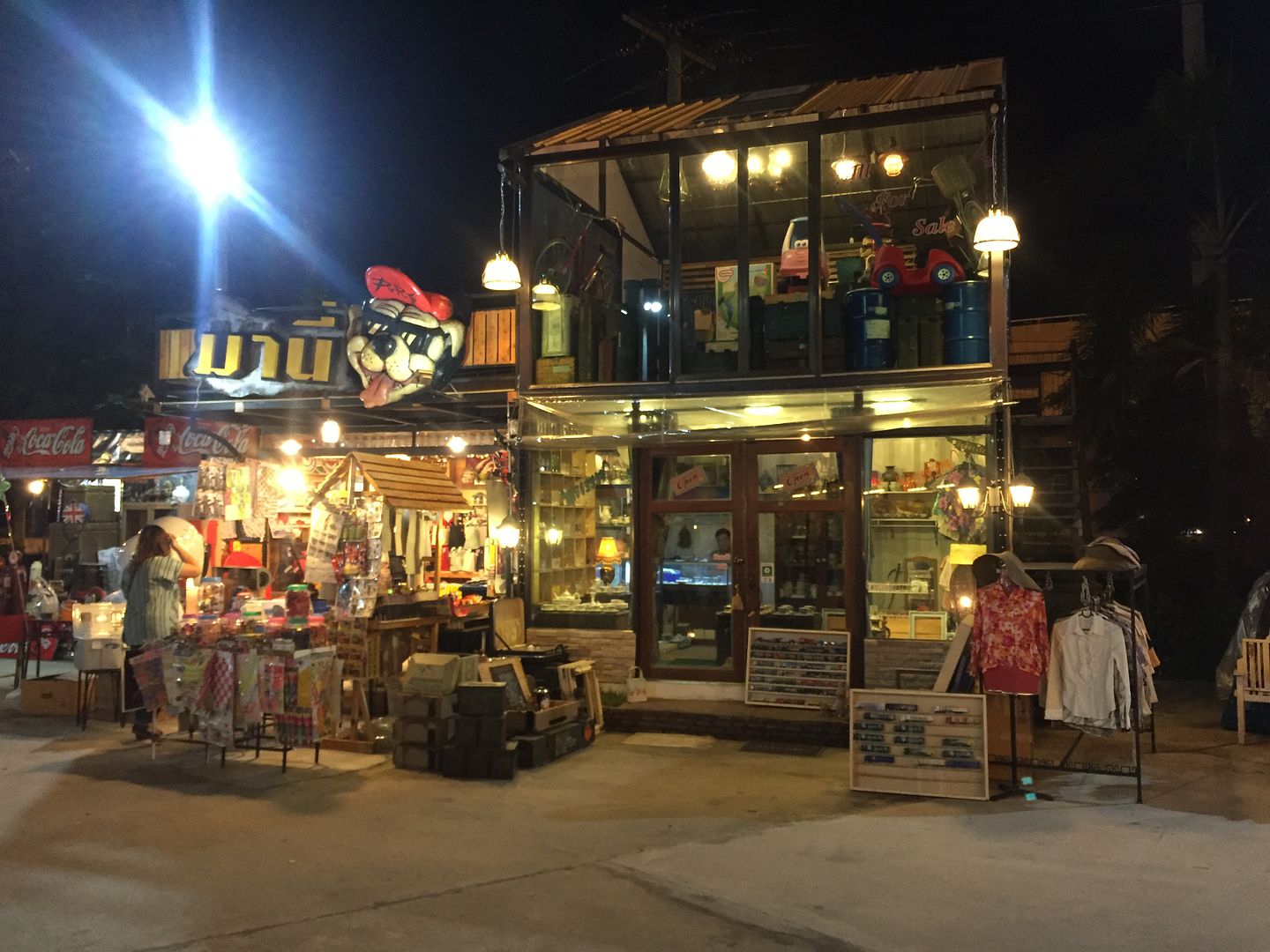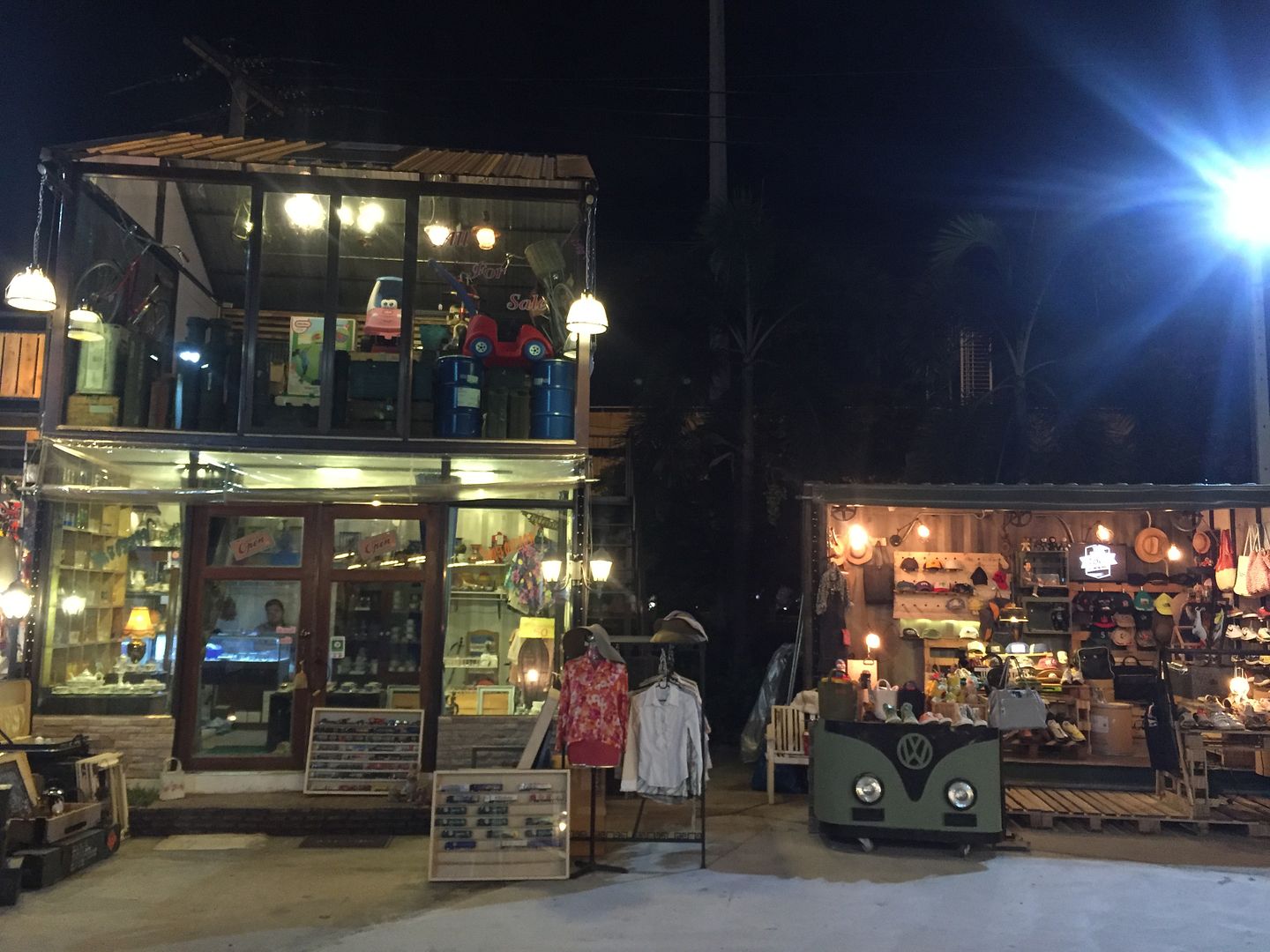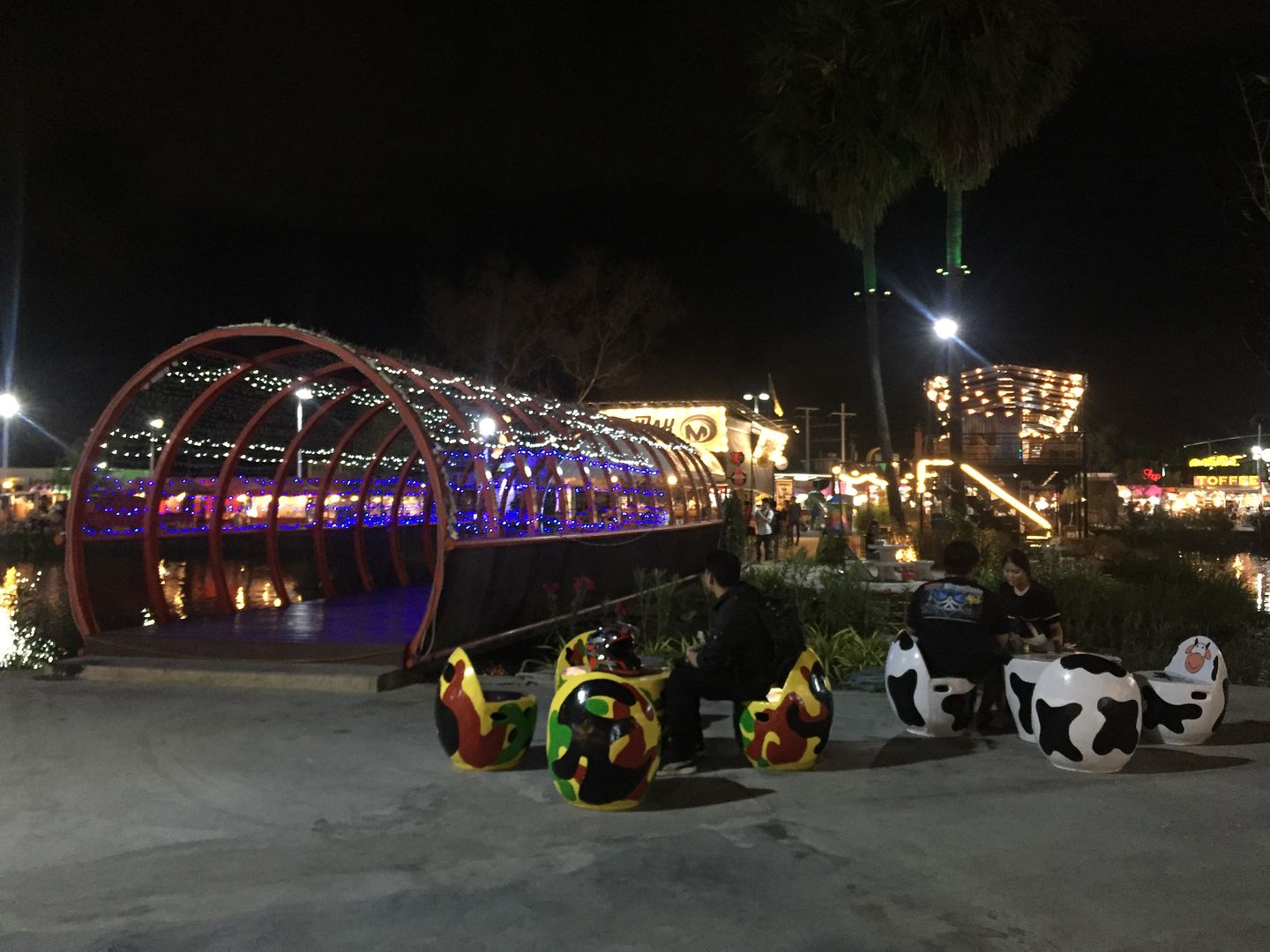 Love the whole concept of such night markets, if they are to have a similar one in Singapore, I think it will just flop big time. Sigh.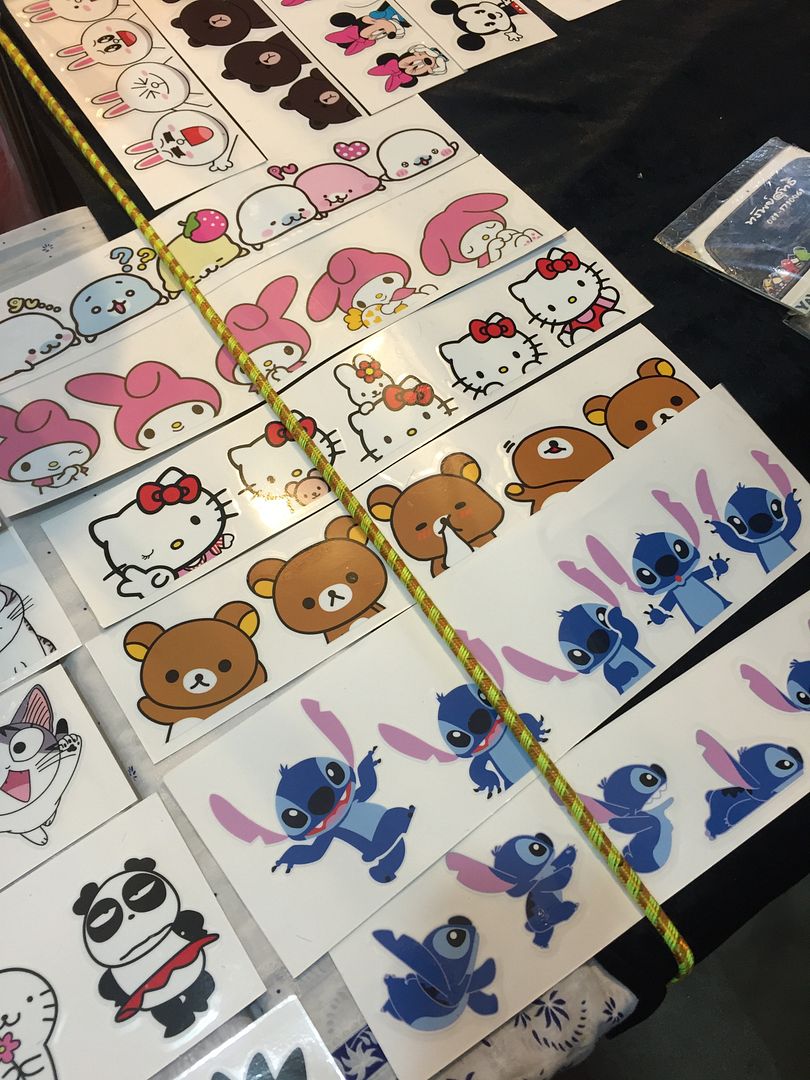 Cute car stickers!
Lots of earrings.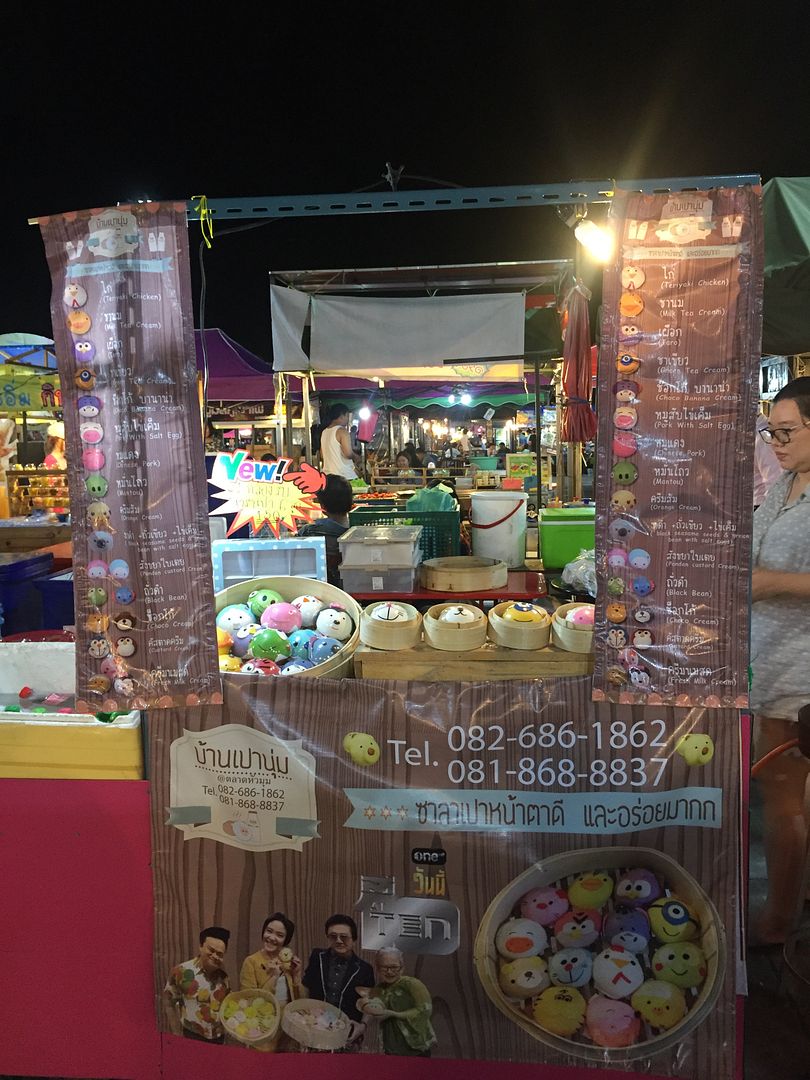 Our another motive here is these cute buns!!
Putting our buns to steam!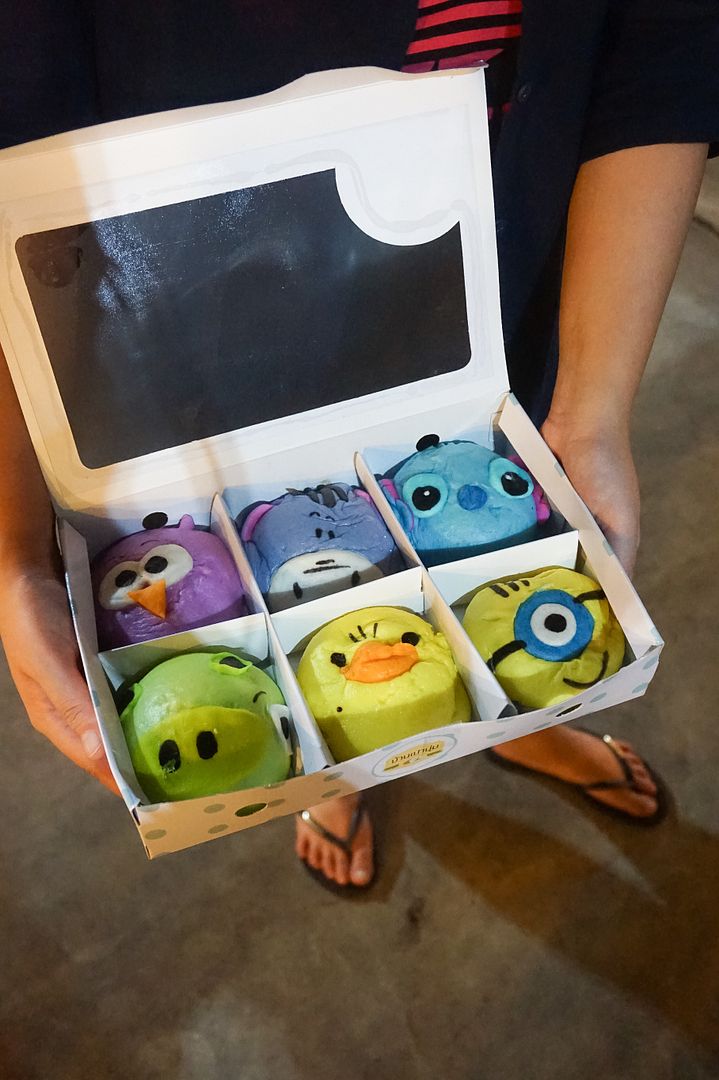 Cartoon buns 25฿ each ↝ S$0.98 each
There are about 21 different characters, each with different fillings. We had Taro, Chocolate Banana, Black Bean, Matcha Cream, Milk Tea Cream, Mantou. The buns are very soft, however the fillings aren't that great. The best is taro which is worth a try.
Pandan Kueh 100฿ ↝ S$3.90
I don't know what is the actual name for it anyway.
And we bought from the wrong stall. We chanced upon this very traditional stall but the way they make the kueh is so messy, instead of the kueh coming out nicely in this shape above, that traditional shop's chess are messy and long because each individual ''flower shape kueh'' is sticking together, and the batter did not fill up the whole mould.
After that we realised, AroiMakMak recommended the traditional stall which we gave it miss. ARGH.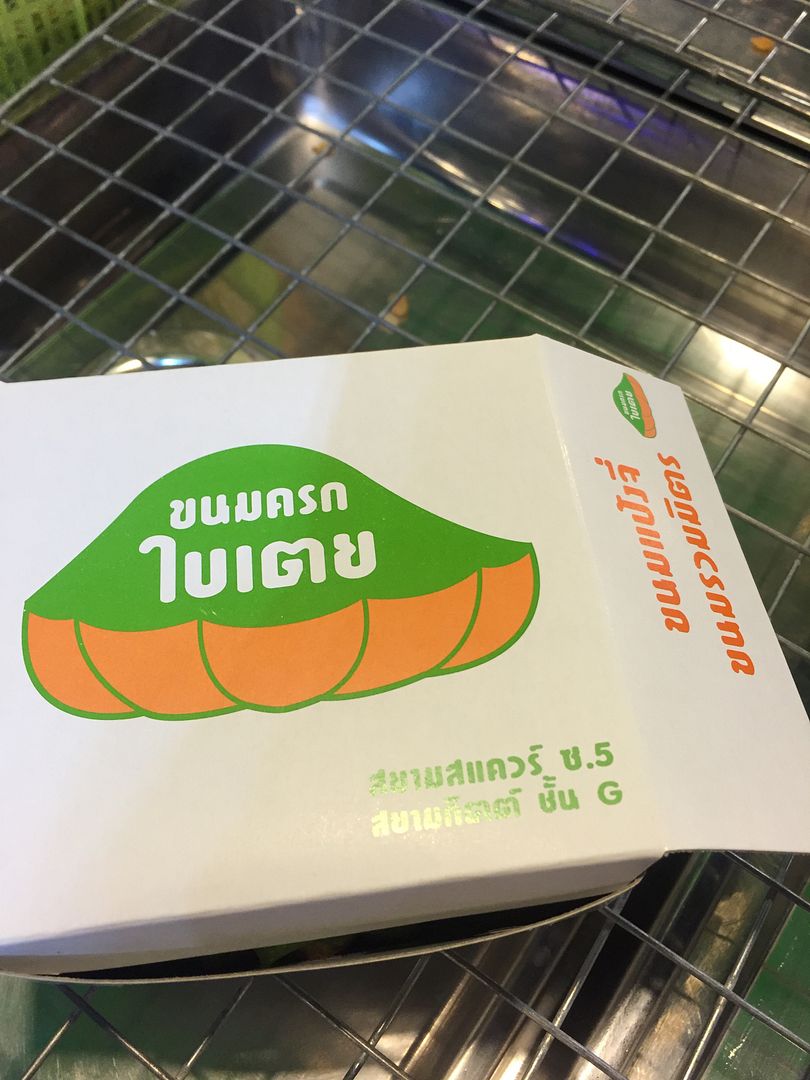 This is the one we bought from.
Thats about it for the first day, as Jacq & Nikki went to massage near our hotel, Hannah & myself went back to rest.