4th June 2016 Saturday (Temperature is around 34-35deg cel in the day)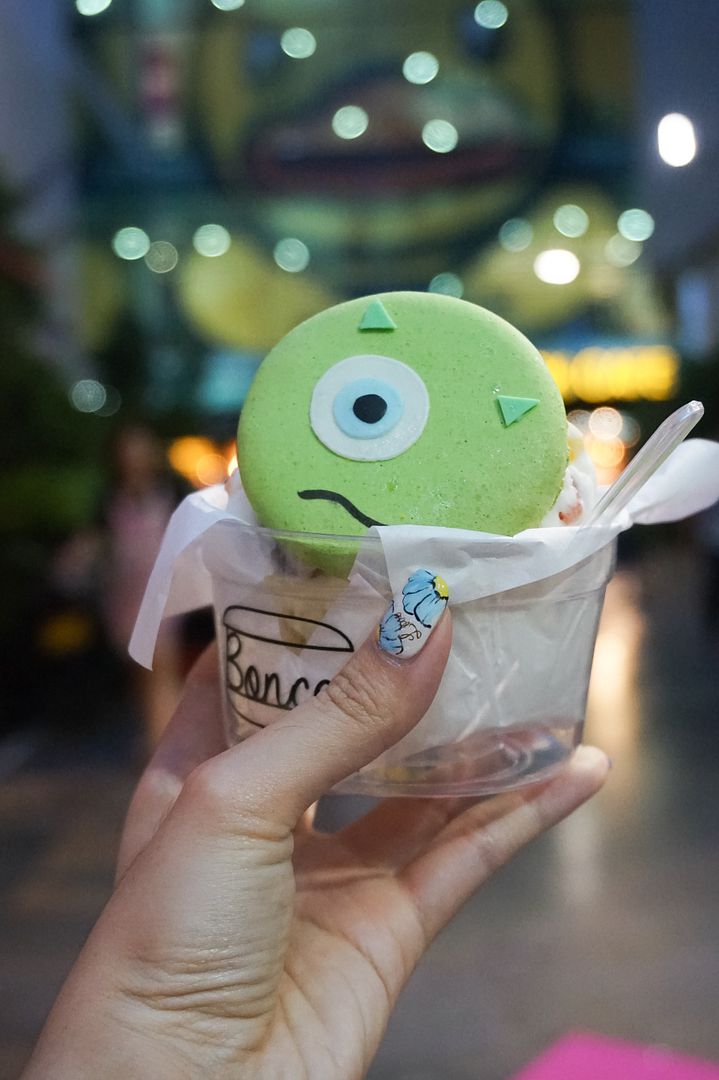 Cute right! Its Day 3, and surprisingly not many places conquered and not much photos too! So I will make it a short post.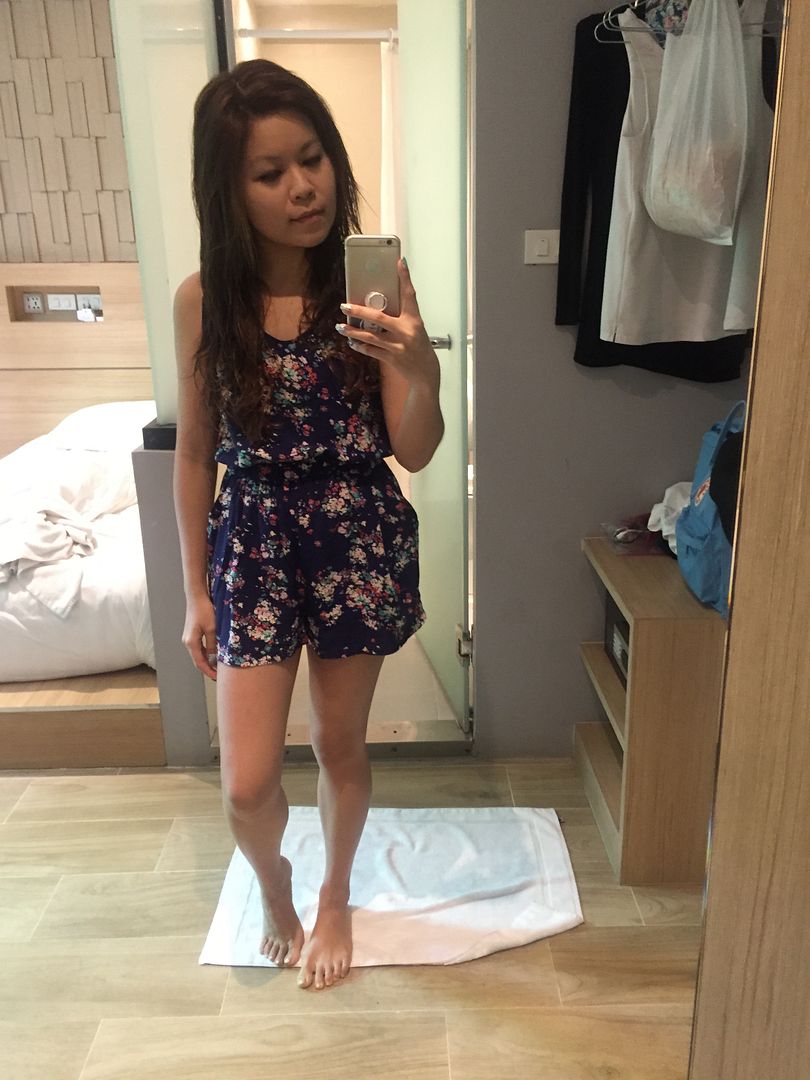 OOTD, chose the thinest and most bare back romper I have, to conquer Chatuchak! But still, I am defeated by the weather, its just too damn hot! The girls can see the sweat dripping down my back literally. They are now convinced how much I can perspire. Hehehe!
1. Chatuchak Weekend Market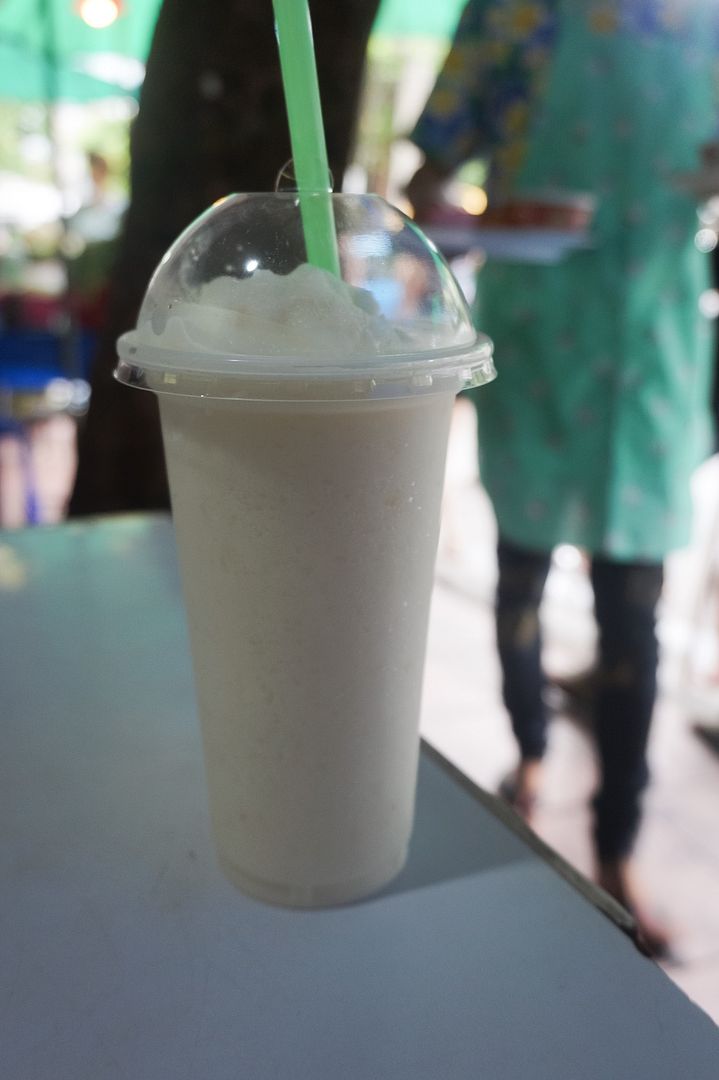 Coconut Smoothie 50฿ ↝ S$1.95
A so-so coconut smoothie to beat the heat and also because Jacq is coming down with a sore throat.
Chicken Rice 70฿ ↝ S$2.70
Settled for this'll outside Chatuchak because the food looks quite okay but... its meh. 4 of us had the same thing. Loading up before going into war in Chatuchak.
The ang moh beside us was telling his friend this is so yummy, mehhhhh, he haven't try our chicken rice yet.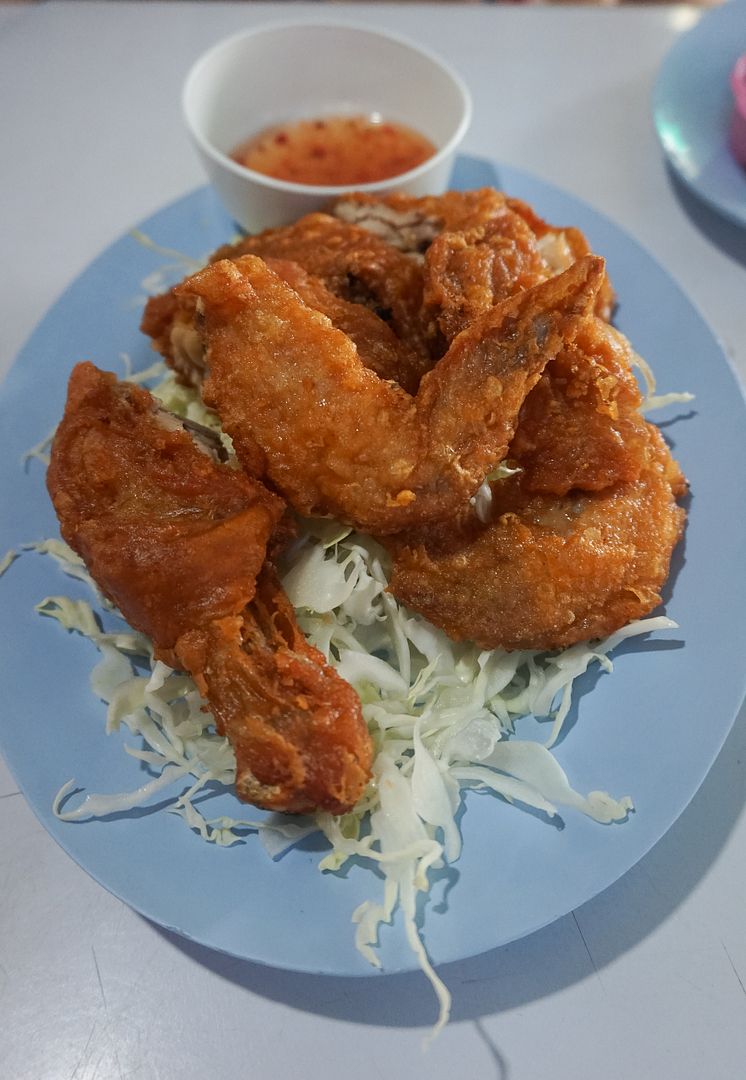 Fried Chicken 200฿ ↝ S$7.80
Ya, the one with sore throat ate the most hahahah! I think this trip, she didn't have much fried chicken, so okay la, just eat!
We ordered 2 portions, but when 1 portion was served we immediately regret, and the stall holder is nice enough to let us return 1. Thank you.
Shopping time, so not much pictures.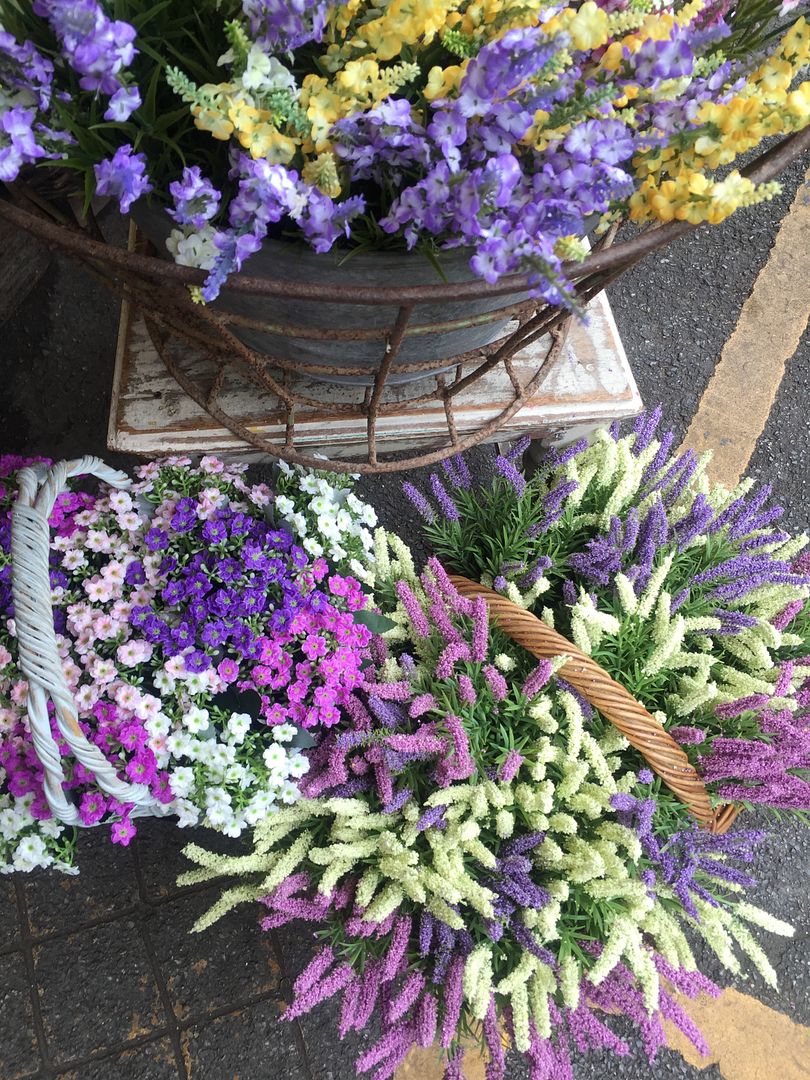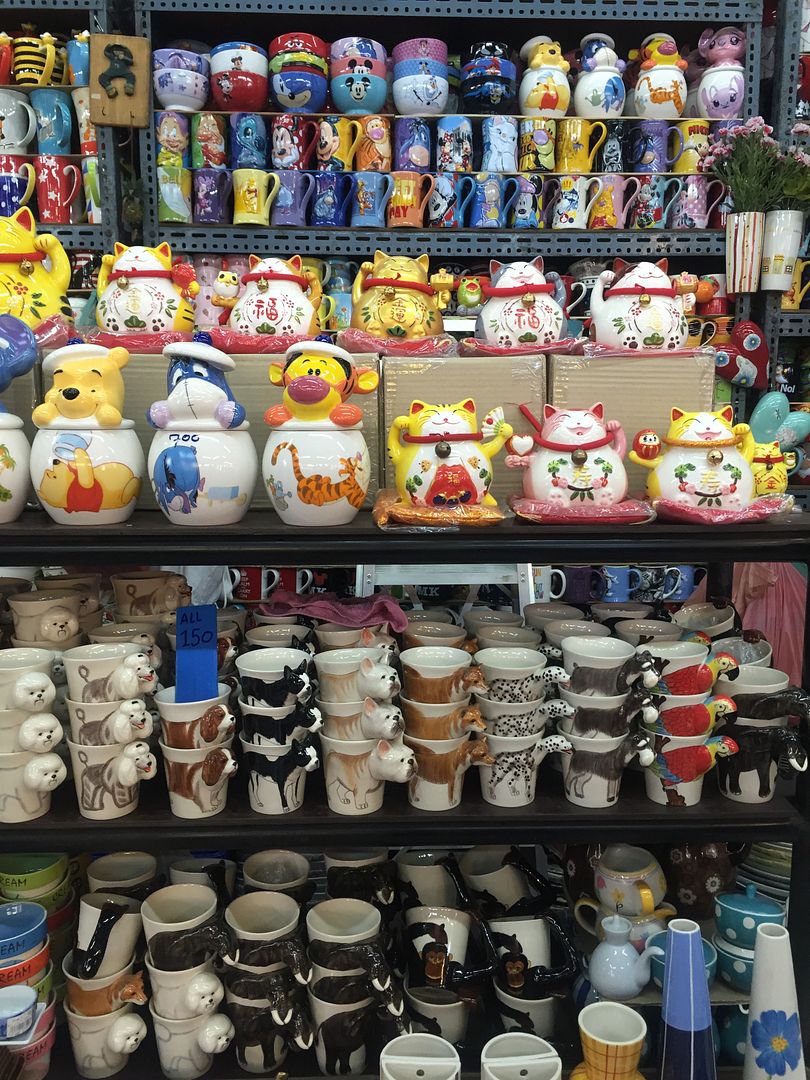 This shop is selling lots of cute mugs, pottery and got the cute Tsum Tsum mugs, how to resist you tell me. I bought a piglet Tsum Tsum mug for only 200฿ ↝ S$7.80!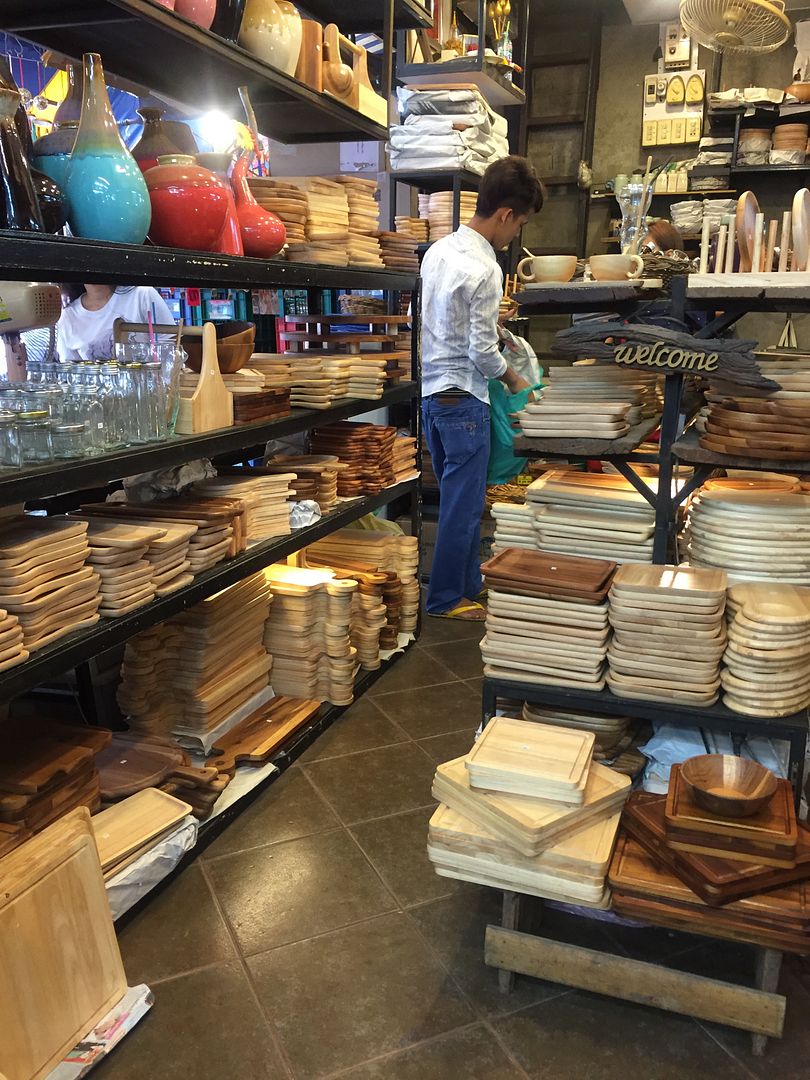 Wooden plates that I think most Singaporeans will come.
And the famous Coco JJ coconut ice cream!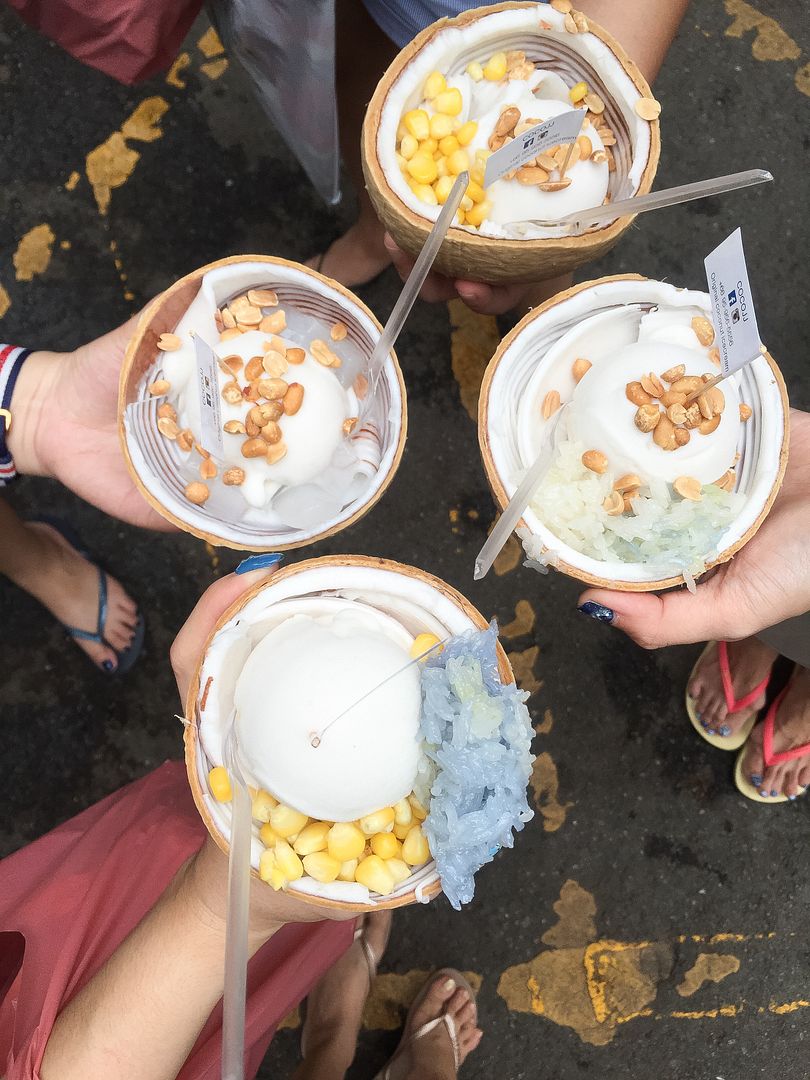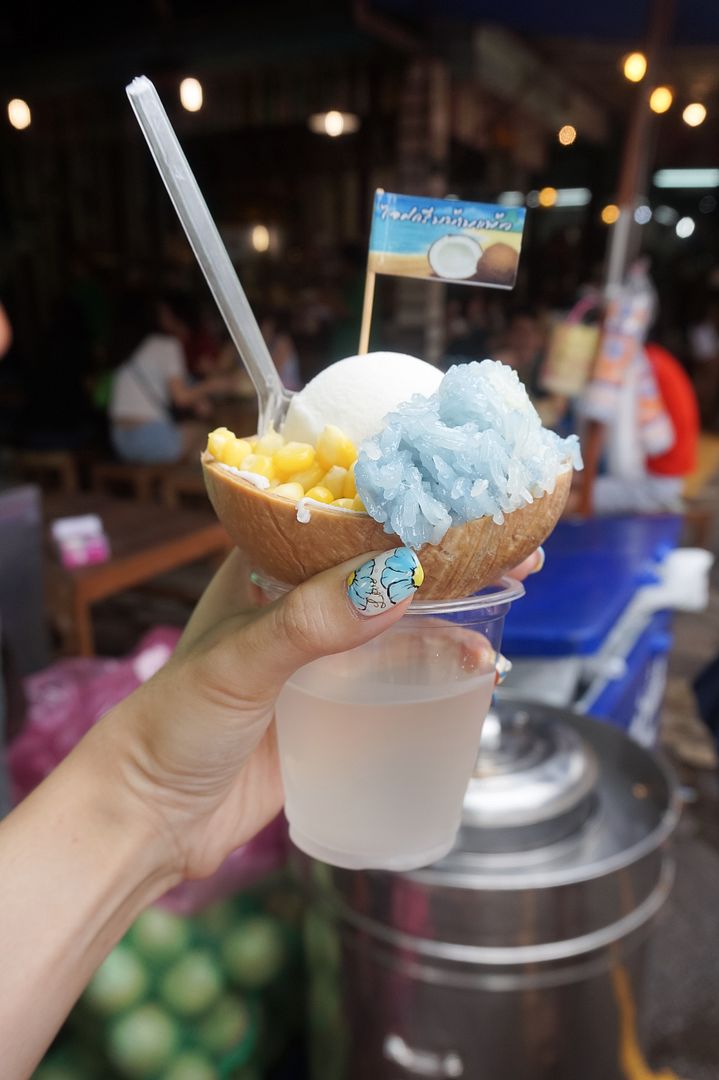 Coconut Ice Cream 50฿ ↝ S$1.95
You can choose 2 toppings. However I couldn't really taste the coconut or the ones back home are much flavourful. But still a good treat under this weather. I had sticky rice and corn, favourite!
2. The Jas Ramintra
Its a very nice place and I think its very faraway and the 4 of us sleep through the cab ride.
The Jas Ramintra - MK Steamboat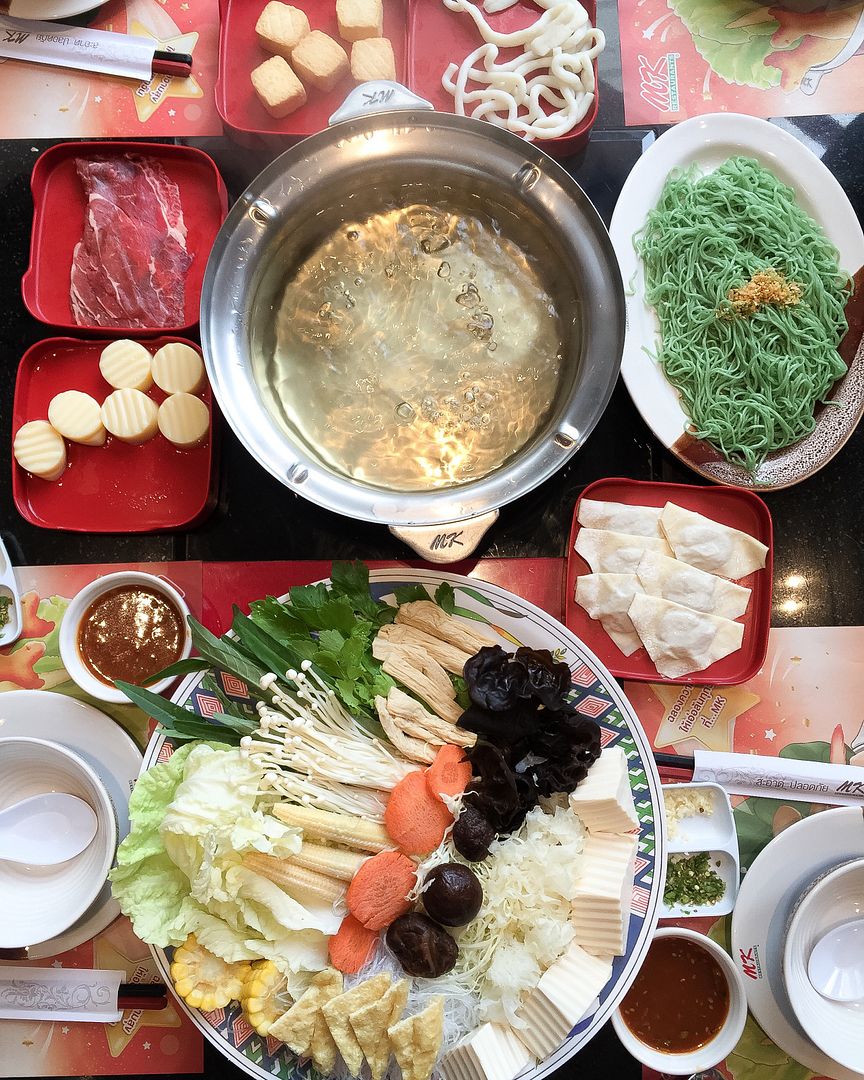 858฿ ↝ S$33.40
Although the weather is hot and I am sweating like a fountain everyday, we still have crave for a hot, soupy meal, the most comforting meal ever in BKK ahaha!
All these dishes + 4 or 5 more dishes for only S$33.40! What! I am never eating MK in Singapore again.
The Jas Ramintra - CODE Cafe of Dessert Enthusiasts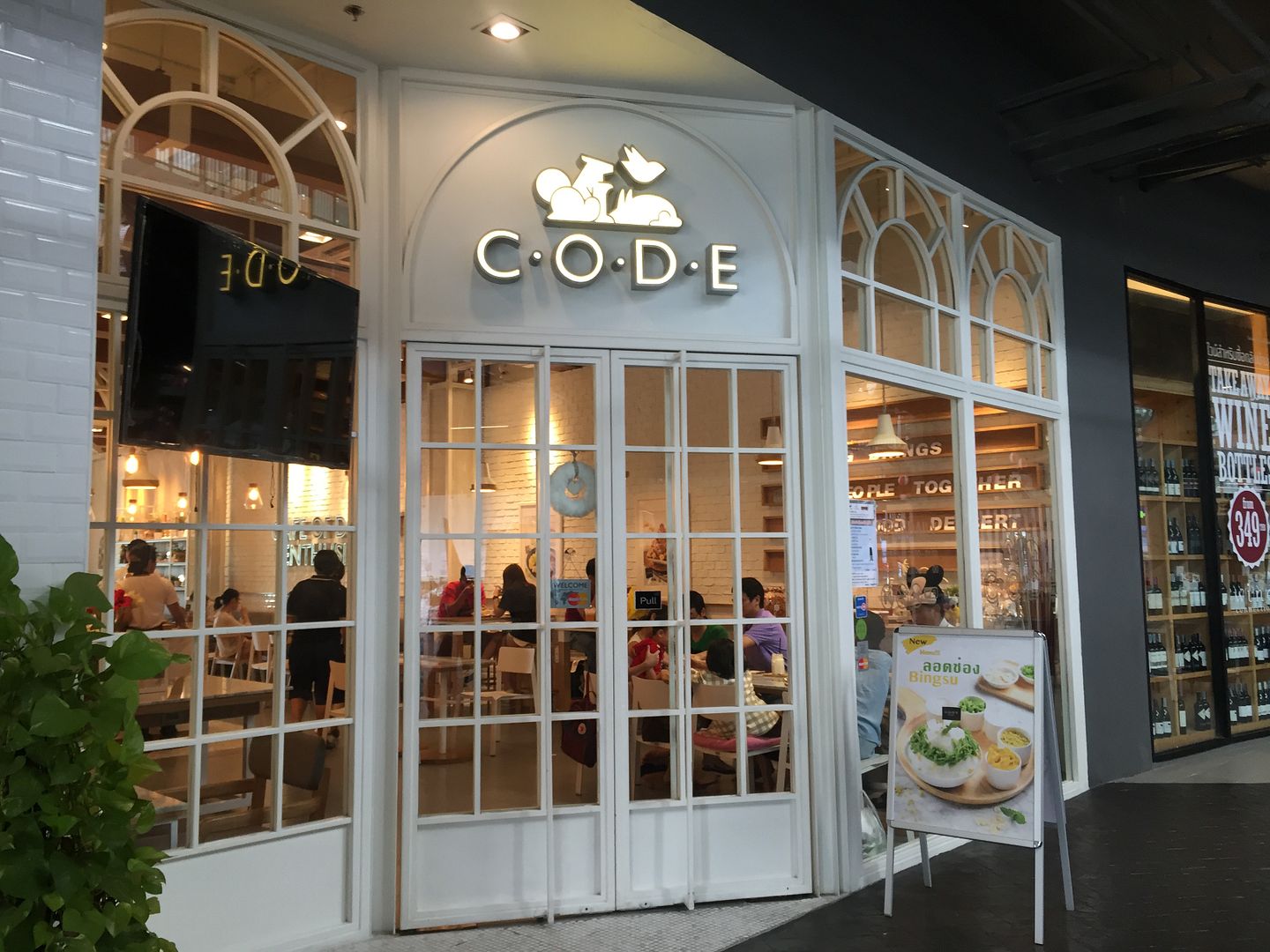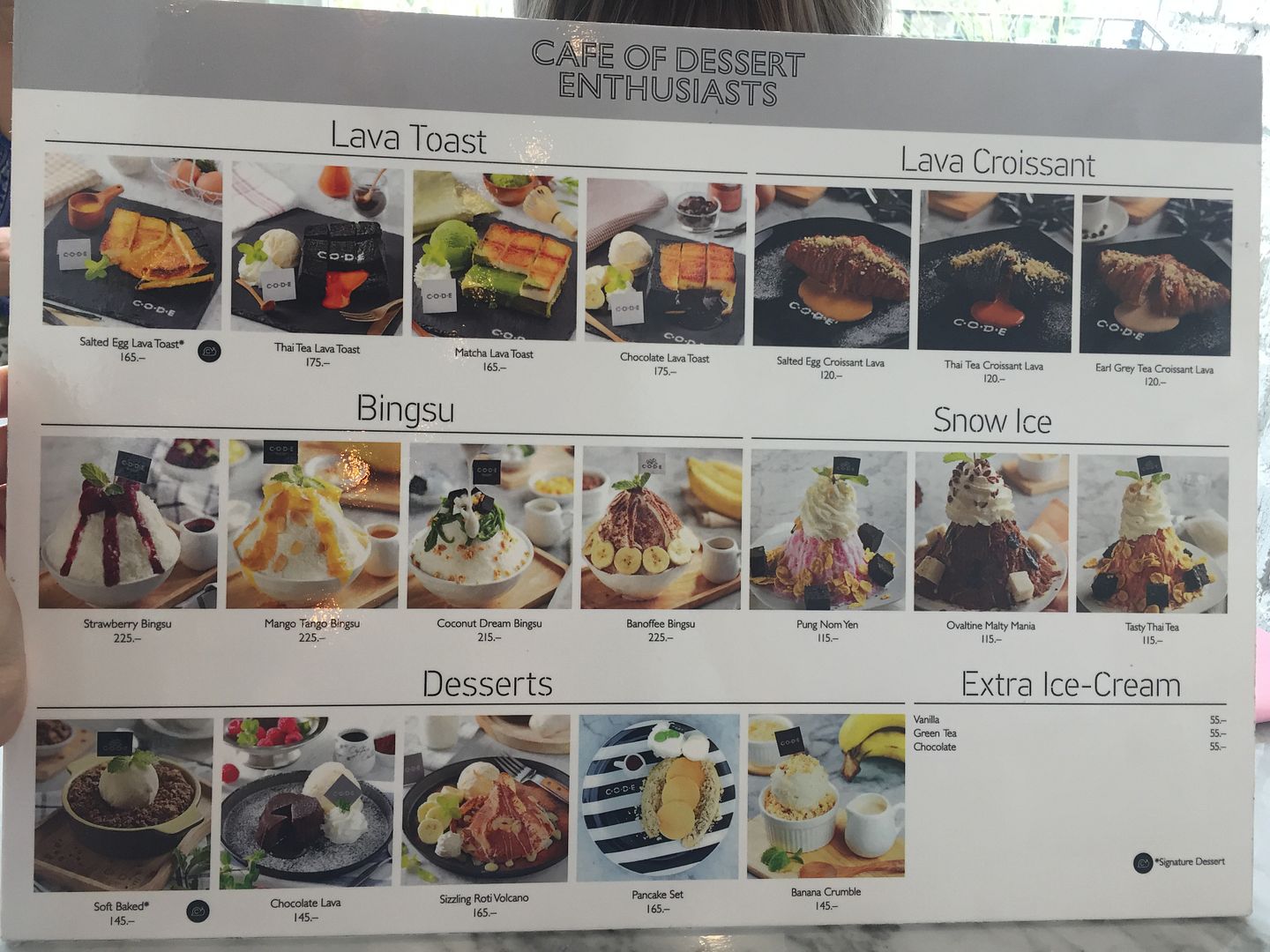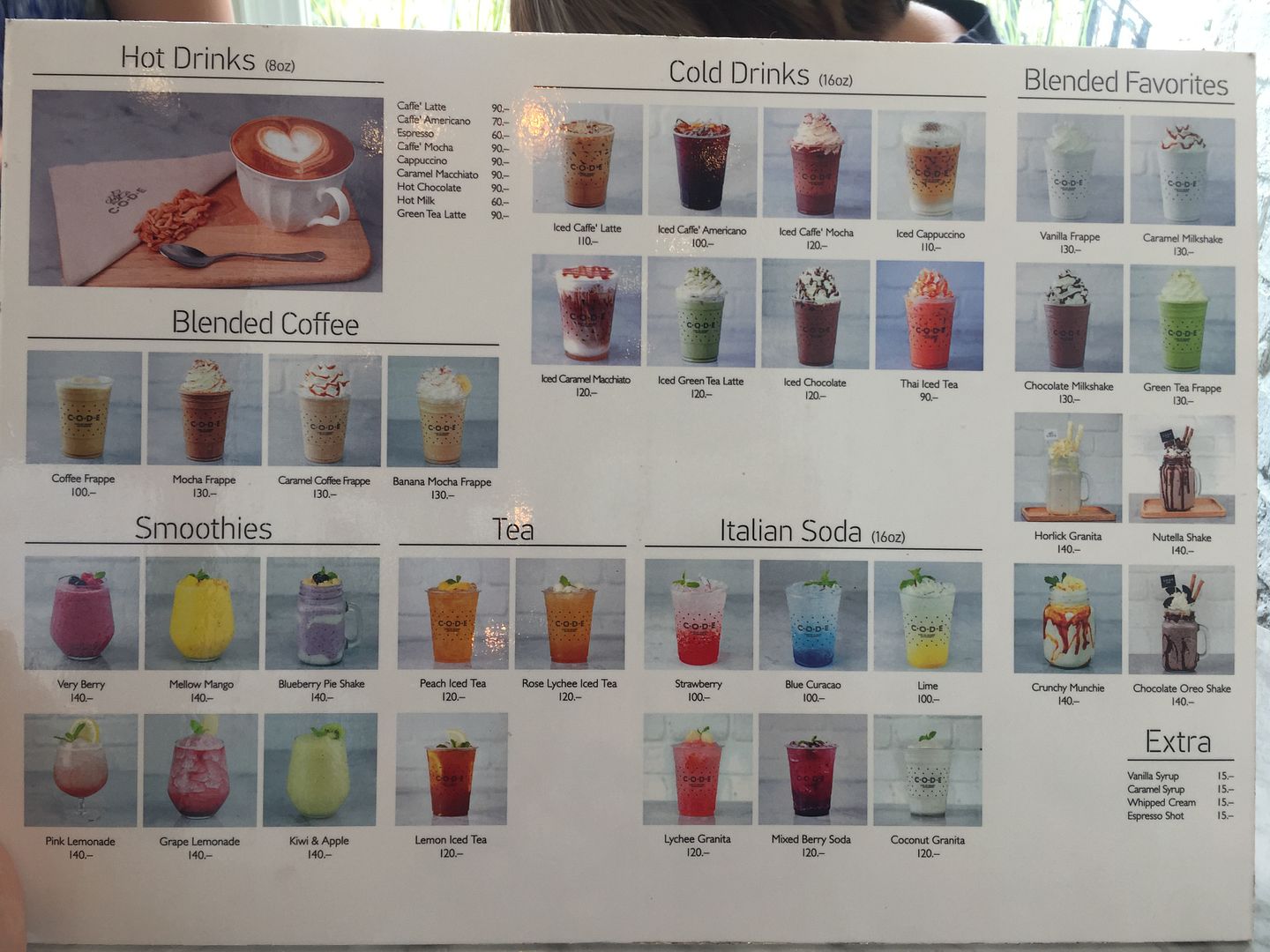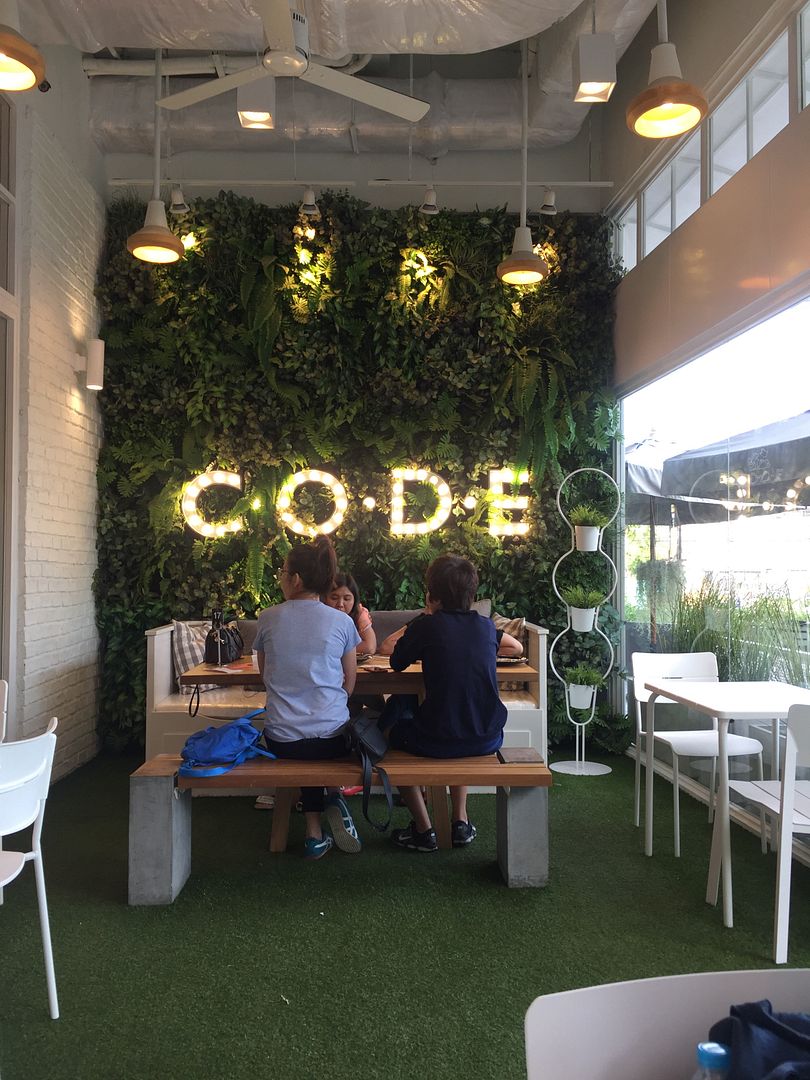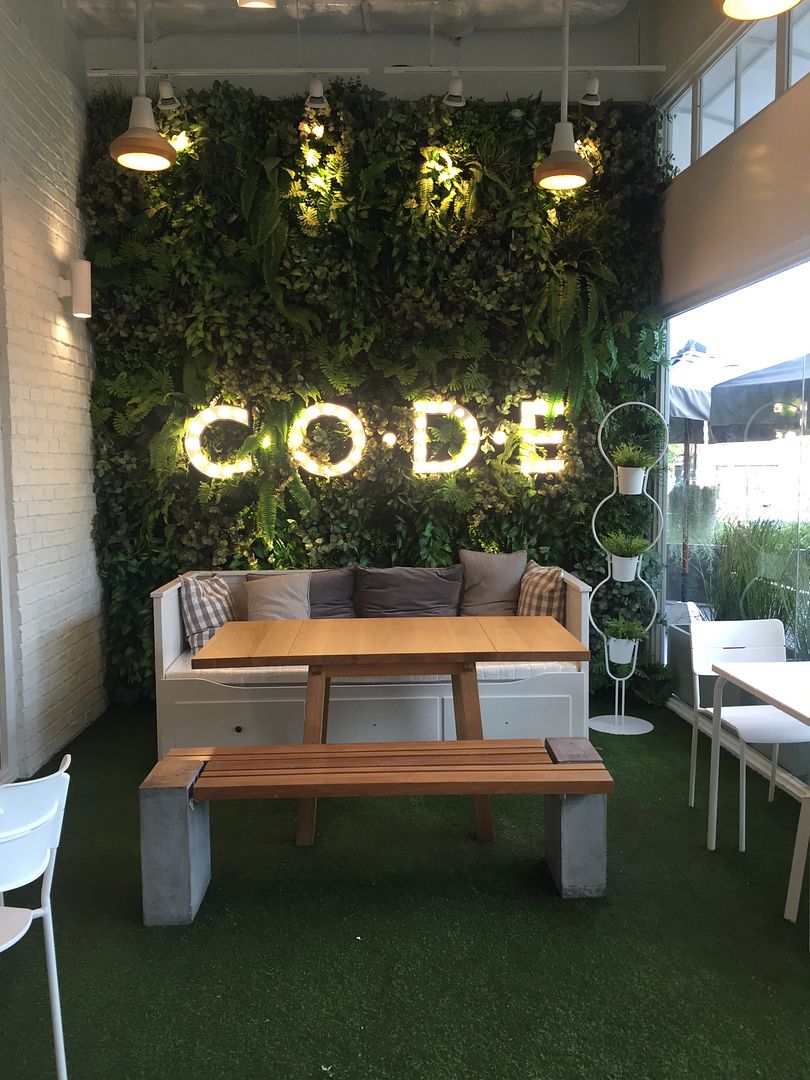 Cozy corner and its a very pretty cafe. If you find CODE too far, now they have a pop up store at Siam Paragon! Not as pretty as this cafe of course but good enough if you just want to try the lava toasts and croissants.
Thai Tea Lava Toast 175฿ ↝ S$6.80
I love anything thai tea.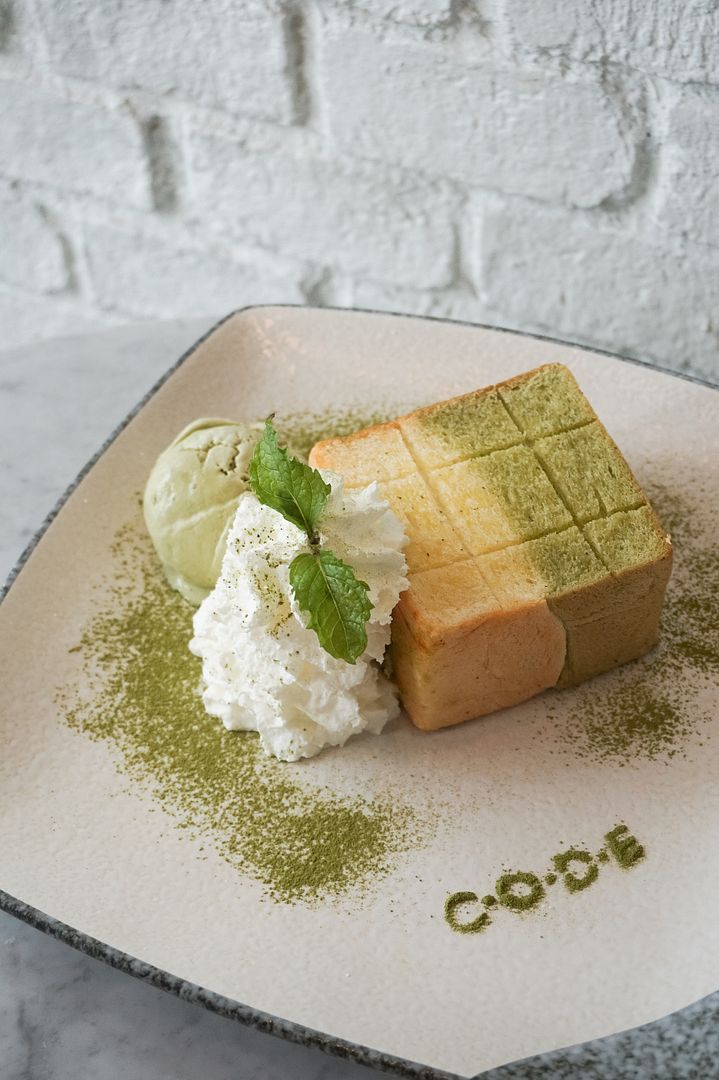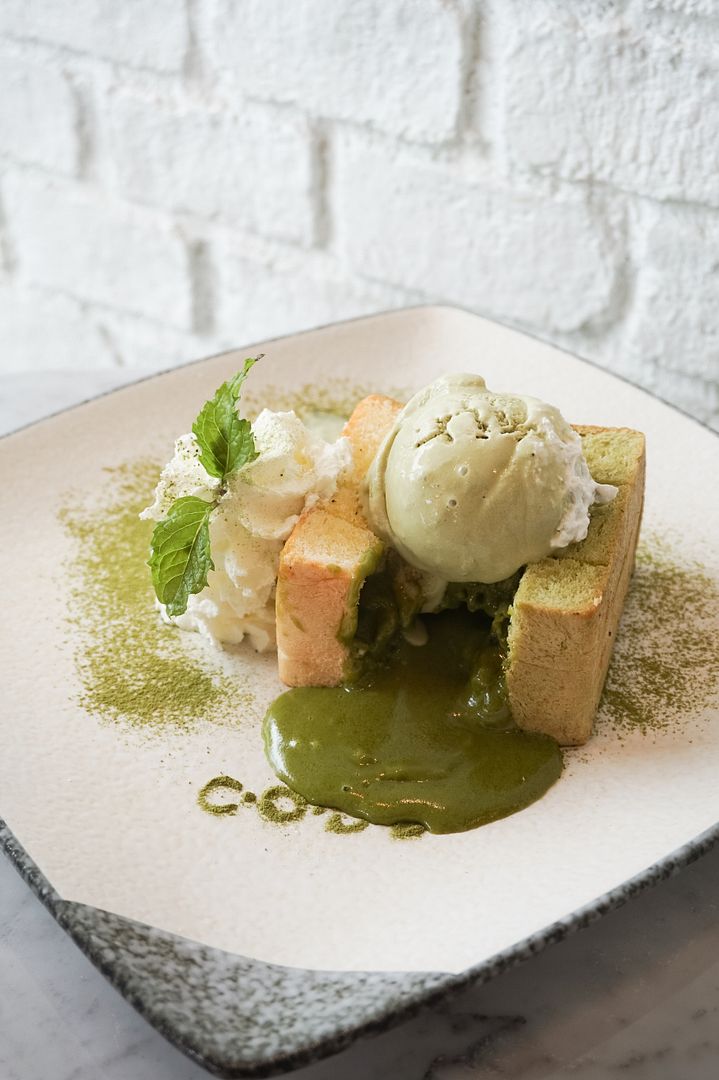 Matcha Lava Toast 165฿ ↝ S$6.40
The toasts here are better than what we have in SG, but what I like best is.....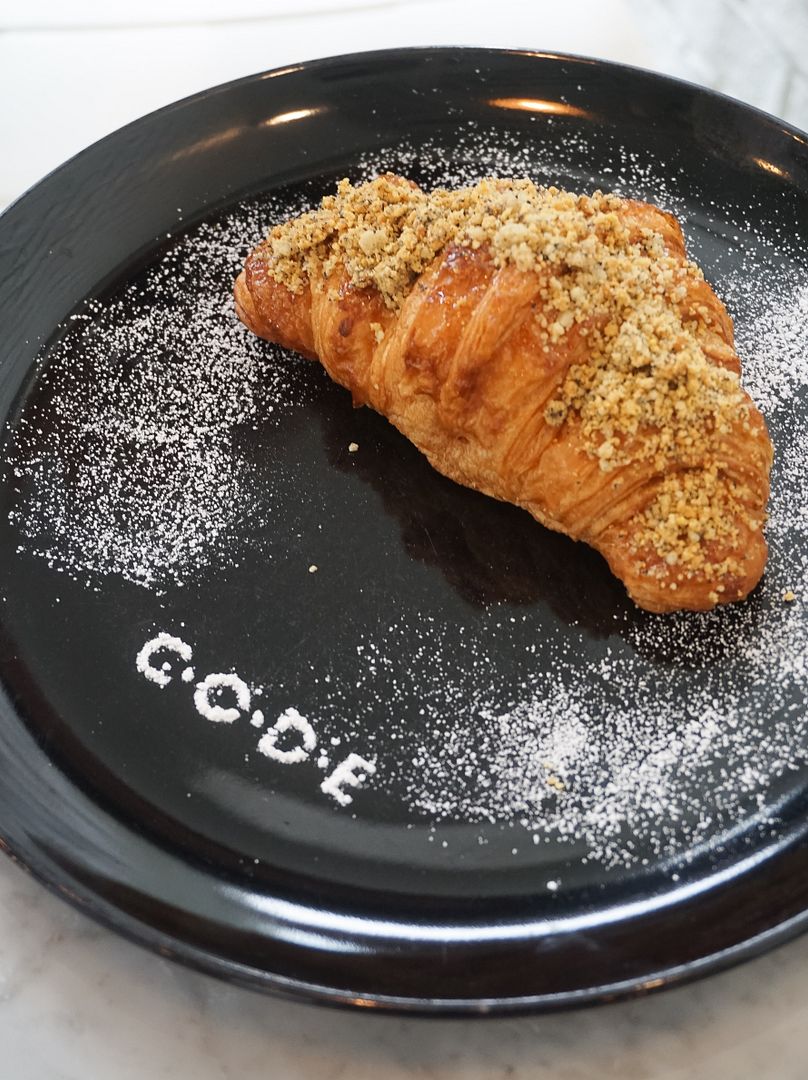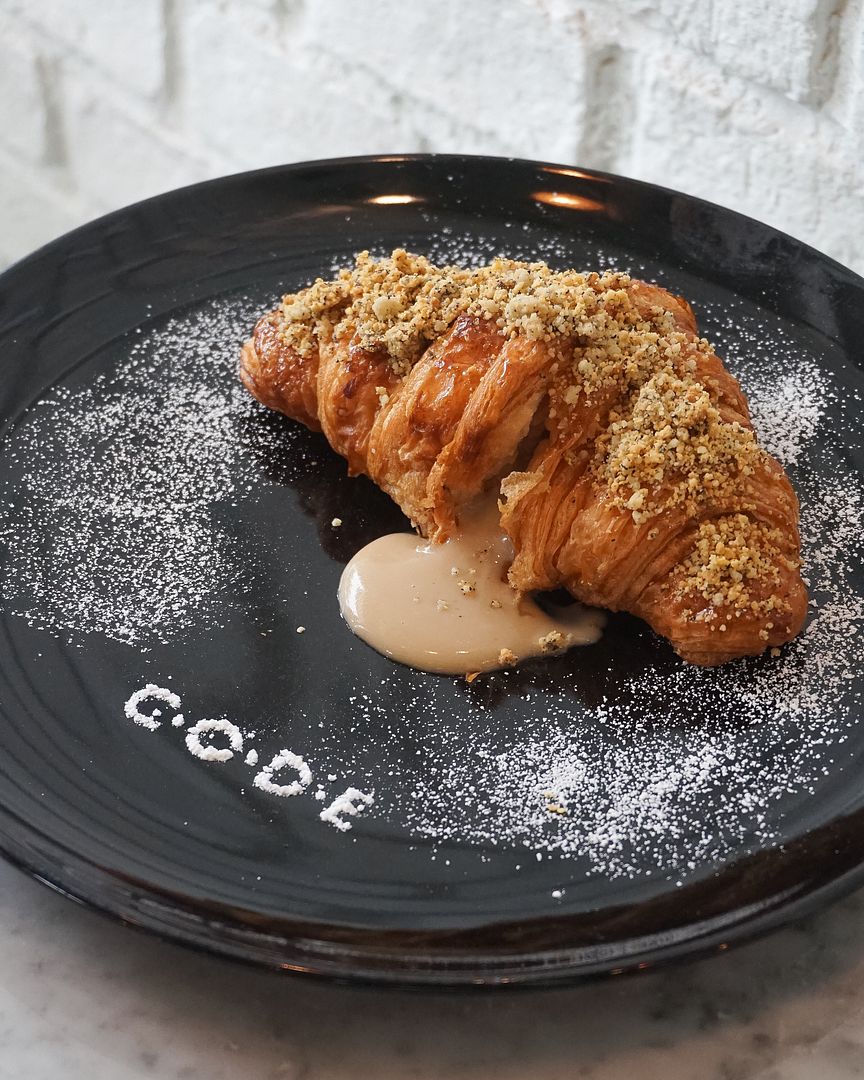 Earl Grey Tea Croissant 120฿ ↝ S$4.70
This is so good that I feel like having another one. The croissant is glazed with sugar and sprinkled with crumbs. Chef Pang's croissant is still the best but this filling is daebak! They also have Thai Tea and Salted Egg lava. But we only have stomach space for these 3.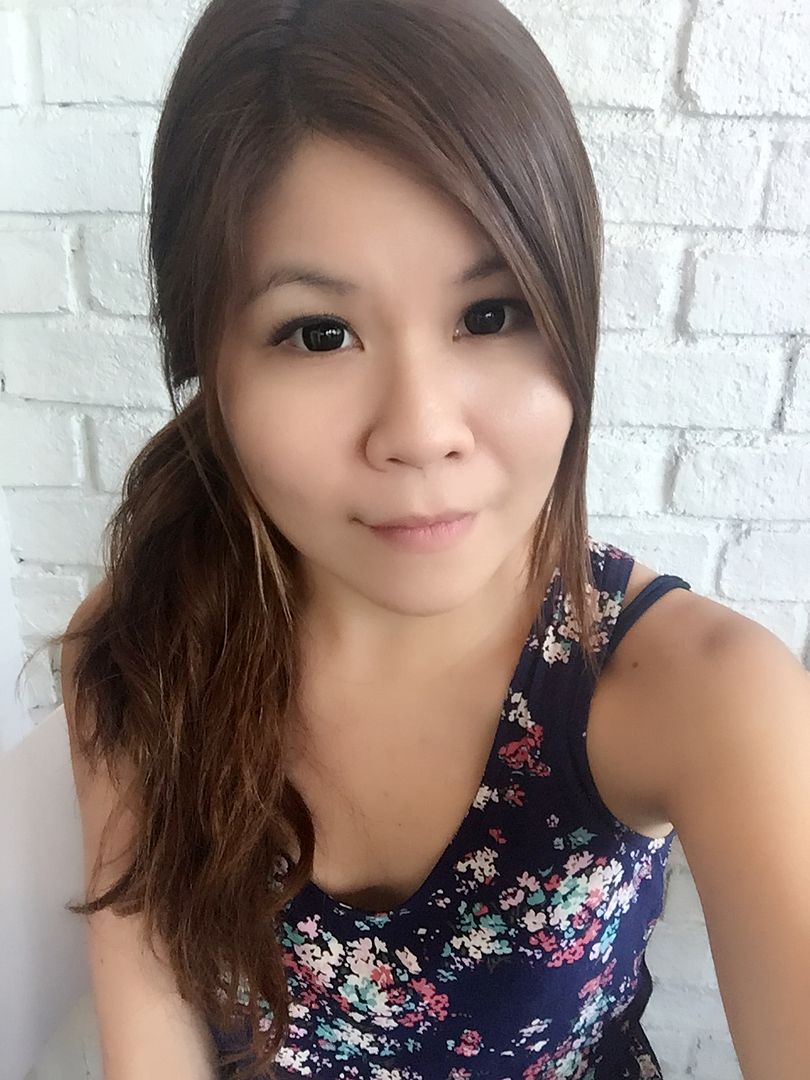 Camwhore while waiting for our cab. This is jus 1 min before I doze off.
Hello Kitty House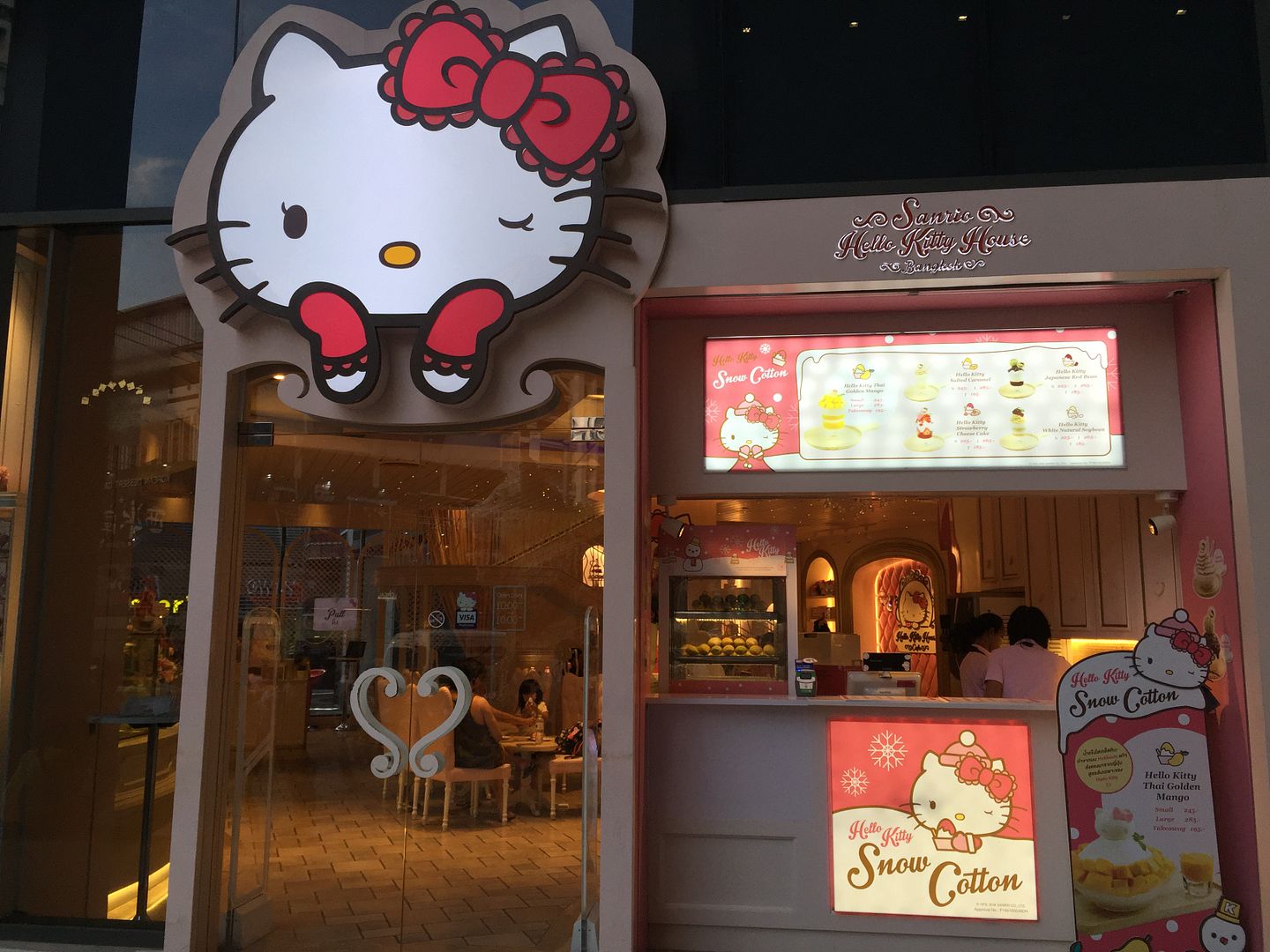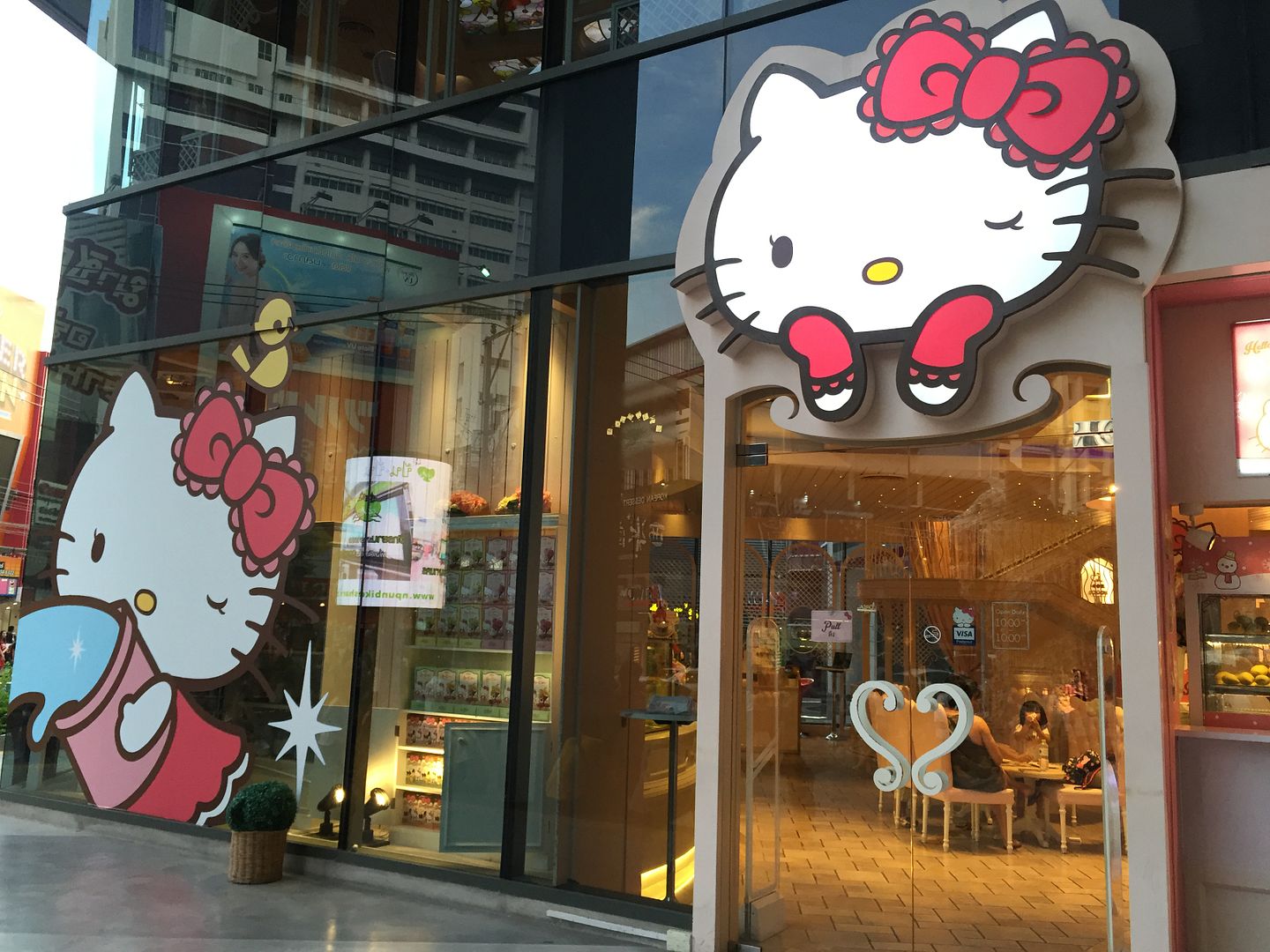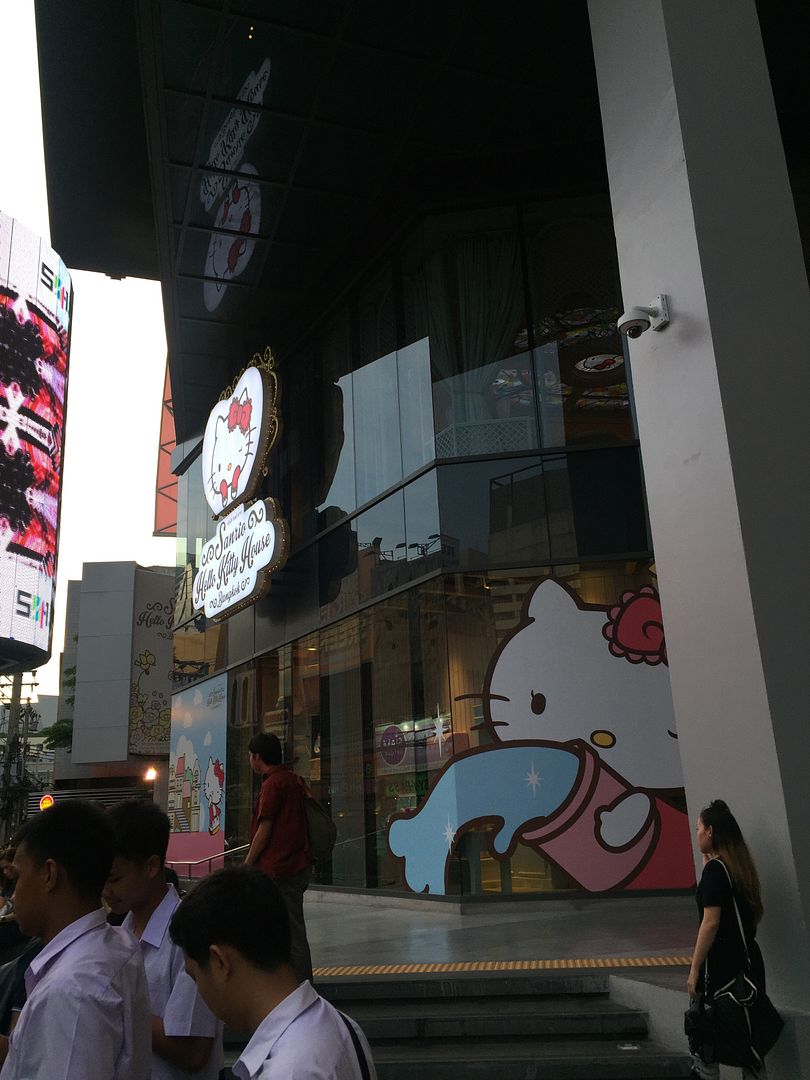 No I didn't try, not really interested to try though.
This is so much pinkish compared to our Orchid Garden in airport, no wonder all the fans are so displeased. But Hello Kitty doesn't always mean to be in pink. They started off with red no?
3. Bonca
This is what I have requested to try and the girls gladly obliged but its just bad. But for the pictures.. okay lo.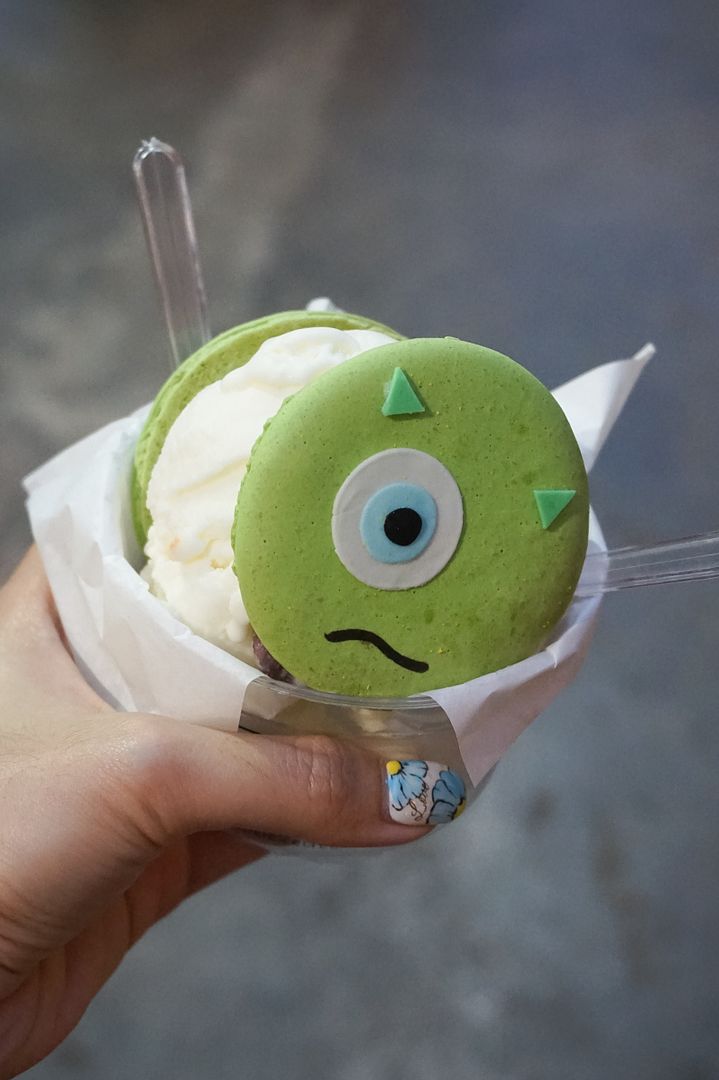 Macaron with Ice Cream 125฿ ↝ S$4.90
Super cute macaron ice cream but it didn't taste as nice as its looks, as expected.
You can choose from waffle cone, taco waffle, soft baked cookie or macaron, followed by ice cream.
The macarons and ice cream is really nothing to shout about. Try once, enough already.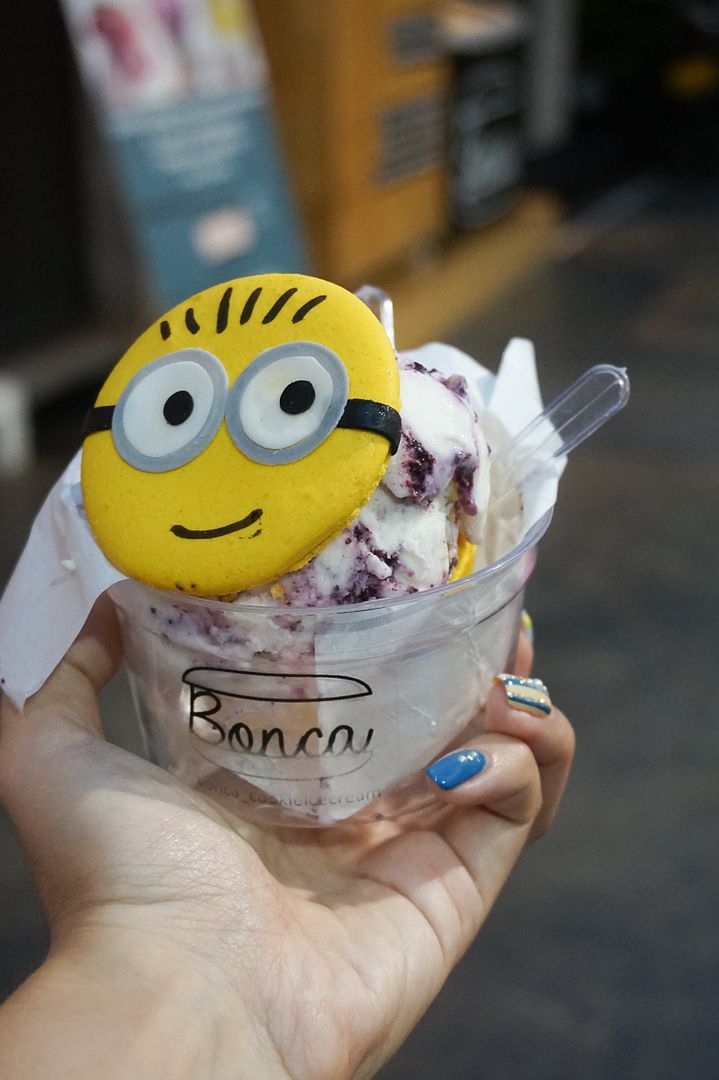 Macaron with Ice Cream 125฿ ↝ S$4.90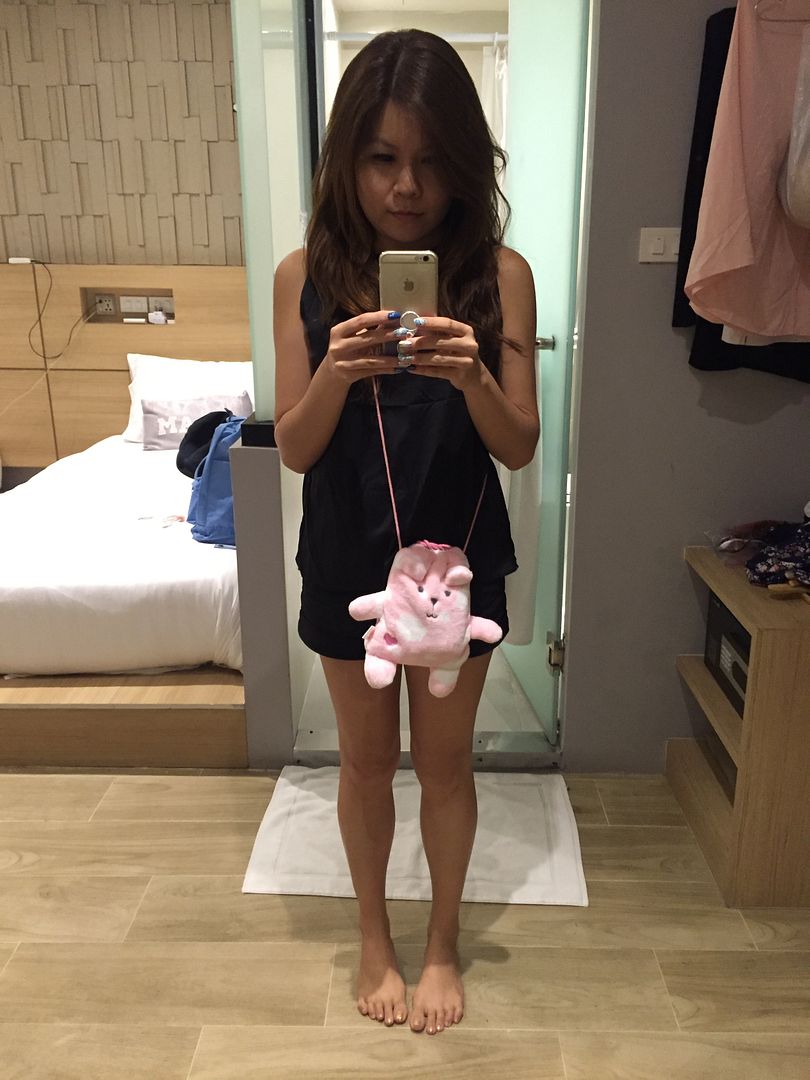 Back at hotel! Suppose to give this pouch away, but I want to bring a smaller bag out, so... sorry friend. I haven't plan to give it to which friend yet, so I am also not in the wrong la. Don't worry I won't give it away after I have used it. It shall be my lunch bag at work!
New top from Chatuchak, bathed and off we go for dinner nearby, we decided to give up train market because no point making us so tired.
4. Siam Paragon Food Hall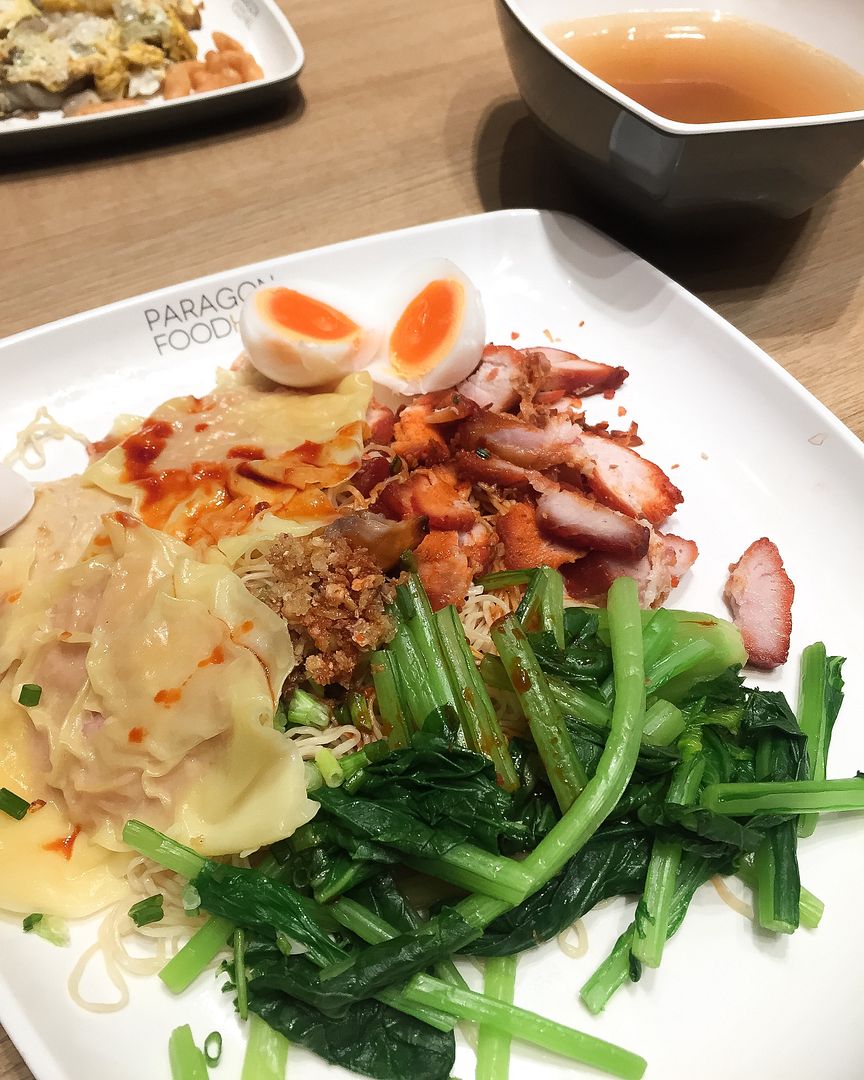 Super Noodles 200฿ ↝ S$7.80
The noodles and everything is cold, except the soup.
Its like our chap chai bng, the ahjumma just took everything on the display and put them on my plate. Not sure if this is the correct way of eating wanton noodles - eating it cold.
Mango Sticky Rice 60฿ ↝ S$2.35
After shopping at some Siam night market along the streets and tidbits shopping at Big C, we bought mango sticky rice! 2 packets to share among 4 of us. Technically 3, because Jacq is down. Baby's immune system is pretty weak. And the mangoes in Thailand is so sweet!
Hannah bought us ''Yakult''!
Okay, thats it for Day 3!