| | |
| --- | --- |
| Address: | 133 New Bridge Road #01-43 Singapore 059413 |
| Operating Hours: | 11am to 3am (last order 2.30pm) |
| Website: | https://www.facebook.com/ChirChirSingapore/?fref=ts |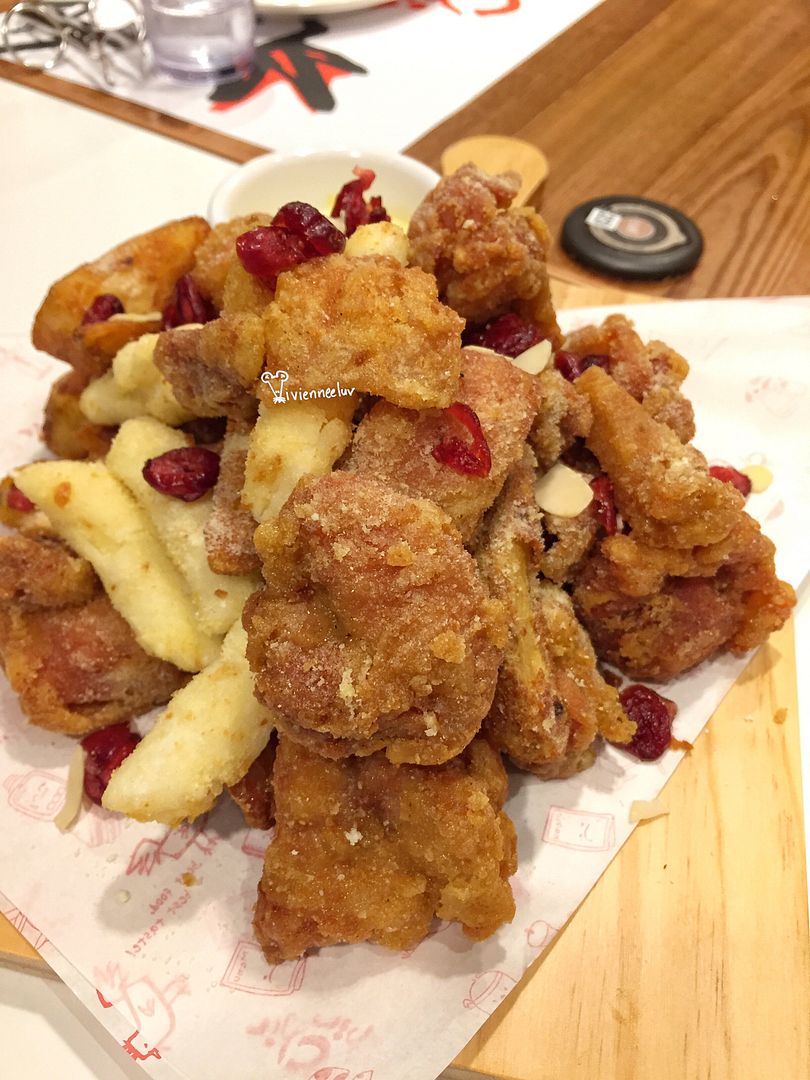 I had this honour to try out some new dishes at Chir Chir with some of the closest people in this circle. These dishes will be available on the menu from 8th April 2016!
Recently Chir Chir held a guess-and-win contest on their Facebook page, to guess the new flavour of their fried chicken. Have you guess it correctly?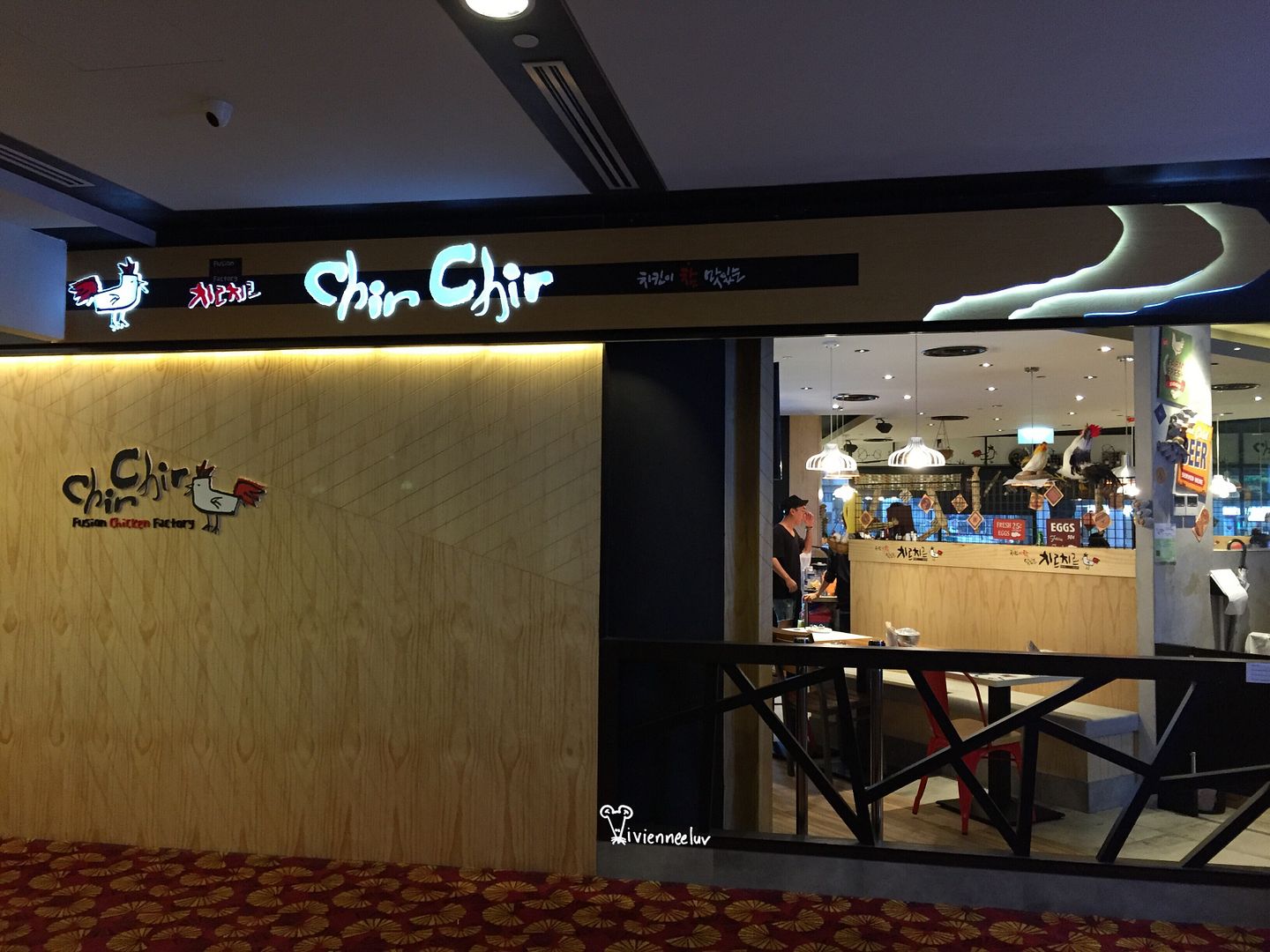 Aqua Double Smoothie S$12.90
Mojito Double Smoothie S$12.90
Raspberry Double Smoothie S$12.90
All 3 smoothies are layered with a bottom of ice blended mango purée, then topped with tropical fruit, lime and raspberry slushes respectively, then crowned with whipped cream and rainbow sprinkles. You can choose to add soju for S$3.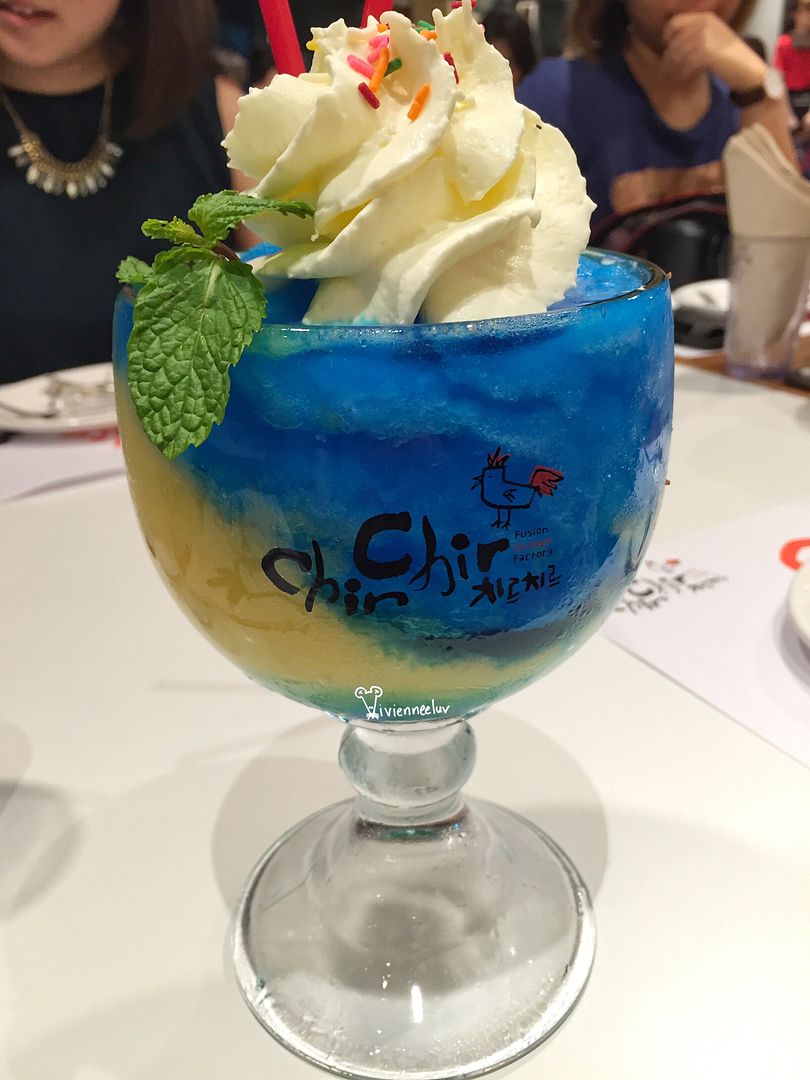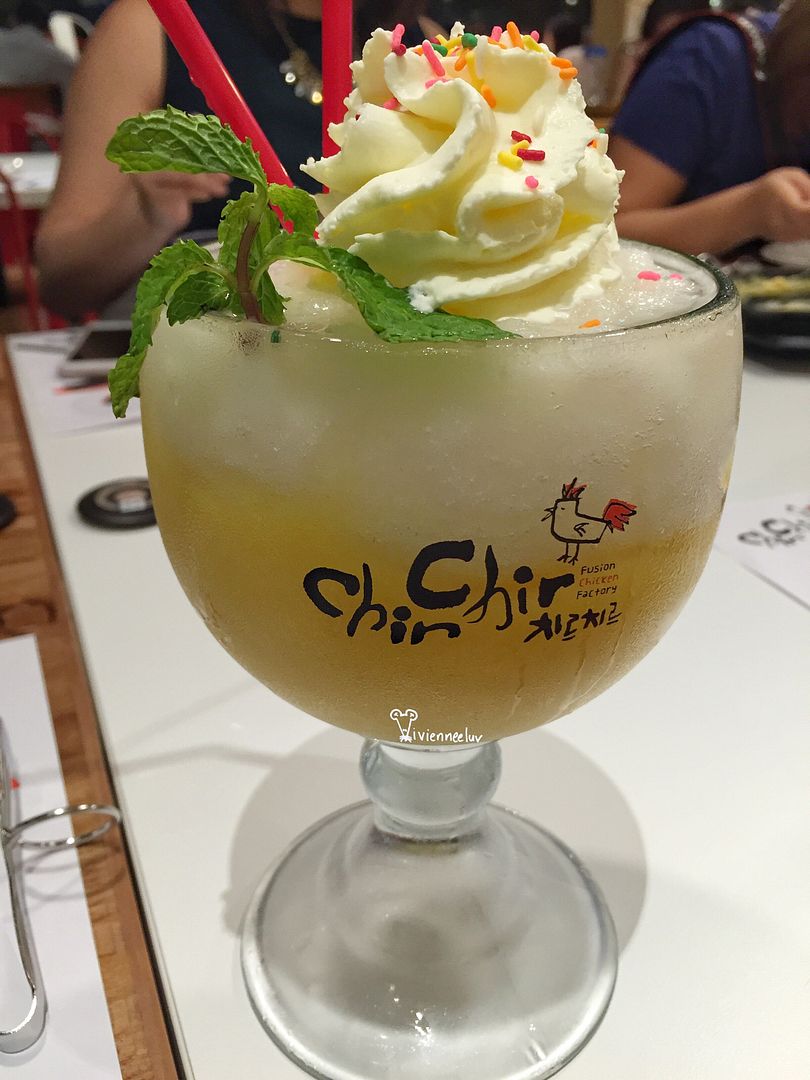 Chir Cream Beer S$13.90 350ml
Chir Cream Beer S$18.90 650ml
I love my drinks with whipped cream. Shared this with Geraldine and I feel very satisfied after a full meal.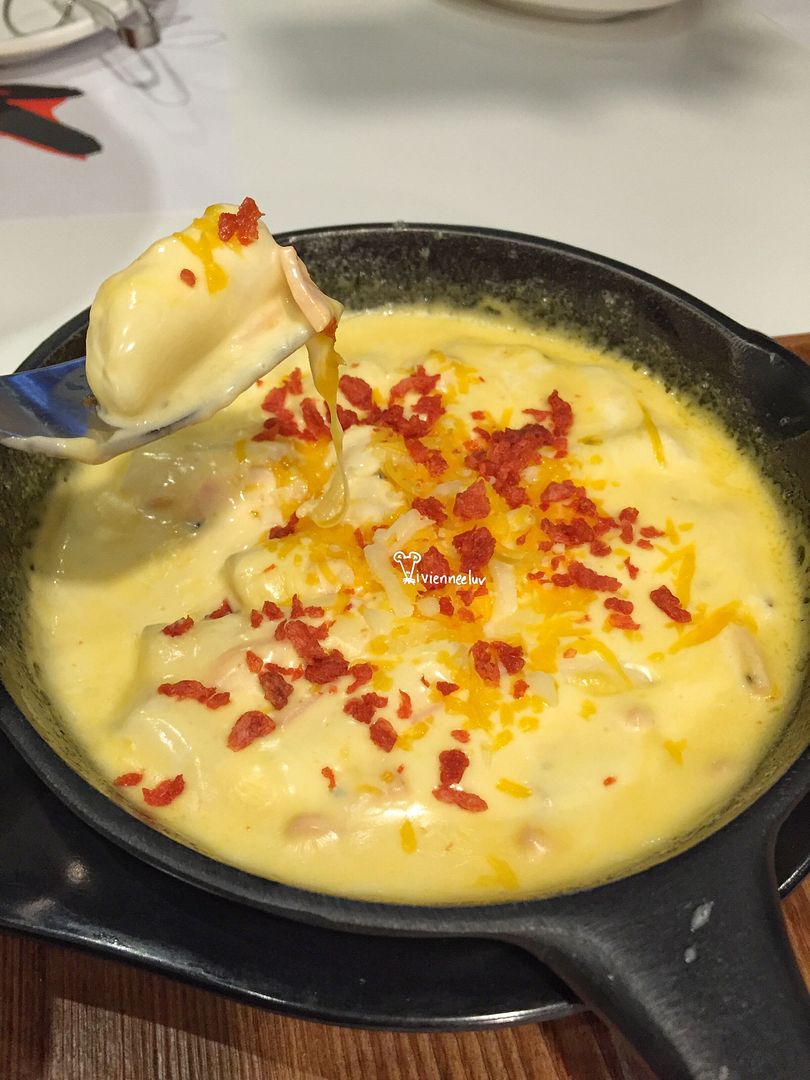 Topokki & Cheese S$9.90
It's the Topokki version of their Mac & Cheese. I've tried their Mac & Cheese and I prefer Topokki & Cheese much better, firstly because it's Topokki, gives more bite as compared to macaroni, secondly because it has ham and bacon bits! Will definitely order this the next time I'm there!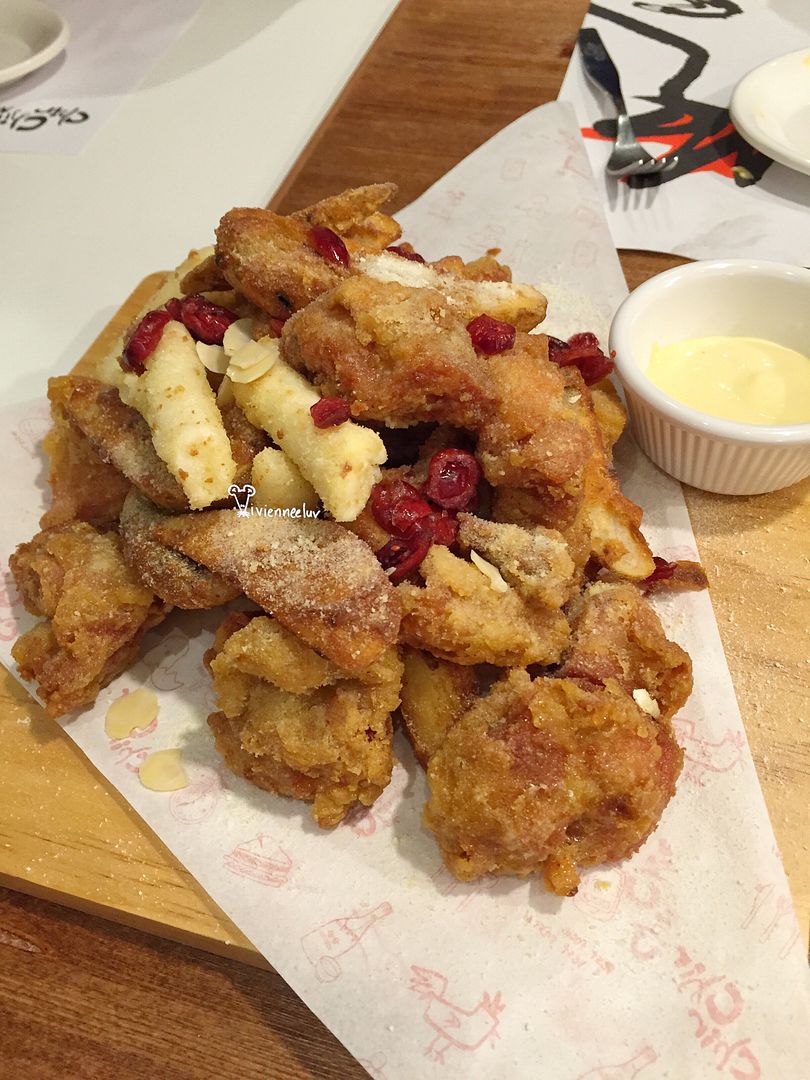 Honey Butter Chicken S$28.90
The most popular Korean chips flavour is coming to us from 8th April 2016 onwards, in our fried chicken and toppoki. Combination is savoury sweet, although in my opinion it's more to the sweet side. Crispy fried chicken, potato wedges, pan-fried toppoki in honey butter sauce and then showered with honey butter seasoning powder, dried cranberries and sliced almonds. Accompanied with honey garlic mayo dip.
Spicy Seafood Soup S$26.90
Clam-based broth, squid, crayfish, prawns, mussels and glass noodles, not as spicy as I expected. Apart from these seafood that you can see in the picture, there are generous amount of clams in the soup as well. It's loaded with so much seafood that we can't finish!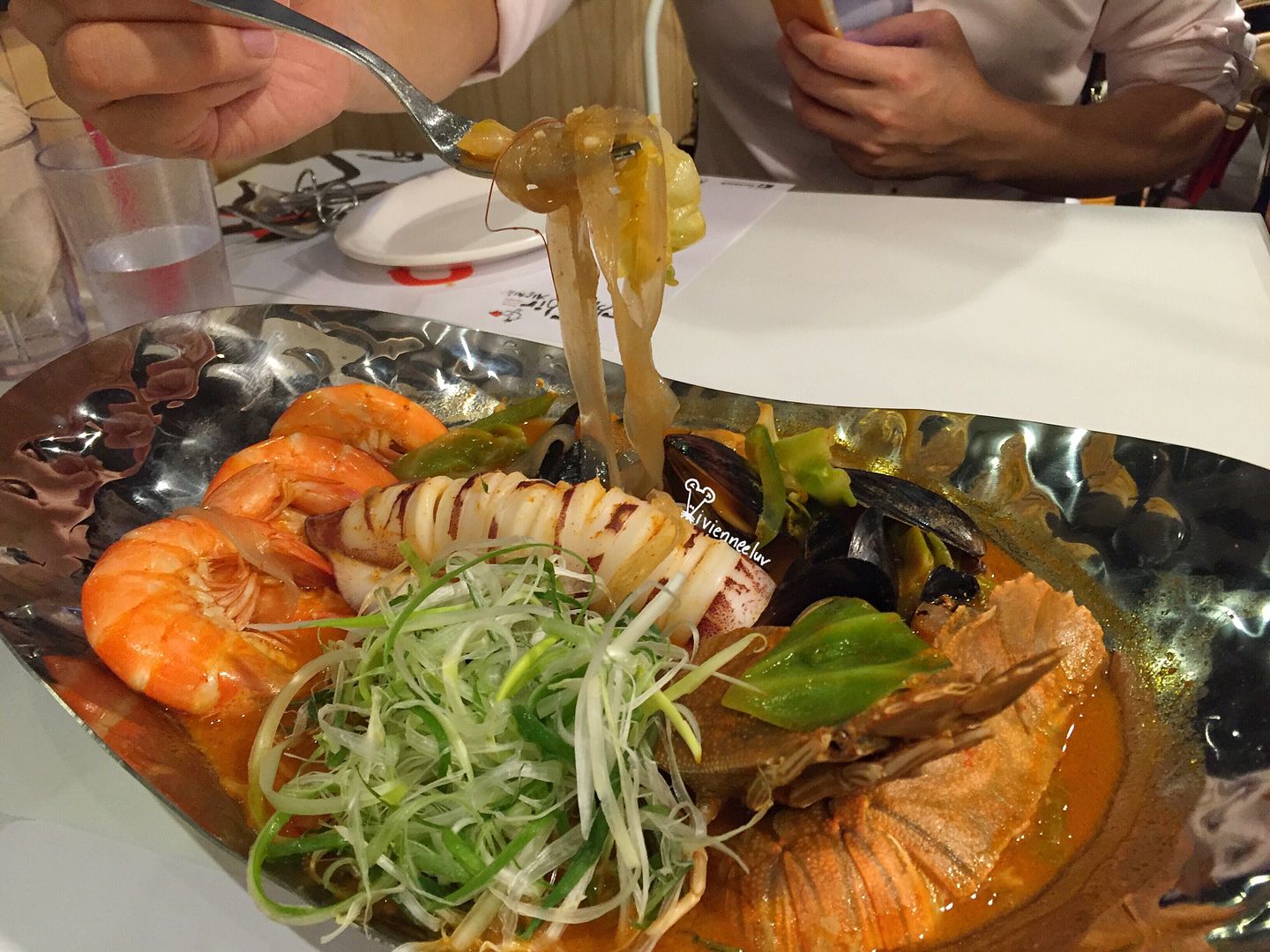 The same glass noodles as what they used in the stews at Massizim!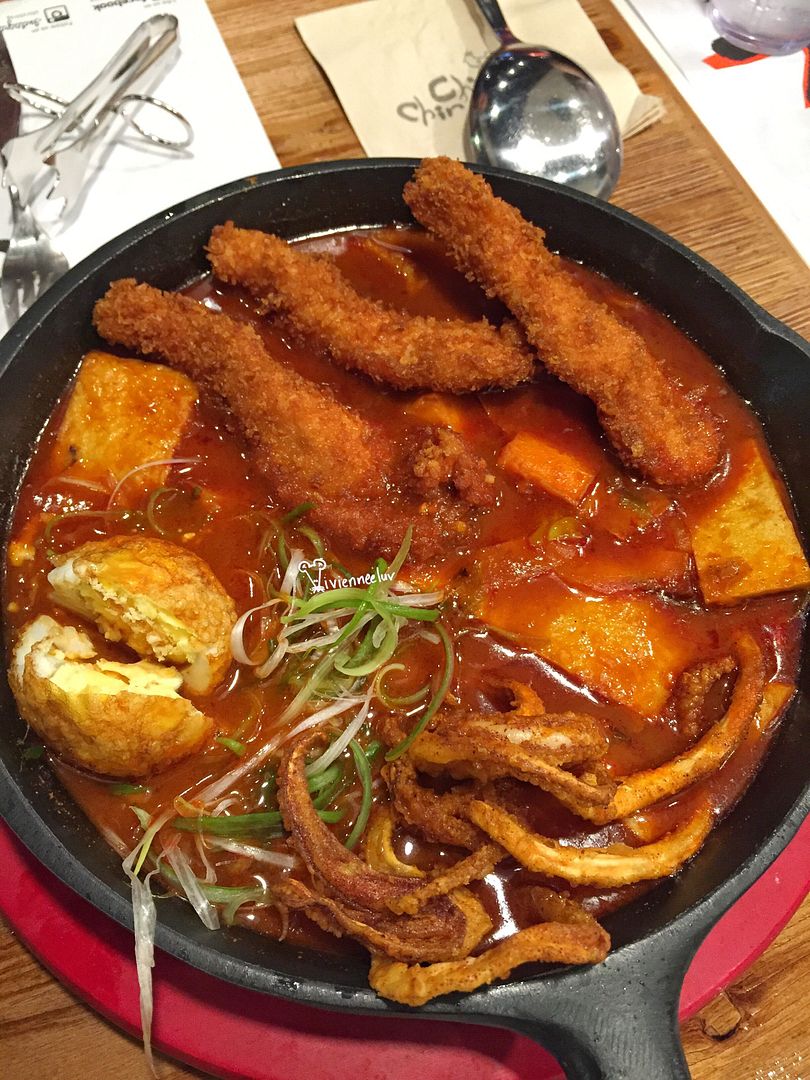 Spicy Toppoki S$15.90 + S$4 Breaded Chicken
This is a less spicier version as compared to Korea's, but it's already quite spicy for me. This dish consists of Korean rice cakes, Cajun battered squid, sweet potato cubes, deep-fried hard boiled egg in spicy gochujang sauce (red pepper paste). The sweet potato cubes takes a bit of the spiciness away.
Rosemary Chicken S$29.90
We also had one of the current menu item which is this very juicy whole roasted chicken, comes with salt-baked egg, baked potato and salsa.
Do look out their new menu starting 8th April 2016!
Thank you Chir Chir for the invite.