| | |
| --- | --- |
| Address: | 313 Orchard Road #B3-46, 313 Somerset Singapore 238895 |
| Tel: | +65 65096608 |
| Operating Hours: | 11am to 10pm Daily |
| Facebook: | https://www.facebook.com/ISEEiSEEsg/ |
| Opened: | 12th March 2016, Saturday |
I See i See's first international outlet opened in Singapore a few days back on 12th March 2016. Its founded in May 2015 and currently had 5 outlets in Hong Kong.
Using top quality ingredients for its fruit and milk-based ice pops, there is no added preservatives or colourings in them and they are all handcrafted by an ice pop artist in small batches so no ice pops are alike. Freezing of the ice pops only takes 20 to 30 minutes by a quick-freeze method, which results in extremely fine crystals and a feathery snow-like texture.
(Pic Credit: Alain)
Went 2 days straight, first with my mum and second day with these ladies and Alain.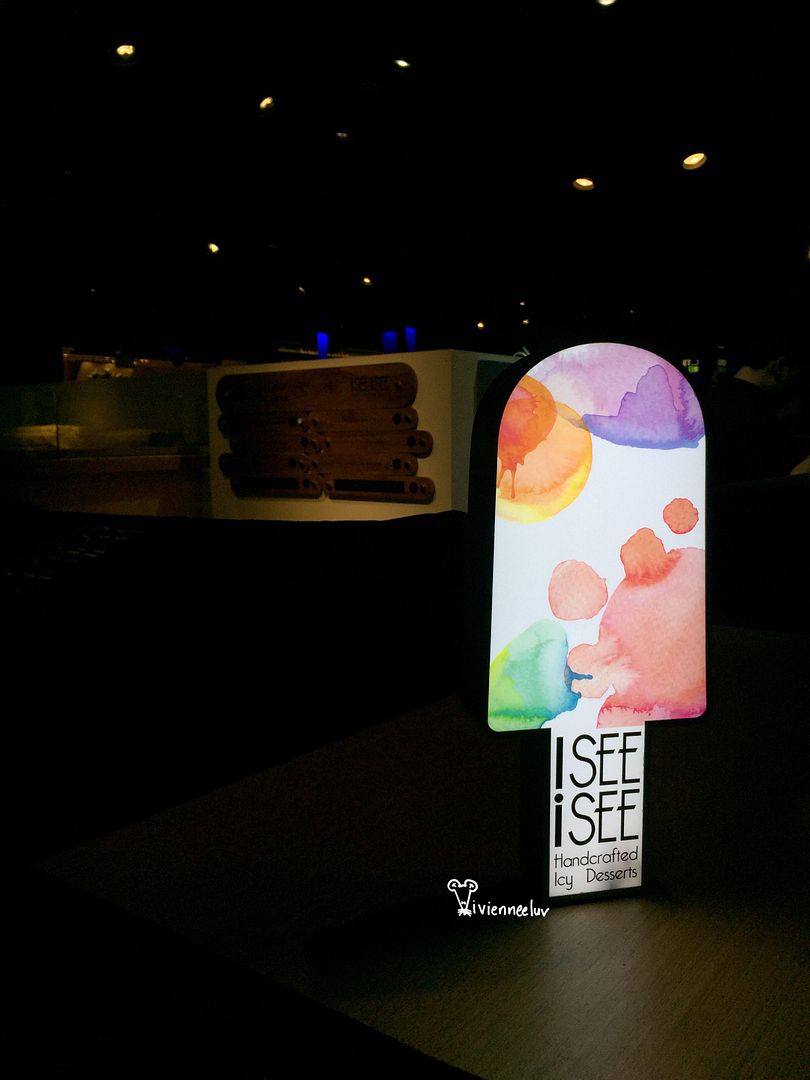 At any one time, there will be about 8 to 12 flavours of ice pops on display and there are also occasional specials on rotation.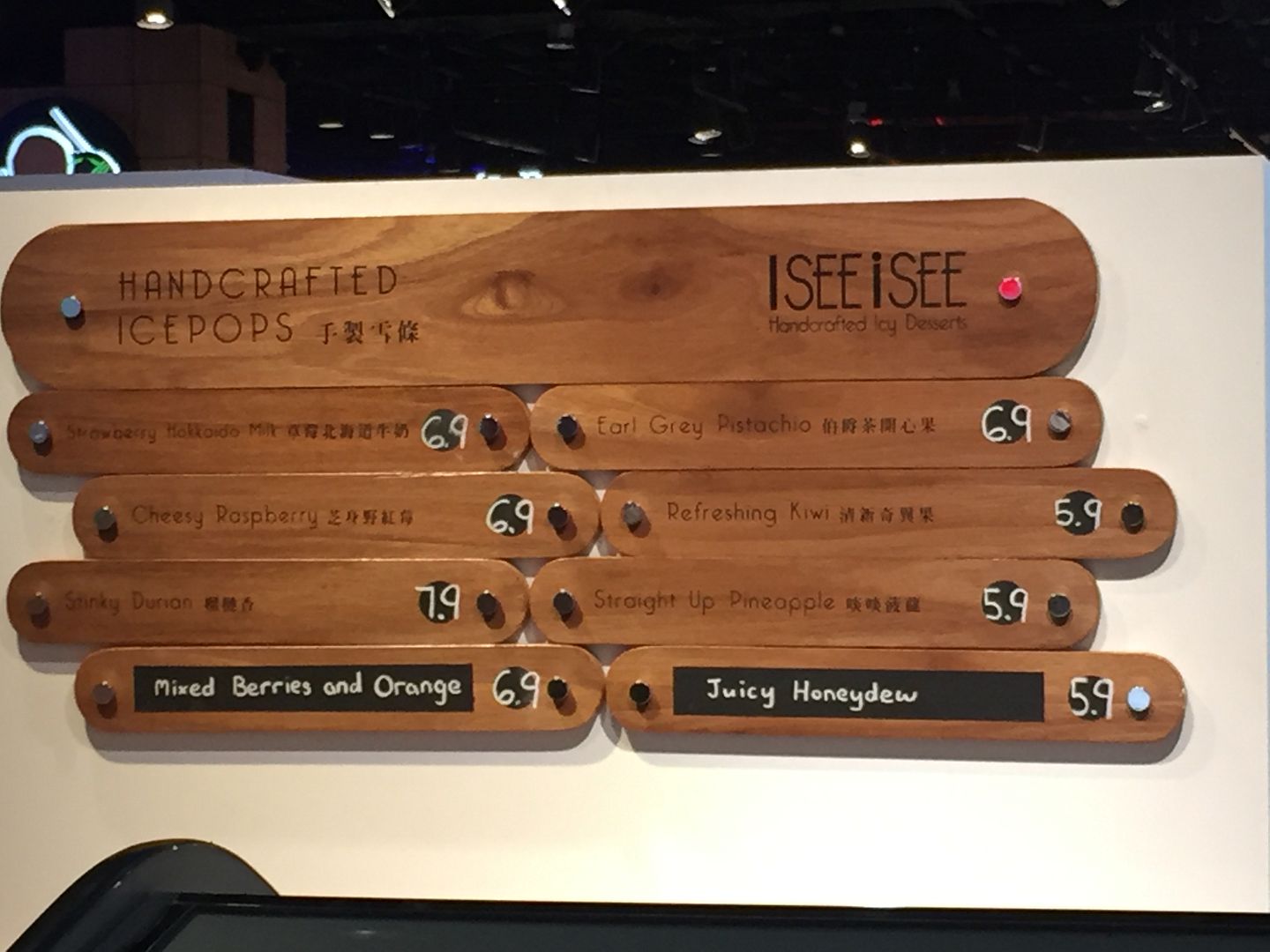 The flavours and prices are all clearly indicated on this board which resembles ice cream sticks.
Some of the flavours I have tried:
Creamy Mango S$6.90
Earl Grey Pistachio S$6.90
Juicy Honeydew S$5.90
Strawberry Hokkaido Milk S$6.90
Stinky Durian S$7.90
Cheesy Raspberry S$6.90
Refreshing Kiwi S$5.90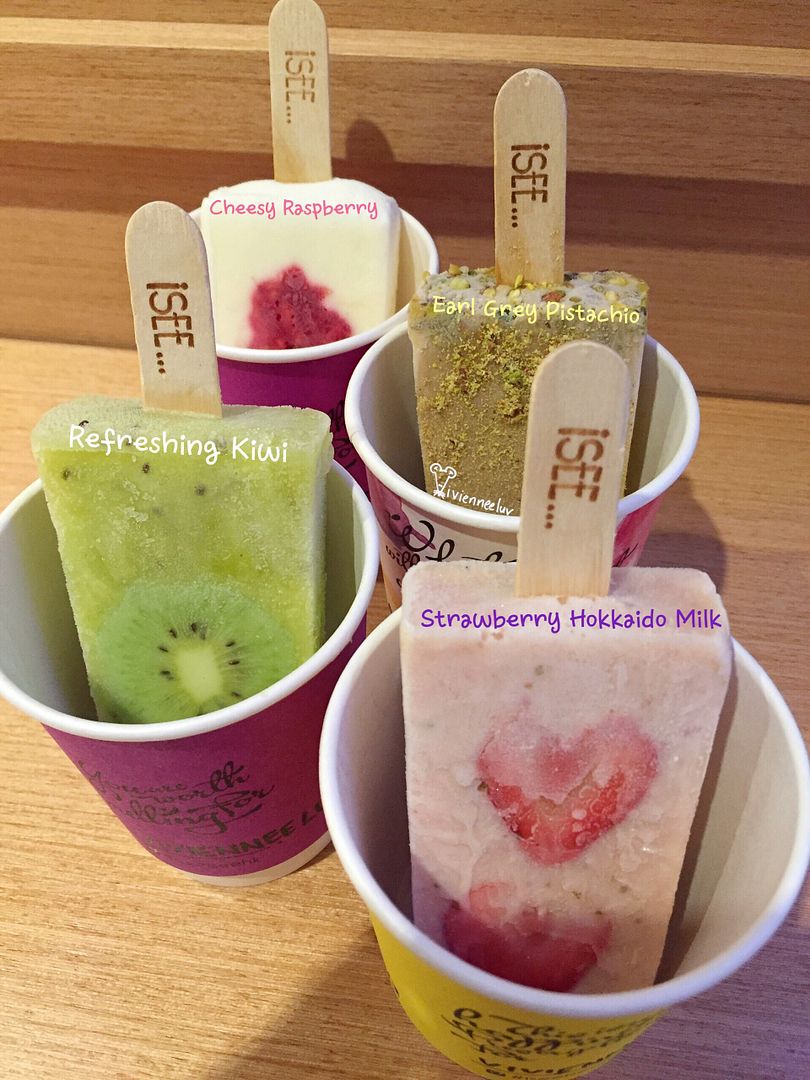 Juicy Honeydew is a little disappointing, its too lightfor my liking.
Stinky Durian is surprising good!
Creamy Mango is made from fresh mango puree, and it gives a creamy texture.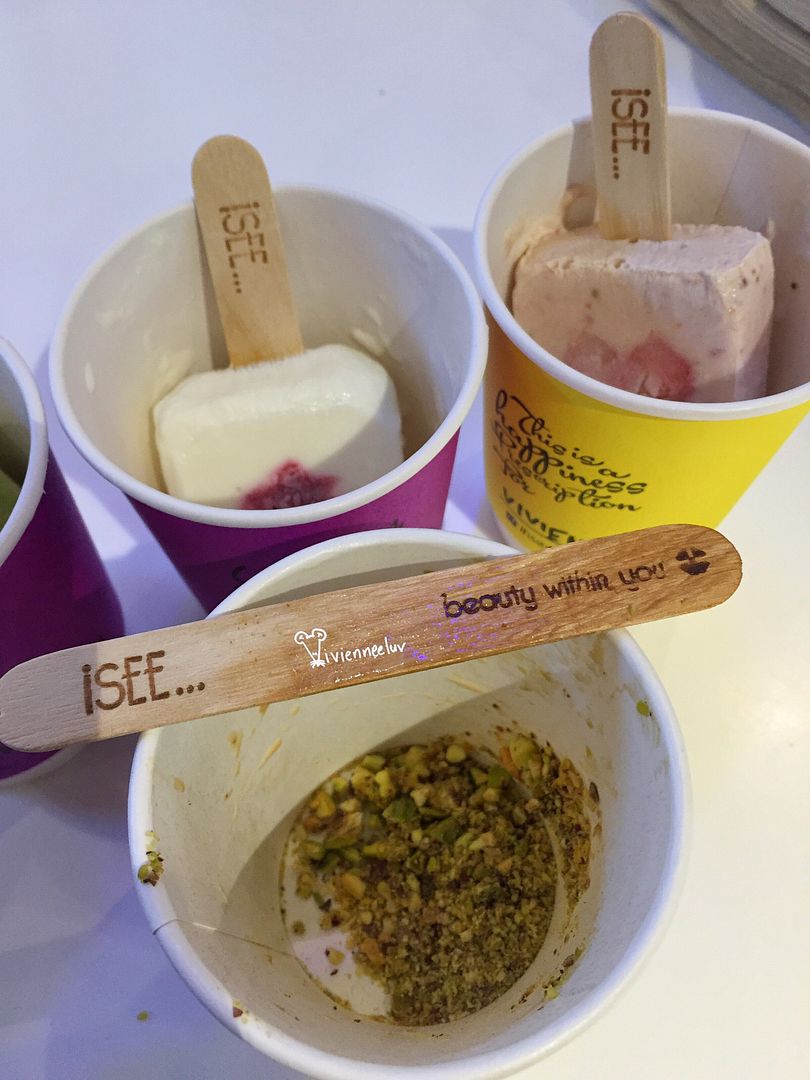 Love the Earl Grey Pistachio as it is intensely flavoured with freshly brewed earl grey and then sprinkled with generous serving of crushed pistachio which added a saltish taste to the ice cream. Who doesn't like the combo of both sweet & salty?
I have finished my ice pop and it revealed a message. Adding a sweet touch after you have your sweet treat.
Strawberry Hokkaido Milk is made with fresh U.S. imported strawberries and blended with Hokkaido Token 3.6 milk.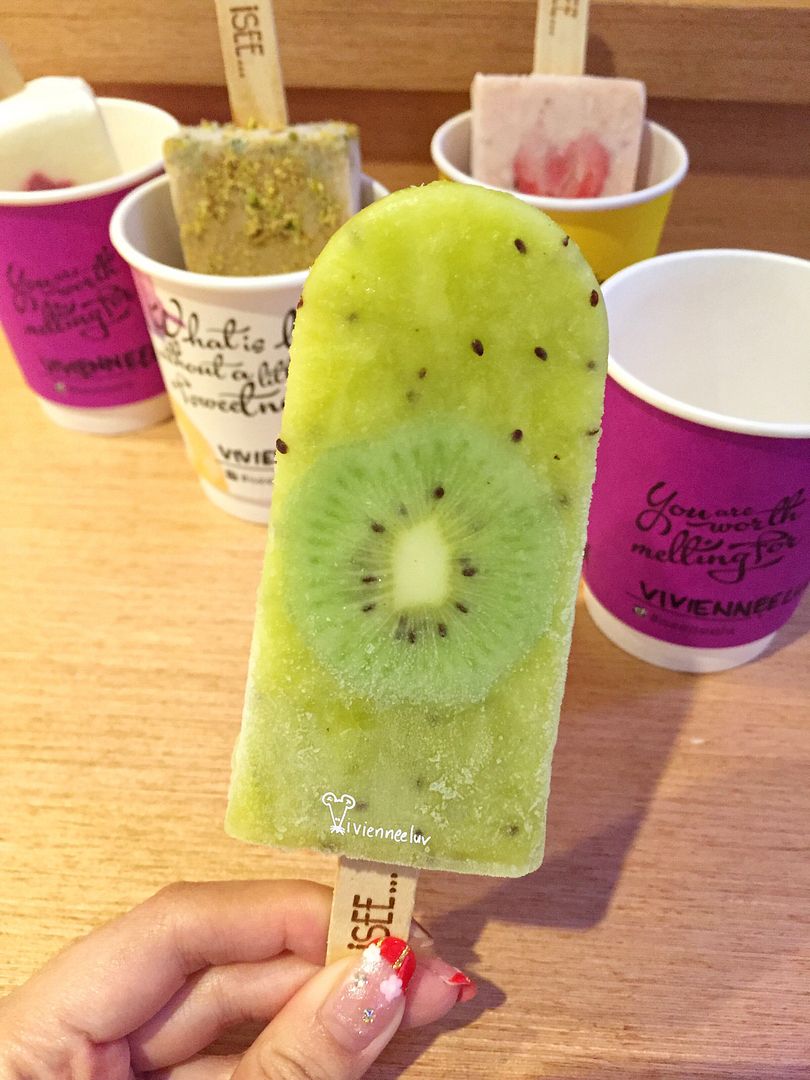 Mum's favourite as it is the least sweet, as it is made with high fruit content, its slightly sourish which makes the ice pop very refreshing on this hot & humid day.
The fresh raspberry-centre complements the cream cheese, which is I See i See's version of a raspberry cheesecake.
Look out for more flavours like Fig & Honey S$7.90, Chili Mango S$6.90, Lychee with a Cherry Kiss S$6.90, Reach for the Stars S$6.90, Avocado S$6.90, Straight Up Pineapple S$5.90 and VIrgin Mojito S$6.90. Looking forward to see more local flavours!
Takeaways are also welcome as they provide insulated bag filled with dry ice for up to 7 ice pops in a bag.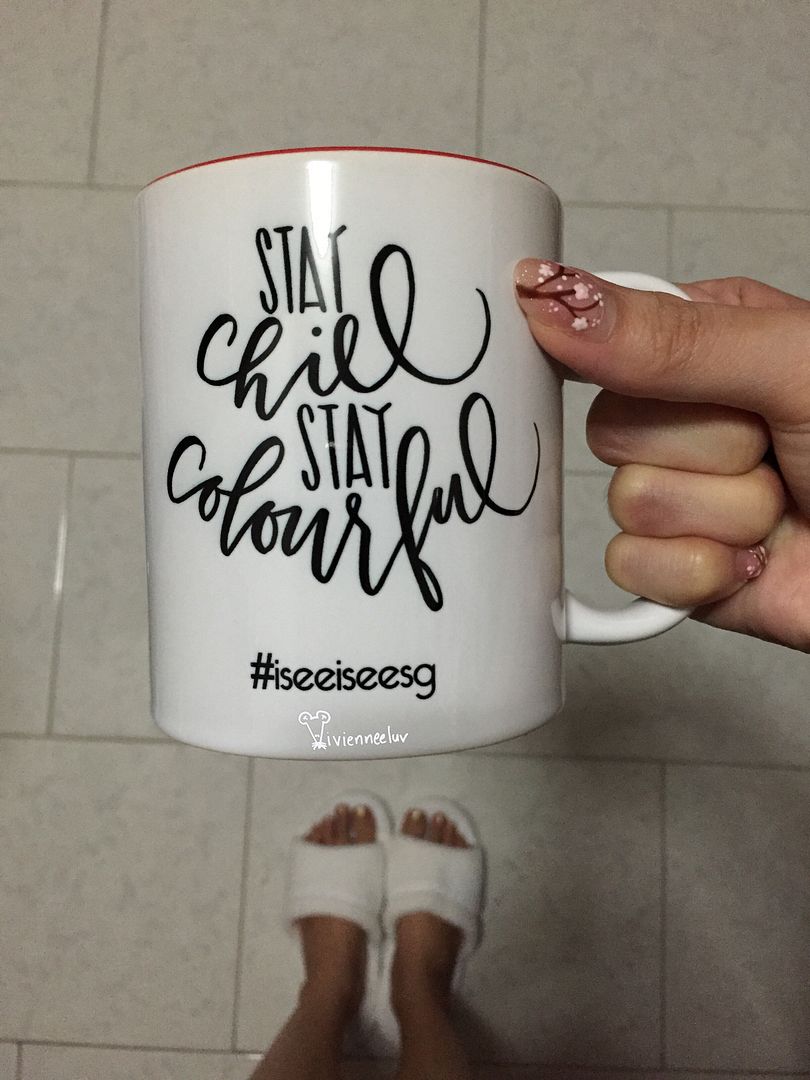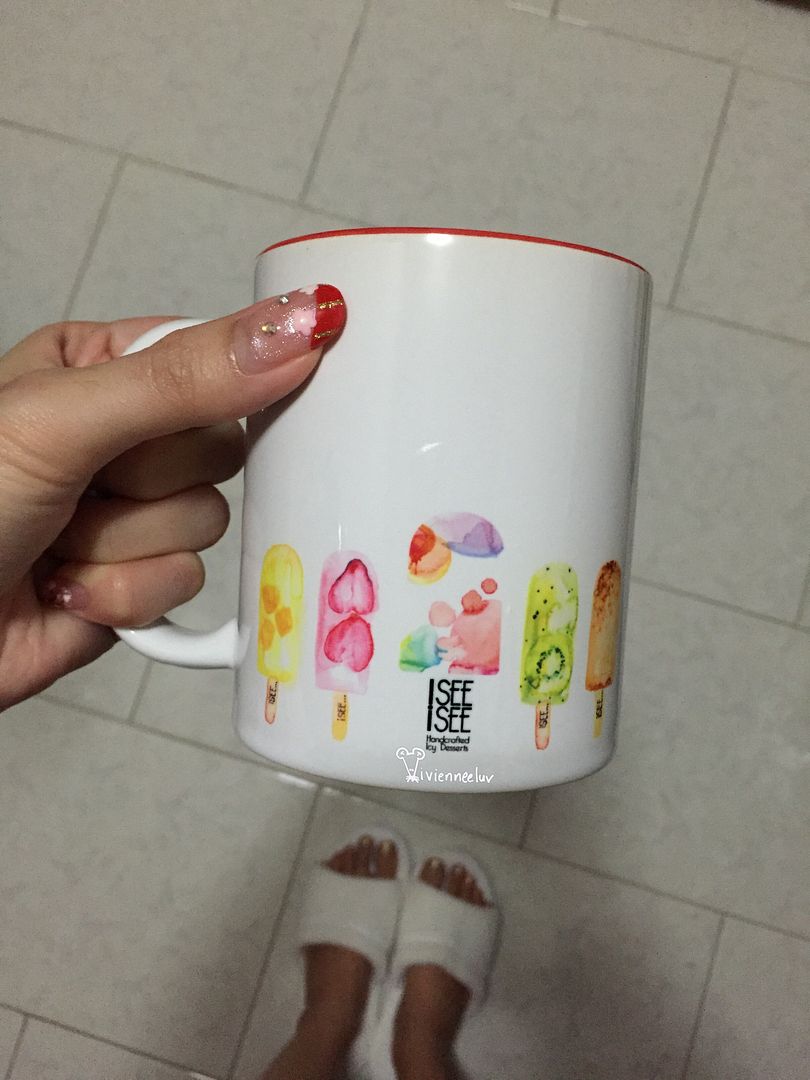 And a souvenir from I See i See, thank you for having me!