The Laneway Market
Address:
266 Tanjong Katong Road Singapore 437053
Tel:
+65 67198832

| | |
| --- | --- |
| Operating Hours: | 4pm to 9.30pm Tuesday |
| | 11am to 9.30pm Wednesday to Friday |
| | 10am to 9.30pm Saturday & Sunday |
| | Close on Monday |

Website:
http://thelanewaymarket.com
The ShiokBook
Tel:
+65 91511180
Website:
http://theshiokbook.com
Email:
Info@TheShiokBook.com
Price:
S$45 (every purchase of a book, S$10 will be given to charities beneficiaries or fundraising organisations)
Was at the media launch yesterday afternoon for TheShiokBook launch which is held at The Laneway Market.
TheShiokBook is a booklet (they have digital version too) of coupons of either 25% off total bill or 1 for 1. There are over 65 restaurants/bistros/cafes and over 100 coupons, they are valid till 31st June 2016. Head over to there website, click on ''The Flipbook'' and you will be able to view the whole booklet.
This is the list of merchants you can find in TheShiokBook.
There are many such discount/1-for-1 apps coming up, I personally feel the merchants for TheShiokBook is not too bad for the price of S$45, maybe 2 visits to cafes/restaurants is enough to cover your cost of the book.
Hoping to see more merchants in the next edition of course, humans are greedy :p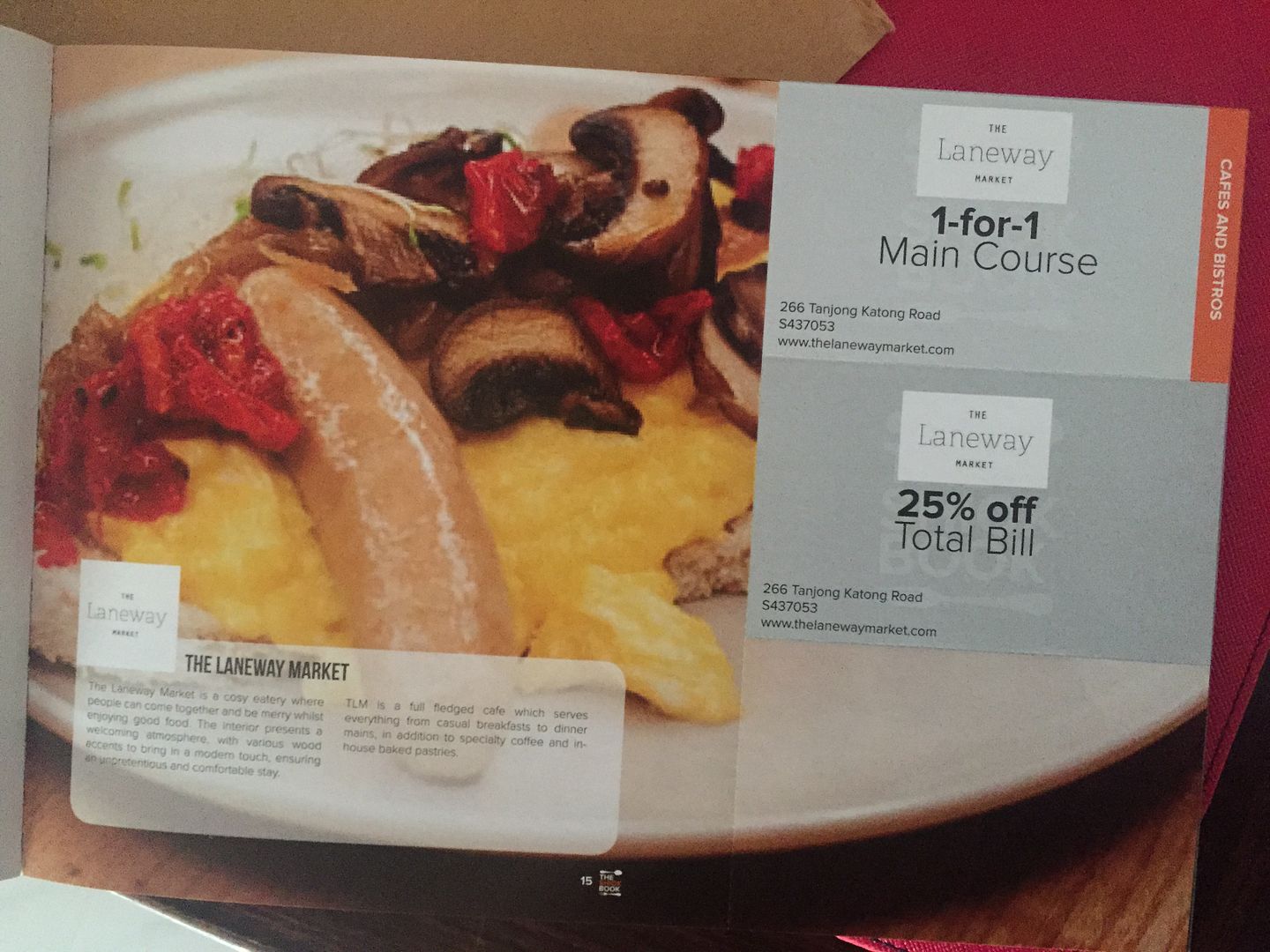 Coupons look like this, it comes with perforated lines for easy tearing of coupons.
Apart from book, we were pampered with food!
Cold Pressed Coffee S$6.50
Sous Vide Poached Eggs S$17
24 hours beer infused pulled pork, Mirepoix Pain de Mie, smoked capsicums.
Risotto S$21
Hon dashi, field mushrooms, onsen egg, beurre noisette poached crab meat, bonito flakes, parmesan.
Beef S$24
42 Day aged wagyu rump, truffle smashed potato, mushroom reduction, ponzu jus, watercress and smoke milk foam.
I love the truffle smashed potato, missing it already although I just had it yesterday.
Salmon
Aburi smoked salmon, microgreens, citrus, pickled radish, smoked capsicums, garlic soy.
Quite a appetising dish with thinly big slices of smoked salmon.
Double Valrhona Chocolate Tart S$4.50
A pity my Christmasy looking tart is quite hard, and the crust isn't buttery enough for my liking.
Pistachio Honey Vanilla Cake S$6.50
Texture of the cake is pretty good, however the pistachio taste is not distinctive enough. It tasted more like lavender cake to me.
Raspberry Lemonade Cake S$6.50
This on the other hand is refreshing with a slight hint of sour, the combination of sweet and sour is just right.
Thank you TheShiokBook and The Laneway Market for having us! Saturday afternoon well spent!