| | |
| --- | --- |
| Address: | Blk 106 Clementi Street 12 #01-50, Sunset Way Singapore 120106 |
| Tel: | +65 64640478 |
| Operating Hours: | 5.30pm to 11pm Mon to Sat |
| | 5pm to 11pm Sun & PH |
| Website: | http://carne-caipirinha.sg |
| Facebook: | https://www.facebook.com/carnecaipirinha |
Prices:
| | | |
| --- | --- | --- |
| 5.30pm to 7pm Mon to Sat (Happy Hour) | S$39.90++/adult, | S$18++/child between 5 to 12 years old |
| 7pm to 11pm Mon to Sat (Regular Hour) | S$49.90++/adult, | S$24++/child between 5 to 12 years old |
| 5pm to 6pm Sun & PH (Happy Hour) | S$39.90++/adult, | S$18++/children between 5 to 12 years old |
| 6pm to 11pm Sun & PH (Regular Hour) | S$49.90++/adult, | S$24++/child between 5 to 12 years old |
The newest concept by Argentum Group, who brought us The Royal Mail and Foodology, opens the one and only Brazilian Churrascaria in Singapore that uses charcoal fire for roasting quality meats - Carne & Caipirinha (which means meat & cocktail).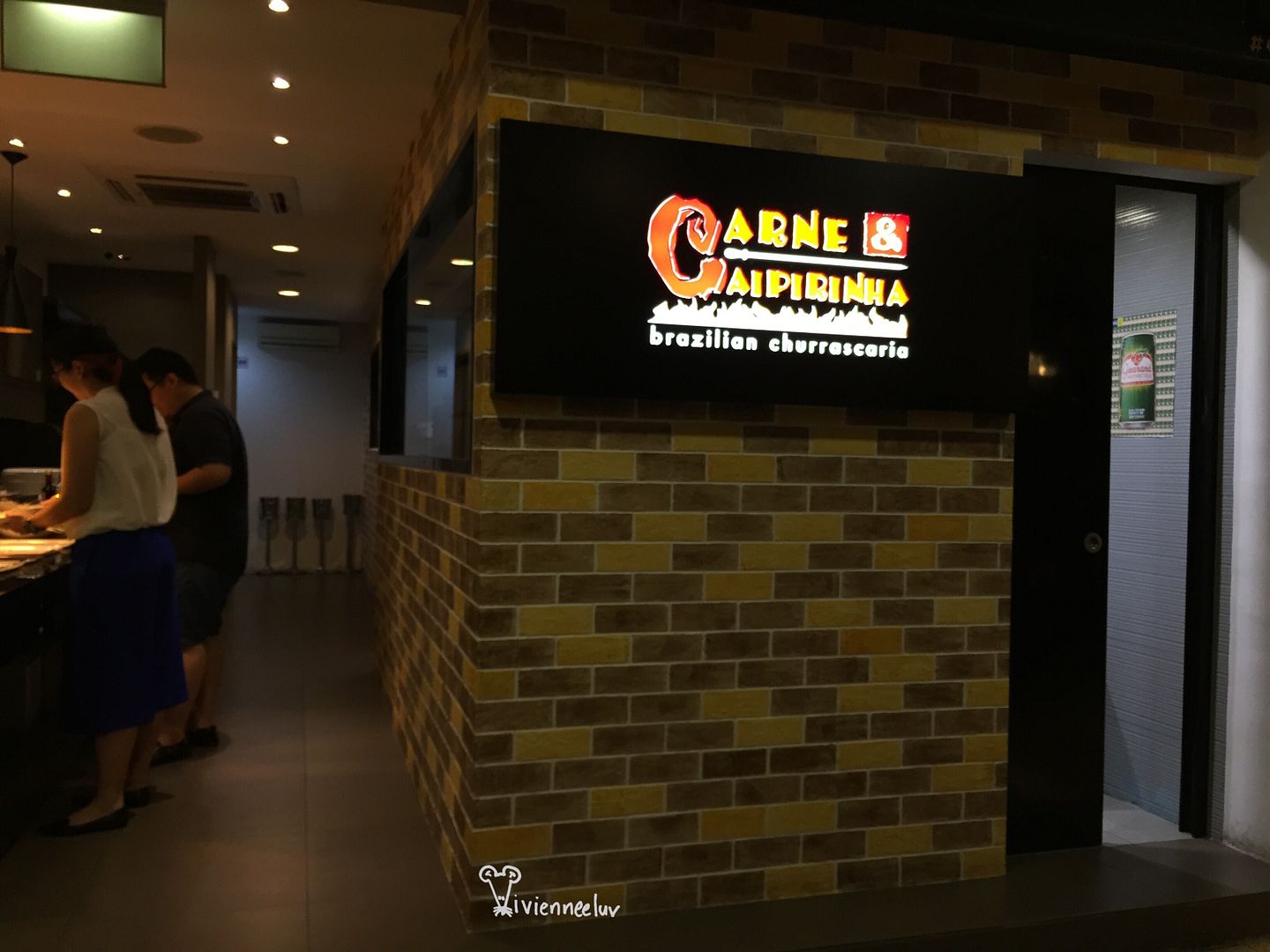 Located (far away from where I stay) in Sunset Way, come to think of it, its my first time to Sunset Way! Carne & Caipirinha offers unlimited servings of premium grills like, roasted chicken, beef, lamb, pork and fish.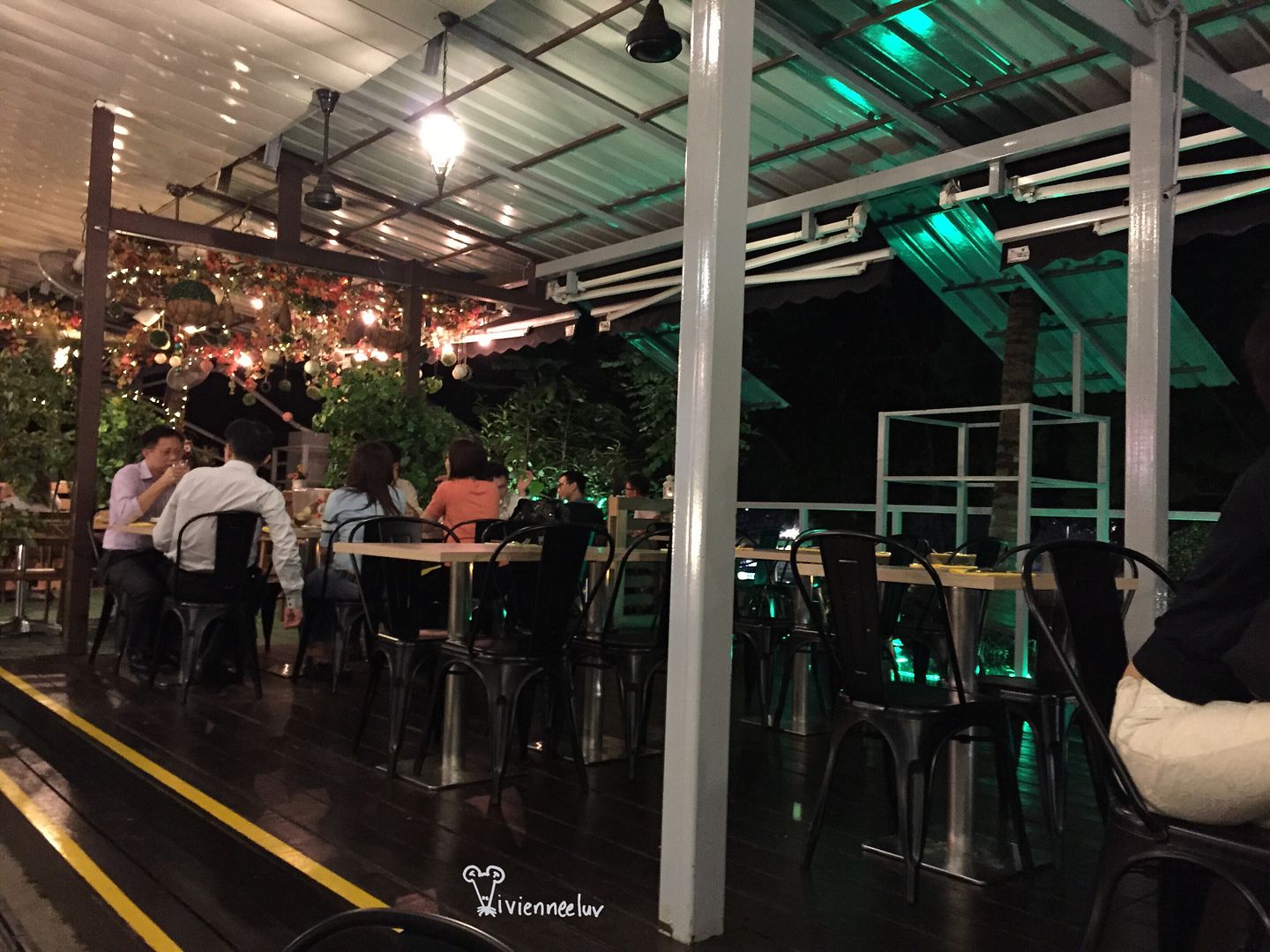 The 74-seater complete alfresco seating restaurant is located in a quaint neighbourhood, it feels quite chill to be here though.
Chef Noelio Scheibel (aka Chef Brito), a raditional cowboy has over 36 years of experience under his belt in whipping up authentic Brazilian Churrasco.
The entire management and kitchen team has collective experience of over 70 years in Brazilian Cuisine.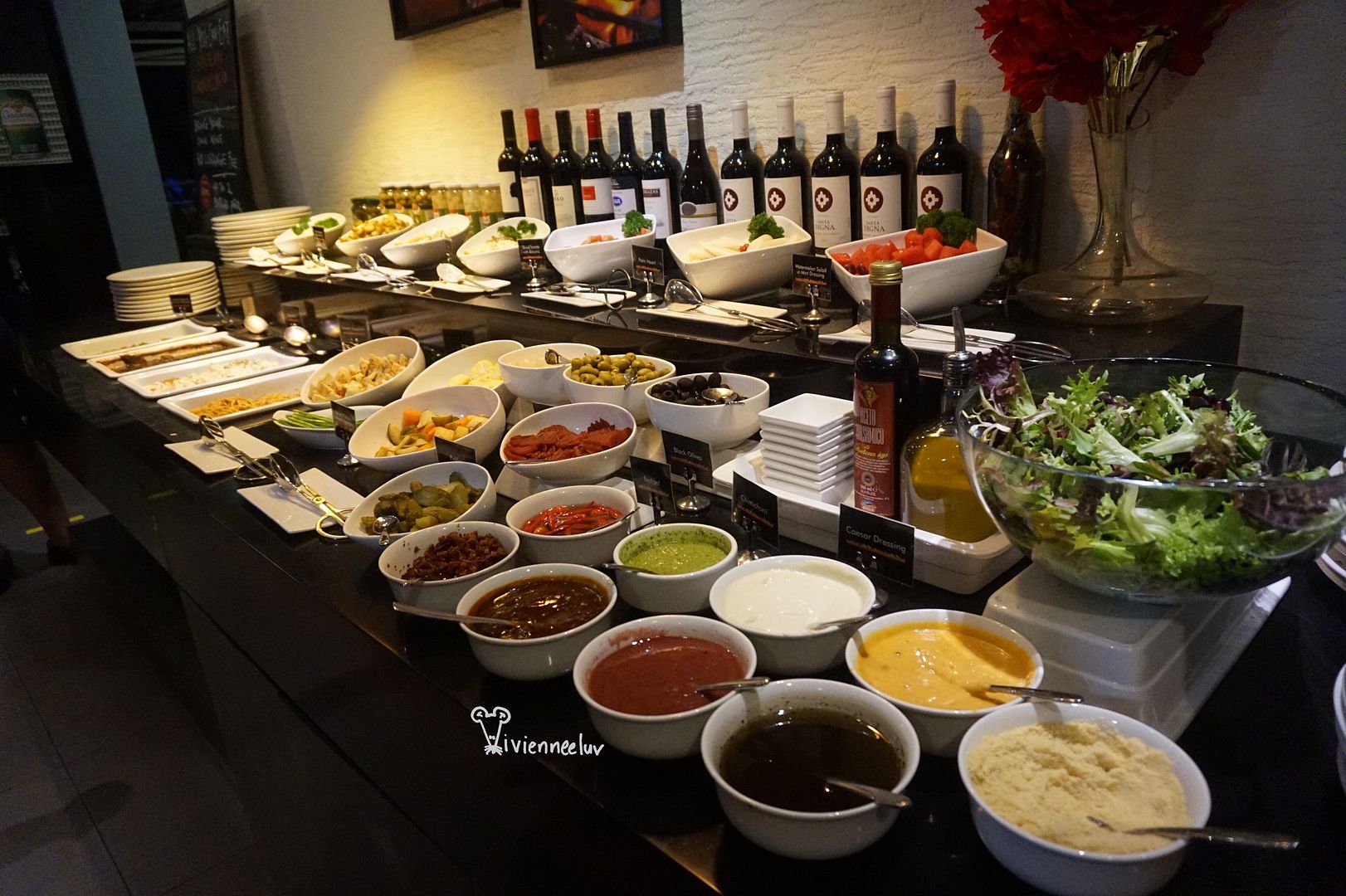 Although its a meat buffet, there is also a buffet of gourmet salads, pastas, rice and traditional Brazilian Feijoada (black bean stew). These are prepared in-house daily.
As we sat ourselves down, these were placed in front of us. At the far end is (sorry I forgotten the name) a kind of powder where you can sprinkle on your meats making them less cloying, it works for me, then we have cheese bread (quite good when you eat them hot) and salsa.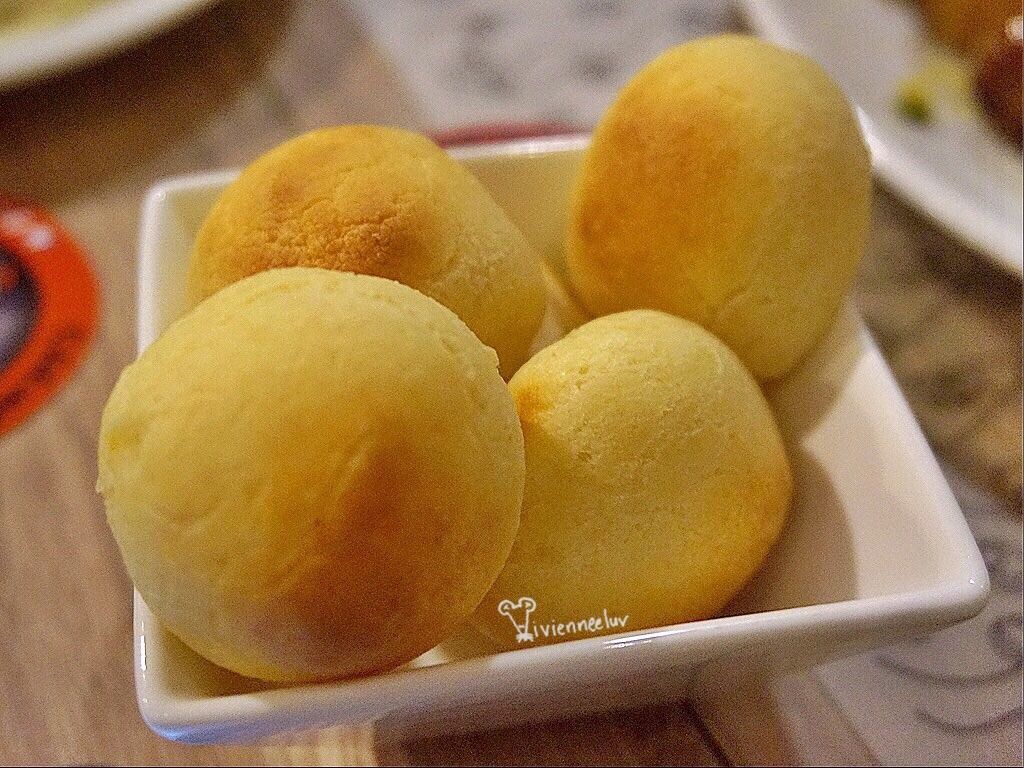 So good that some of dining companions had a few at one go.
Caipirinha
Its Brazil's national cocktail with a zesty and fruity note.
Guarana Antarctica
There are also imported Brazilian Beer - Skol, but I opt for Guarana Antarctica, the 1st ever soft drink produced in Brazil and it is currently produced in only 3 countries. However, I spotted all the japanese words on the can :P
Each patron will have a two-sided disc on their placemat. Green on one side, red on the other.
The passadors (chef cum meat servers) will come out with different meats on skewers, if you would like anything and everything, just leave your disc with the green side facing upwards. If you think you had enough, or want to take a break, flip it over with the red side facing up. So the passadors will place the skewers on your plate and carve a portion of the meat for diners.
Now... The main highlight!
Chicken Fillet wrapped in Bacon
All the meats here are slow-roasted over a charcoal fire, which helps to retain the meat's rich flavours and imparts an irresistible smoky fragrance.
All the beef and chicken are directly imported from Brazil. Brazilian beef boast a robust and satisfying taste as compared to American and Australian counterparts. And most importantly, only simple marinade is used here, and the meats are tasty enough.
I didn't take a lot of pictures as I was busy eating and it was full house that night, so I took many hasty shots and they ended up looking quite bad.
Chicken Heart
Its my first time tasting chicken heart, it taste like sausages. Don't think, just eat.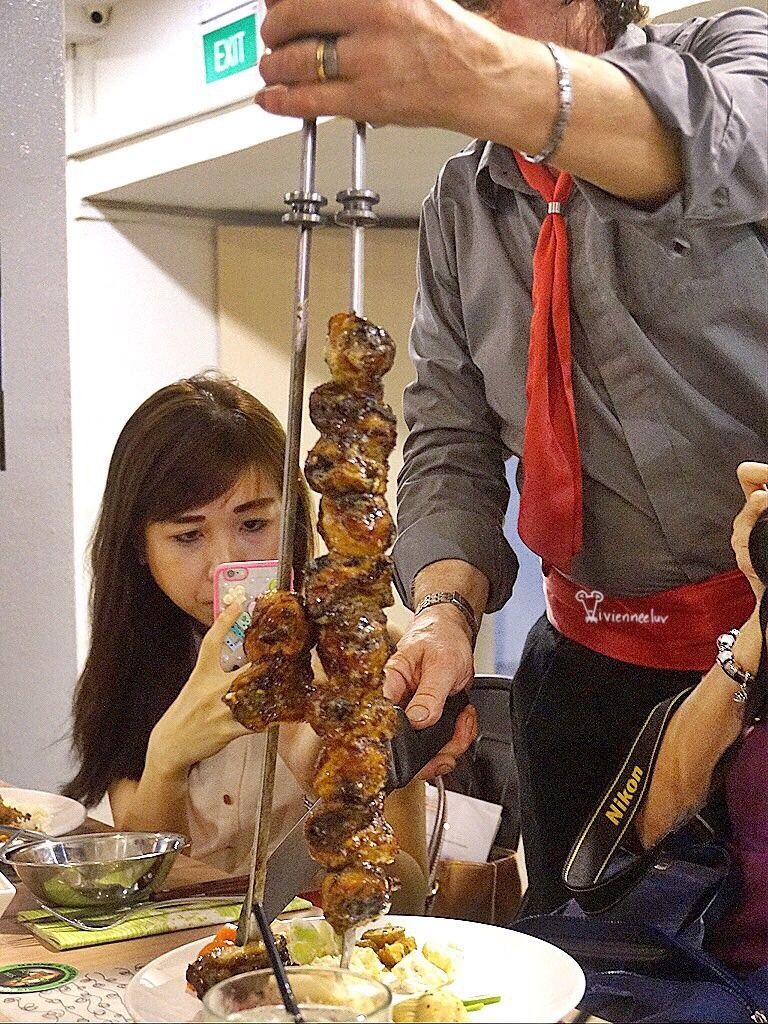 Chicken Thigh
Beef Hump
Beef hump is a rare cut, its only found in humped Brazilian Cattle (Zebu), and has more marbling than other meats.
Pork Belly
Quite good if you love pork belly.
Grilled Pineapple
Actually thats not all of the food we were served, we had an estimate of about 12 grills that night. On special occasions, Carne & Caipirinha will serve Prawns Wrapped in Bacon! Sounds yummy.
Out of everything, I love the Fish Escolar the most, its the only fish dish that will be served here.
Thank you Carne & Caipirinha for having us!