| | |
| --- | --- |
| Address: | 3A River Valley Road #01-04 Clarke Quay Singapore 179020 |
| Opening Hours: | Please click here for opening hours / outlets |
| Website: | http://www.tomoizakaya.com/home.php |
Was here
last CNY
, now I am back again! This year's menu was a much simpler one. 5-course set menu S$128 for 3 pax. There is Yusheng, Scallop, Prawn, Duck and Claypot Rice which I have stated the ala-carte prices on each item.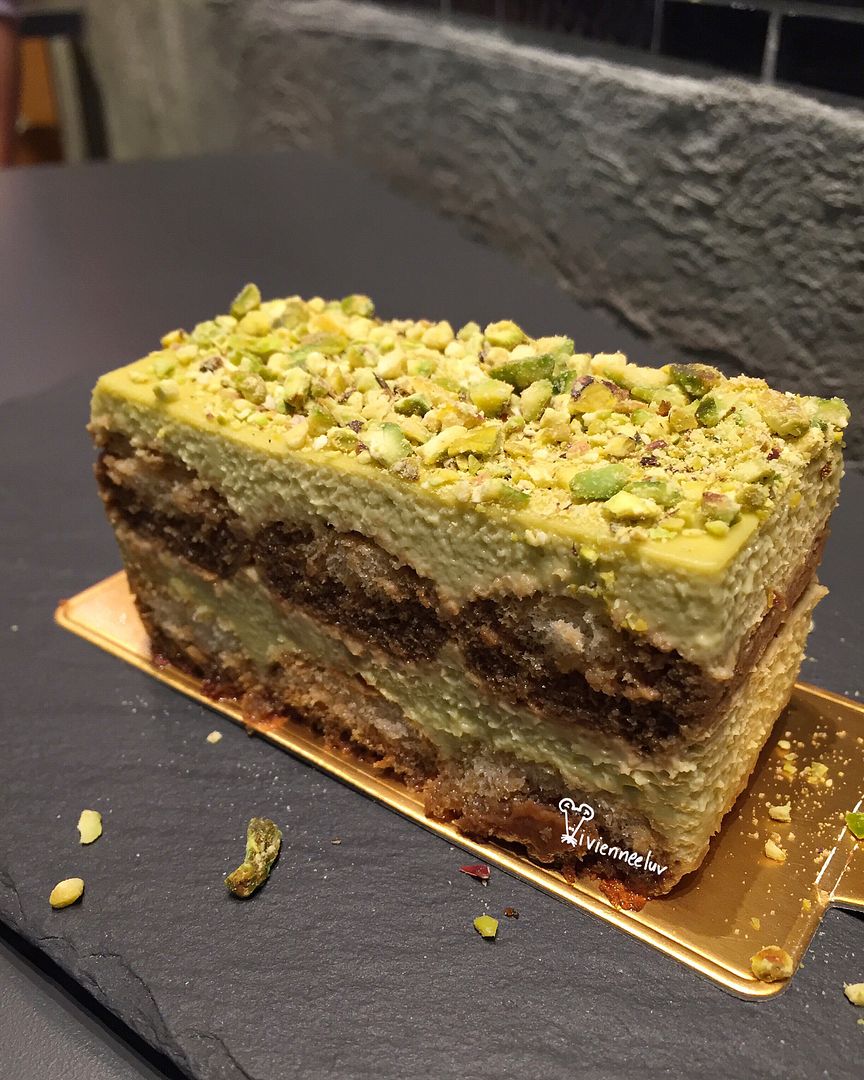 Pistachio Tiramisu S$7.50
Before our dinner, Matt & I passed by
Latelier Tiramisu
, we were so tempted to get share a slice of cake before dinner, thank god we did! One of the better tiramisu, so glad this tiny space expanded. Thanks Matt for the treat!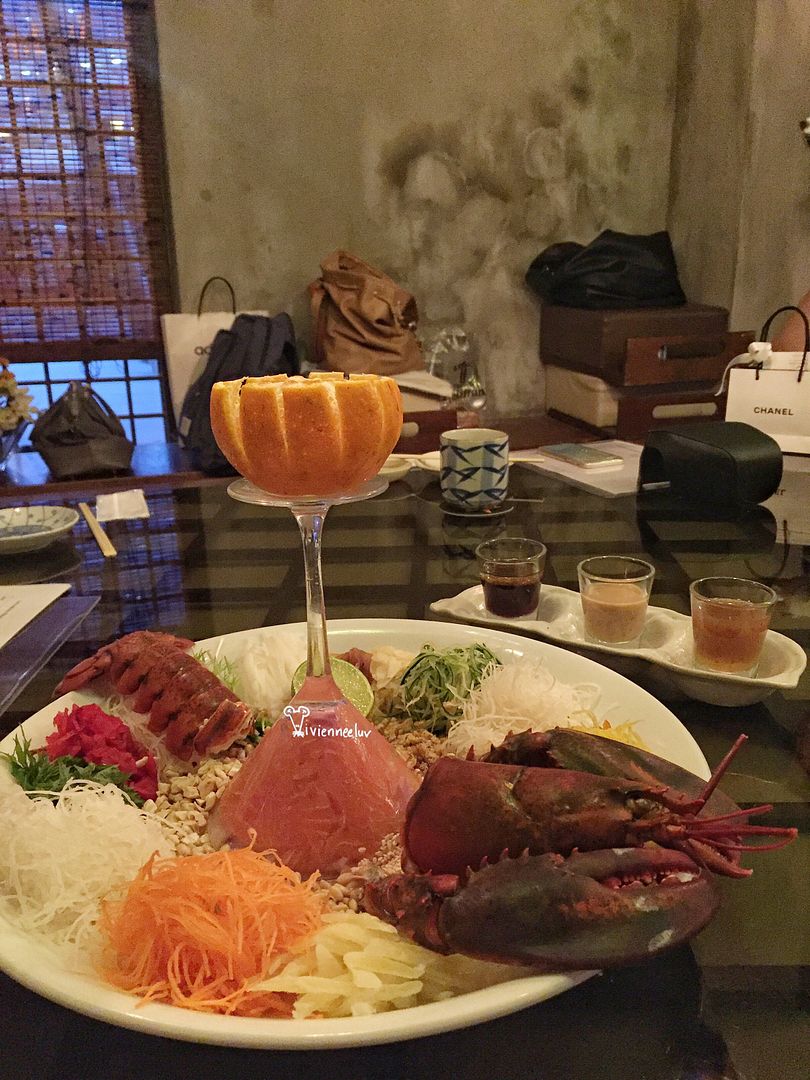 Abundance Yusheng S$68++ for 4-5pax (CNY Set S$128 for 3 pax)
This yusheng features Boston lobster, salmon sashimi, white fish sashimi, and a mixture of japanese sauces like goma sauce, Japanese oba leave sauce and sour plum sauce.
The plating did steal some of the attention, with its inverted champagne glass that contains the salmon sashimi, with a freshly peeled orange that sits on the glass. However, the rushing is not appetising enough, only can taste saltiness, maybe I am too used to citrusy, tangy refreshing yusheng.
Plum wine (comes with the set menu)
Tasted like Umeshu.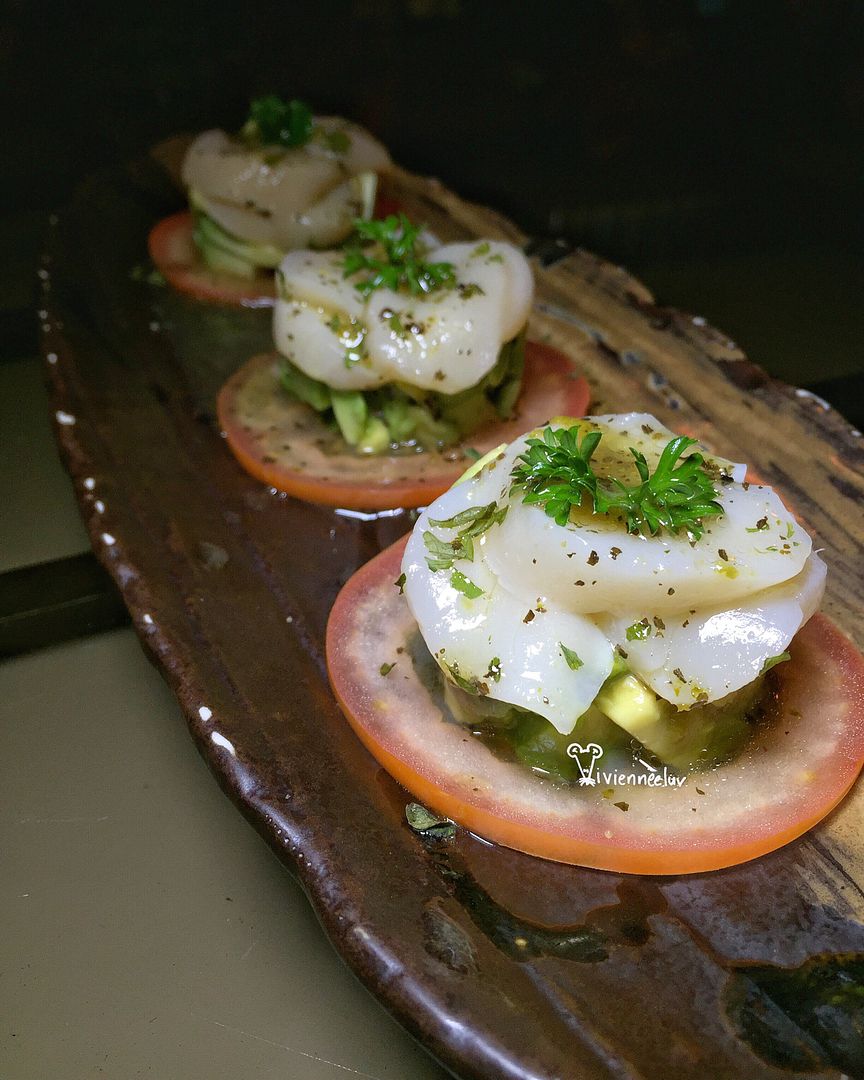 Hokkaido Scallop with Avocado Tar Tar Sweet Perilla Leaf Sauce S$18 (CNY Set S$128 for 3 pax)
A pity the scallops tasted a little stale.
Deep Fried King Prawn with Almond Slice S$28 (CNY Set S$128 for 3 pax)
I thought the best dish for that night is this prawn dish. I won't say we were served the freshest prawn, but something fried definitely won't go too wrong. However, the prawn itself is pretty bland. Matt said that it taste better with the pepper by the side.
Grilled Duck with Japanese Sour Plum and Fig Sauce S$$20 (CNY Set S$128 for 3 pax)
King Crab Claypot Rice S$24 (CNY Set S$128 for 3 pax)
The claypot rice tasted too bland for our liking and the rice is little too moist.
Although the CNY menu is a little disappointing, Phobe told us that their usual menu is better.
Thank you Tomo Izakaya for having us!