| | |
| --- | --- |
| Address: | 87 Science Park Drive #01-01 Oasis Singapore 118260 |
| Contact: | +65 64640410 |
| Operating Hours: | 11am to 2.30pm, 5.30pm to 10.30pm Daily |
| Website: | http://www.diamondkitchen.com.sg |
(15% off for new dishes, valid till 31st December 2016)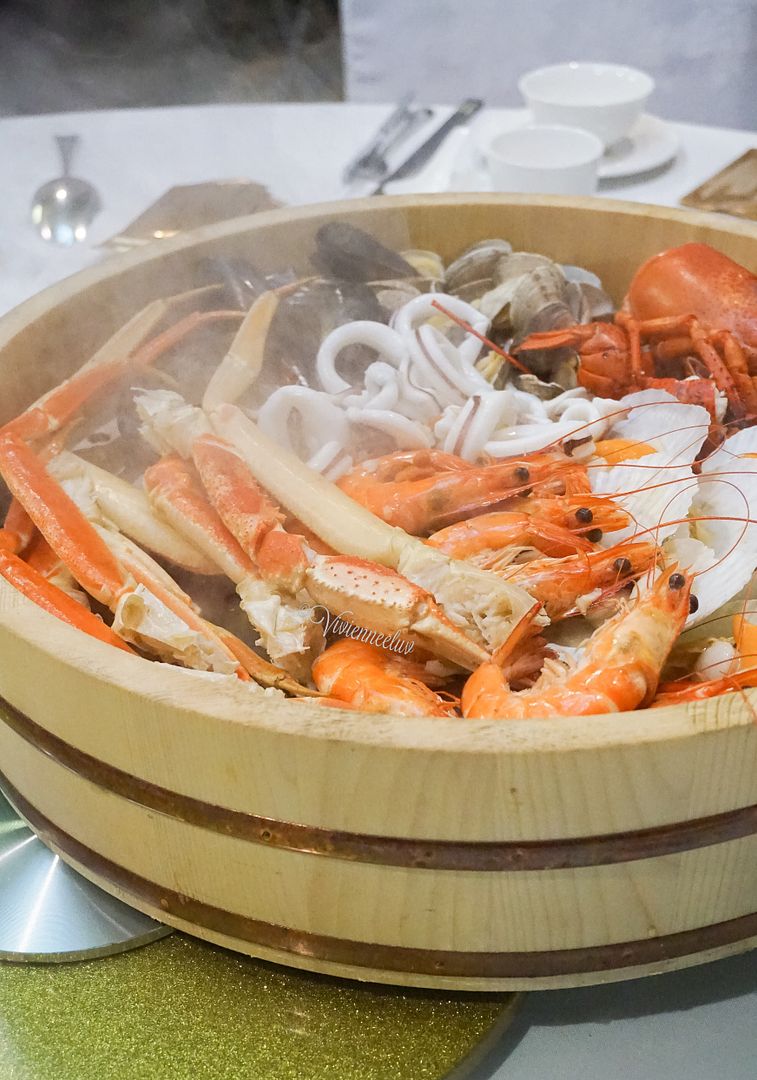 Trying to slow down my pace, and getting more rest time for myself since I am getting weaker as I aged. So glad to be finally starting to do some updates here, slowly but surely.
Its my 2nd time to Diamond Kitchen, and I remembered that day I wasn't feeling well but to my surprised I enjoyed the food so much even though I am not well. This goes to show how good they are.
Thai-Style Abalone S$60
The thai chili sauce with crunchy cucumber and onions underneath the abalone, is truly a great starter, to stimulate our appetite for the rest of the dishes to come.
I was awed by this grand entrance of this huge basket.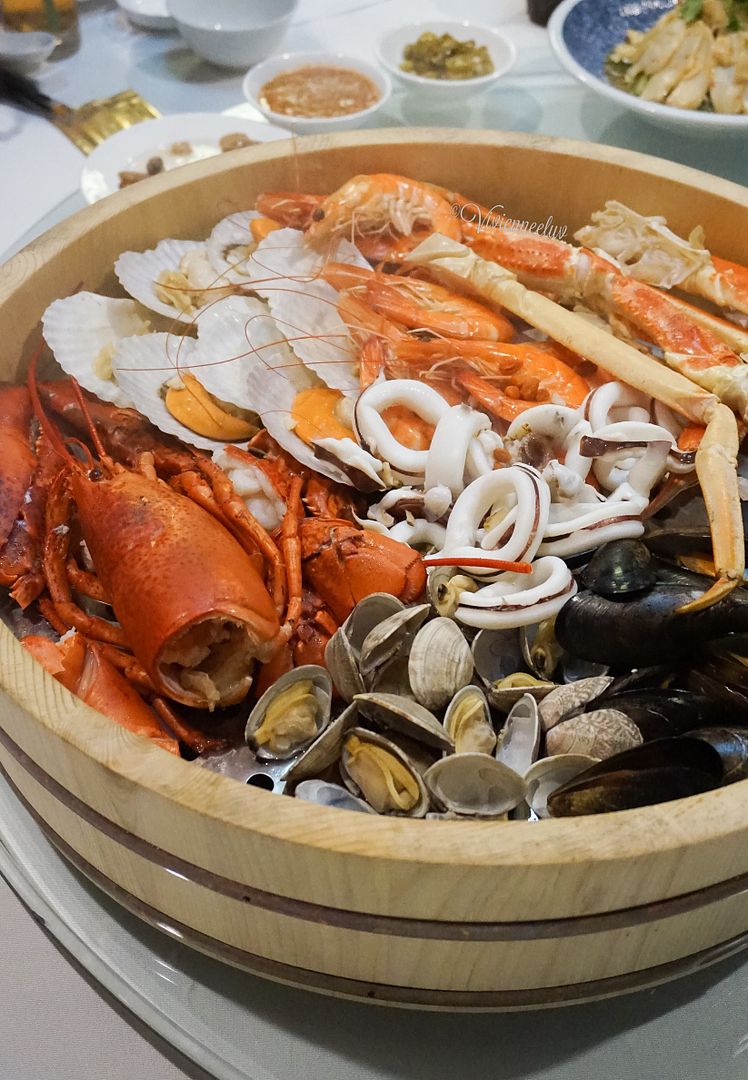 Diamond Sauna Treasures S$188 (2 to 4 pax)
only available at Science Park outlet
This steamed basket consists of boston lobster, prawns, snow crab legs, scallops, black mussels, squid, flower clams. The sauna bath concept that the chef uses, ensures the balance of moisture and sweetness in every bite, and every bite we can taste the seafood broth fragrance.
Although I feel the seafood already taste good on their own, there are also 4 homemade sauce to complement them - Hong Kong Steam Sauce, Garlic Chili Sauce, Black Bean Chili Sauce, and Gan Xiang Sauce.
If you are bringing the whole family, Diamond Kitchen also serves a bigger portion of Diamond Sauna Treasures for S$368 which can be served up to 8 pax.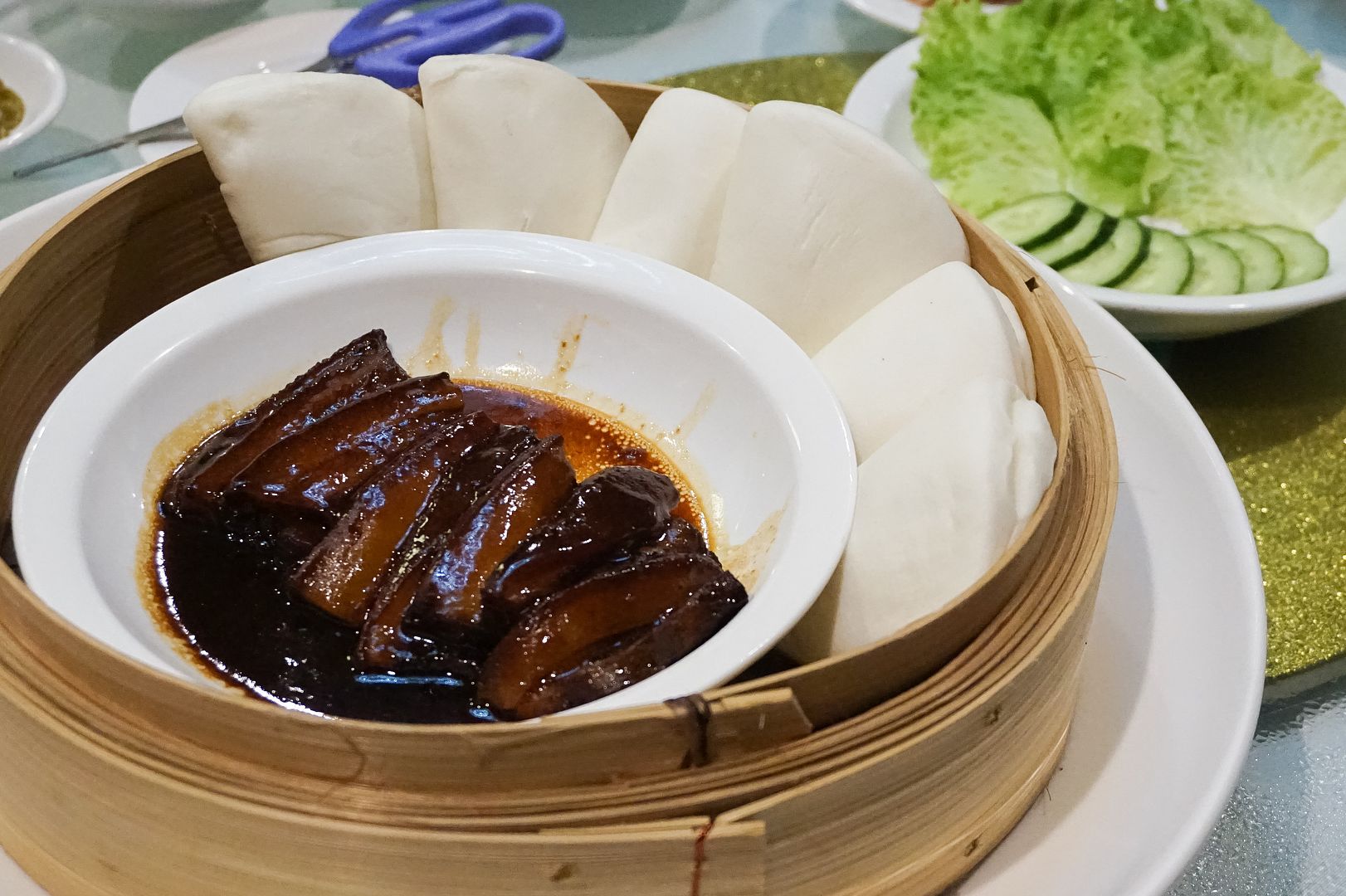 Kong Bak Pau S$18
These thick slabs of pork belly are braised in premium black sauce seasoned with five-spice, soya sauce, sugar and pepper till fork tender. Remember to slip in some lettuce, cucumber for some crunch and chili sauce if you would like some spicy kick in this sinful yet delicious buns.
A bigger portion is also available at S$36
Ba Ba Pomfret S$38
Golden pomfret is used for this dish and it has a firm and tasty flesh. I have to say I love the sauce so much that I could eat the sauce with 2 bowls of rice on its own.
If you love assam like me, you will definitely love this dish. The tamarind sauce is made up of onions, garlic, chili and ginger flower, and topped with long beans, tomatoes and pineapple slices.
Diamond Herbal Chicken S$38
Kampong chicken steamed in a broth of Solomon's seal root, ginseng, angelica root and sweet wolfberries, and the meat is tender.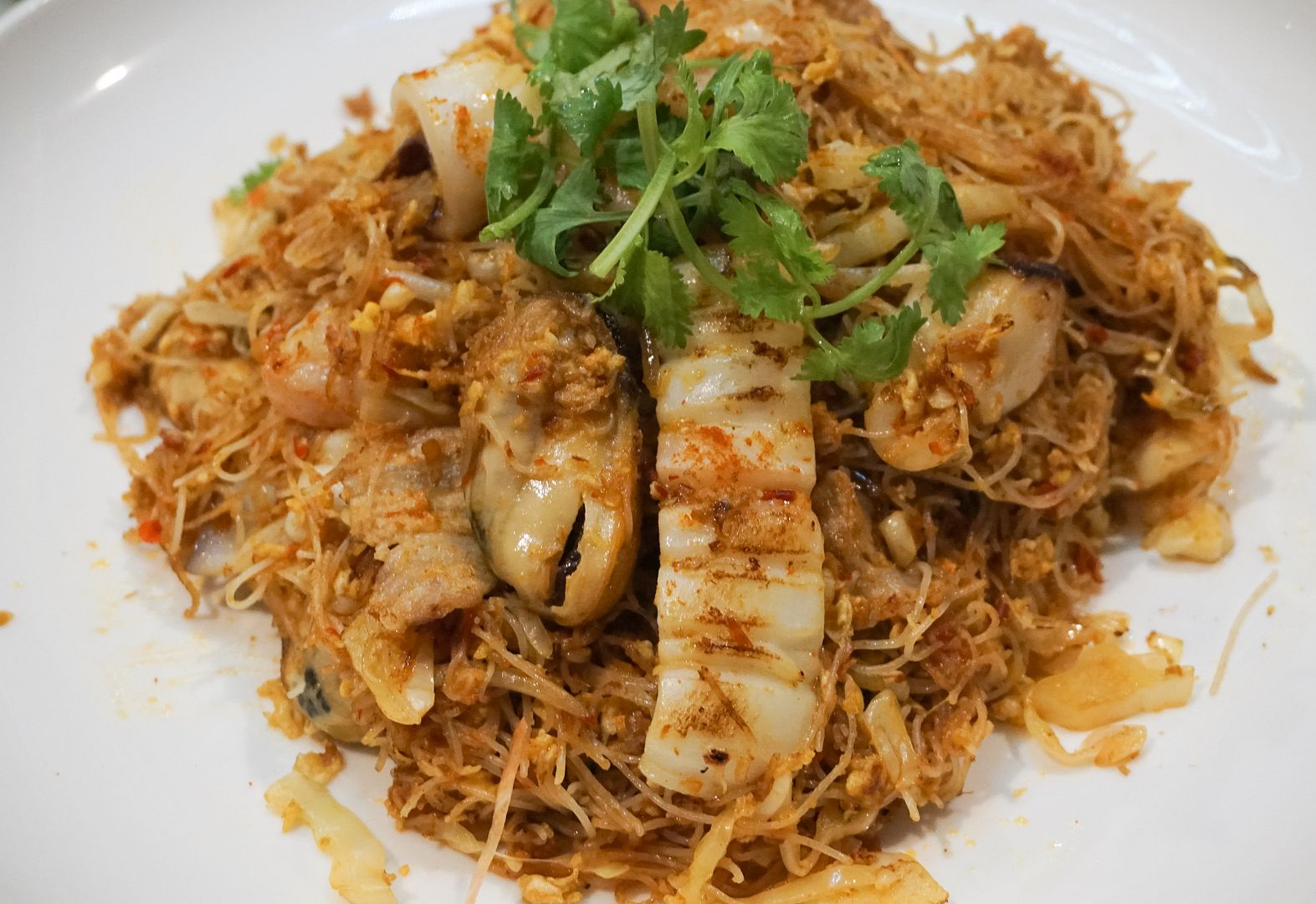 Gan Xiang Bee Hoon S$25
(good for 4 pax)
Diamond Kitchen had introduced quite a number of Gan Xiang inspired dishes, this time round its bee hoon with prawns, pork belly slices, and juicy mussels.
This dish is slightly spicy as the spice paste is made from frying hae-bi hiam (spicy dried shrimp), curry powder, lemongrass, dried chili, and fermented soy bean paste and some secret ingredients.
Ended our meal with our usual favourite desserts - Orh Nee and Lemongrass Jelly!
Thank you Diamond Kitchen for having me, and Happy 3rd Anniversary!