Hello! I am finally BACK! And not only back, but also back to introduce some awesome, new & cheap FOOD! Enjoy viewing my pictures first, then you may proceed to RamenPlay IHQ from 6th March 2014 onwards for these delicious food! Subsequently, they will launch these new sets at all other RamenPlay outlets maybe in April 2014. Another news is that they will be closing the outlet (their first outlet) at 313 Somerset, then open a new one (they said it will be a new concept, I am excited too!) at Lido! If you have't know, Lido is currently under some major renovation. Can't wait to see the previous outdoor Mcdonalds transform to a food paradise maybe?
Ok, I was invited to a media tasting last week at RamenPlay IHQ. Please scroll through slowly and enjoy viewing + drooling. I foresee there will be a massive upload of pictures. :D Sorry for the poor quality pictures taken with my iPhone 5, and the poor lighting :p
MY NAME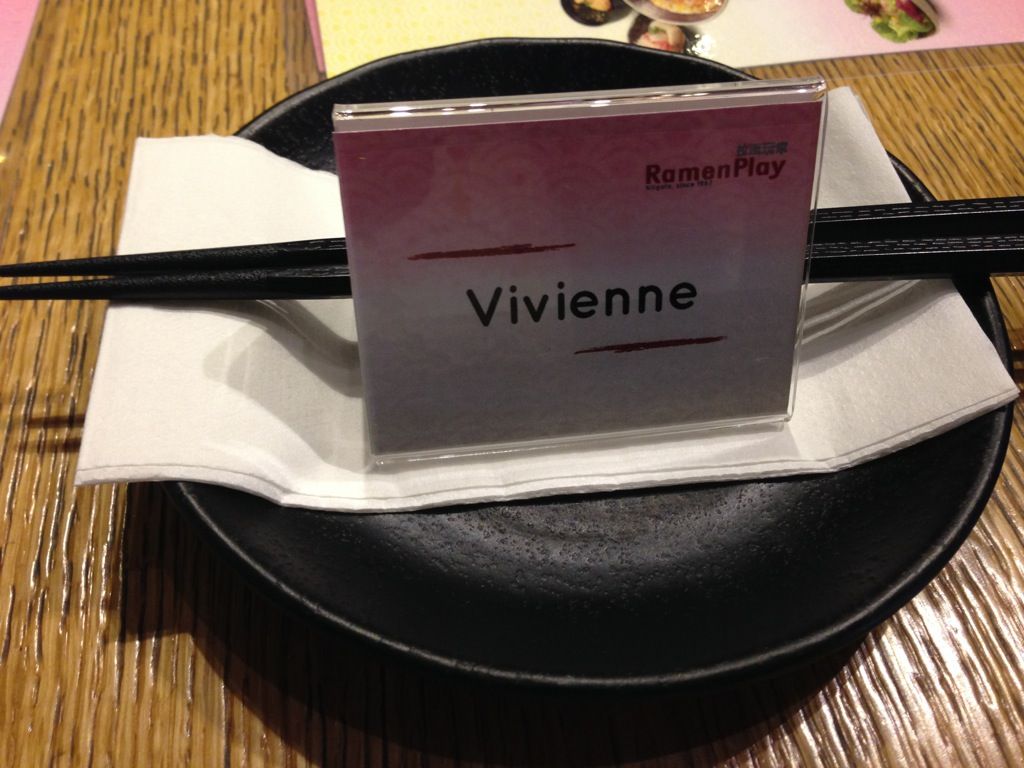 We were told that these lanterns were specially painted.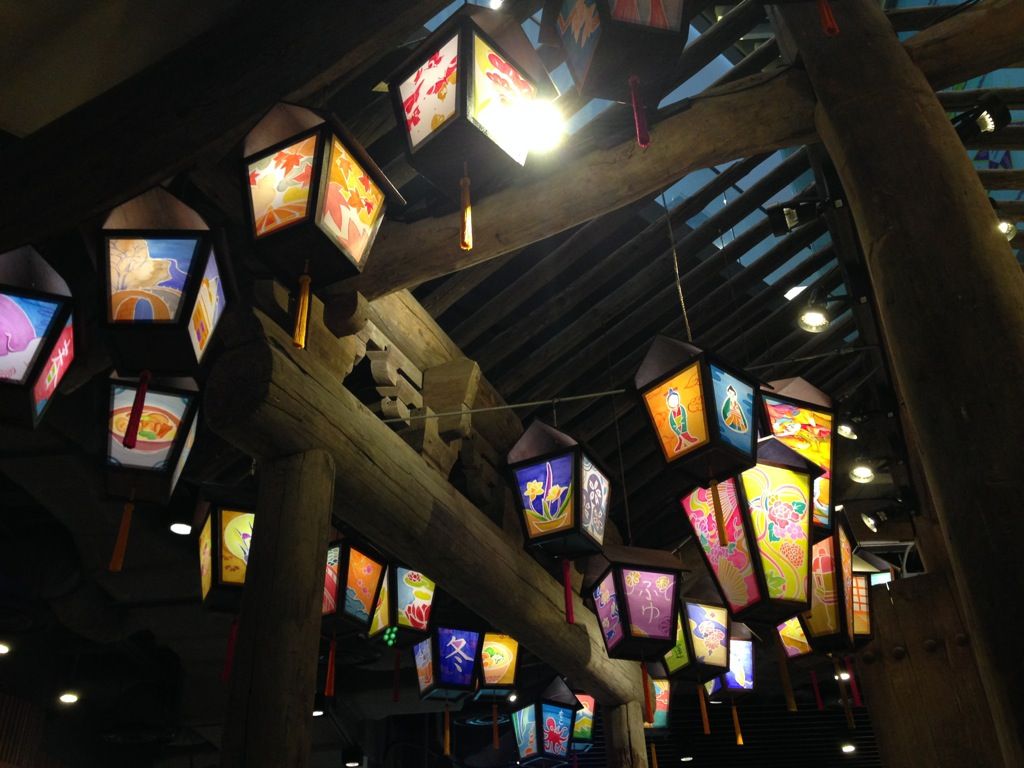 MOMO DON SET S$12.80
Served with Agedashi Tofu and miso soup, the Tori Momo Don Set features a sunny-yellow topping of steamed egg and chicken flavoured with special Shoyu sauce atop a bed of Koshihikari rice. Simple and satisfying!
The first dish already wowed us. I had always love Japanese food, and I love rice more than noodles. I fell in love with Katsu Don during my poly days because of the egg topped on yummy Japanese rice.
TERIYAKI CHICKEN DON SET S$12.80
The Teriyaki Chicken Don Set is a classic dish comprising pieces of supremely tender chicken thigh that are pan-fried and seasoned with the all-time favourite Teriyaki sauce. Sprinkled with slivers of crisp seaweed, this delicious set is accompanied by a side of Agedashi tofu and miso soup.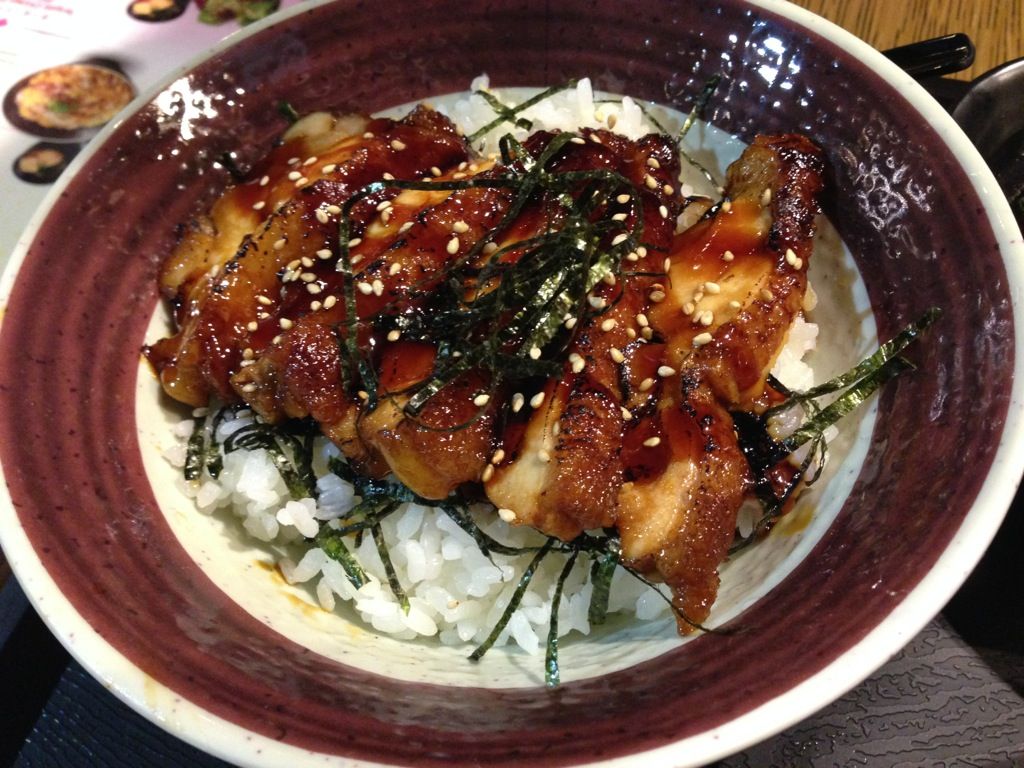 I ate all these in order, so after the first dish, we next had this Teriyaki Chicken Don, the chicken is so tender! Love teriyaki sauce. And what attracted me is, all these don comes with miso soup and either a salad or agedashi tofu. How awesome, all for S$12.80?? We were told to pick out 2 favourites, so this is one of K's favourite.
CHU SHU DON SET S$12.80
RamenPlay's rendition of the Cha Shu Don Set presents a meaty topping of teriyaki marinated diced pork loin over an inviting mound of top-grade Koshihikari rice, and served with a complementary miso soup and mini salad. Crowned with a slow-cooked onsen egg, the Cha Shu Don Set makes a wholesome meal. Mix well to enjoy succulent meat in every mouthful!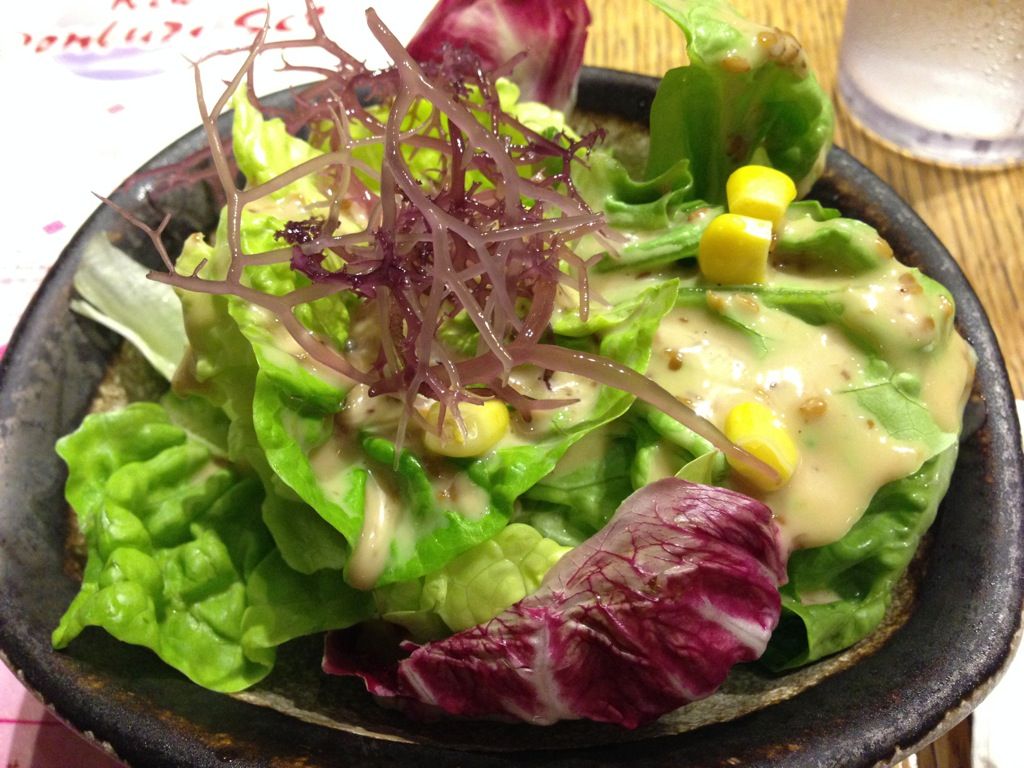 Friends who know me will know that I actually dislike pork. Pork usually has some bad smell unless the pork is marinated so throughly that the smell is killed, if not i am not going to eat it. Minced meat like Bak Chor Mee, I will drenched them with vinegar and chilli, however there will still be fatty parts that I will spit out. I can take kwey chap meat too as it is marinated, cooked for hours in the black gravy, however I can't eat too much. This totally blown me away, the meat is so well marinated with teriyaki sauce, i eat every mouthful of rice with a lot of meat, and its awesome, and oh ya, there is onset egg on the top! This is 1 of my favourite! I was surprised!
PORK YAKINIKU DON SET S$12.80
The Pork Yakiniku Don Set is a classic example of how a good cut of quality meat and premium rice can make up a simple yet memorable dish. Tuck into a steaming bowl of glorious rice layered with thinly-sliced grilled pork glazed with RamenPlay's special sauce. The dish is topped off with an onsen egg and customers can mix all the elements to enjoy a deeply-comforting creamy combination of both flavour and texture.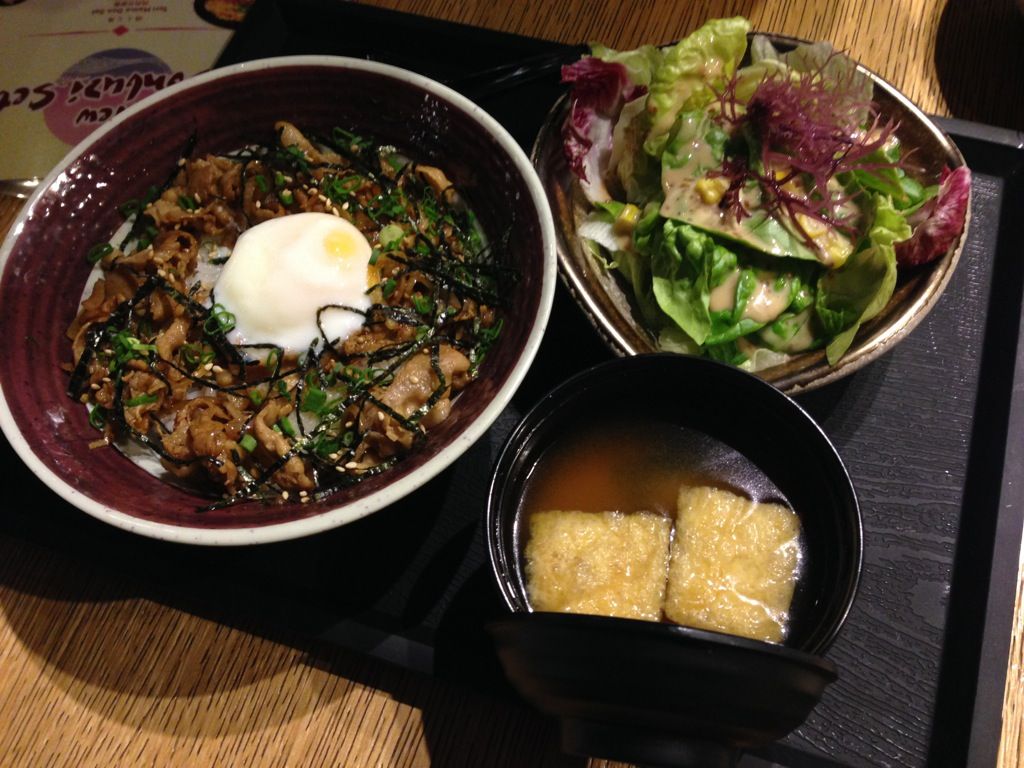 Guess what?? This is my 1 of my favourite too! Both PORK don won hands down. This yakiniku suddenly reminds us of Tokyo's Yoshinoya. Although it may be far from that (I can't remember), but once I took a bite into the Pork Yakiniku, my mind goes ''woah, this is so good'', turned to K and said ''you know my reaction is almost like what I had in Tokyo's Yoshinoya when we had the Pork Bowl'' he totally agrees.
CHICKEN KATSU CURRY DON SET S$12.80
No Japanese menu is complete without its sought-after curry katsu dishes. Customers have a choice of pork loin or chicken thigh for their Pork/Chicken Katsu Curry Don Set which features a winning trinity of breaded pork/chicken cutlet, Japanese rice and curry gravy. The hearty dish is accompanied with a refreshing mini salad tossed in Japanese sesame dressing. The extra crunch from the salad comes from the unique red Tosaka seaweed known for its vibrant colour and nutritious benefits.
Find that the curry lacks a little in flavour, but this is a mixture of Japanese & Indian curry! The chicken katsu is sooooooo crispy, I didn't eat immediately after it was served, and it remains so crispy!
YAKI GYOZA S3.60 FOR 3 PCS/S$5.80 FOR 5 PCS
Try the handmade gyoza (meat dumplings) – plump with pork fillings encased in a thin wanton skin - that have been skilfully pan-fried to be deliciously crisp on the outside yet tantalisingly moist within. Polish off these delicately-wrapped dumplings with the accompanying house dip of shoyu and chilli sauce.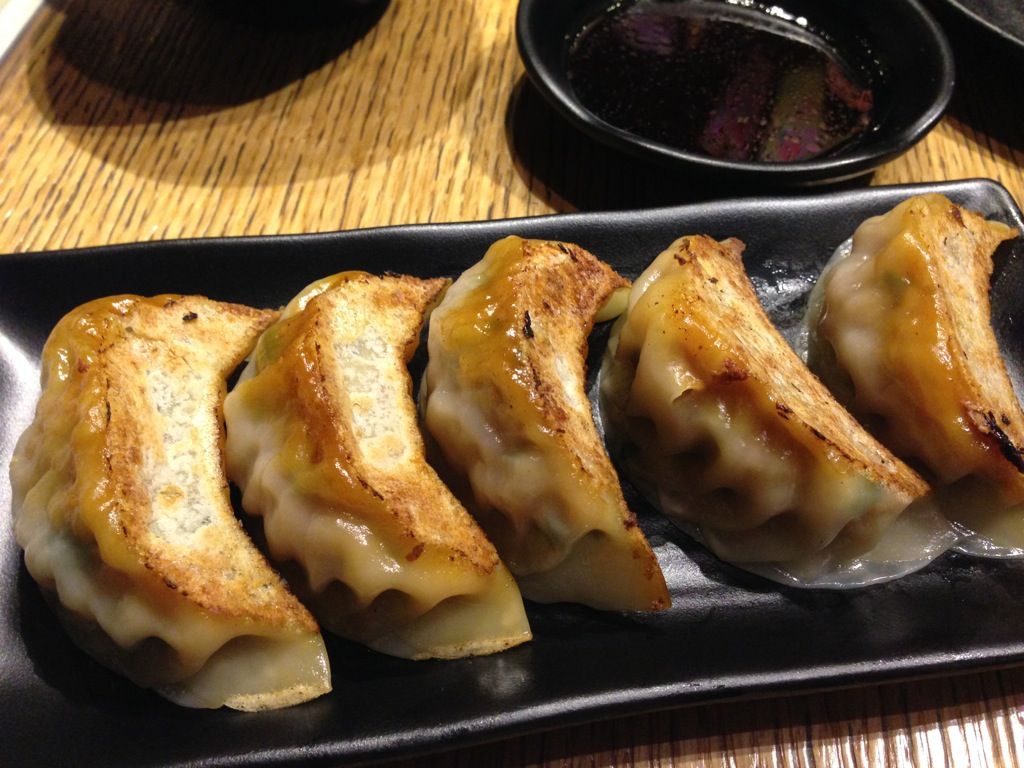 CRISPY DANGO S$3.60 FOR 3 PCS
Complement the mains with some notable sides such as the Crispy Dango – juicy chicken meatballs are deep-fried then slathered with a winning combination of mayonnaise and plum sauce for a moreish snack.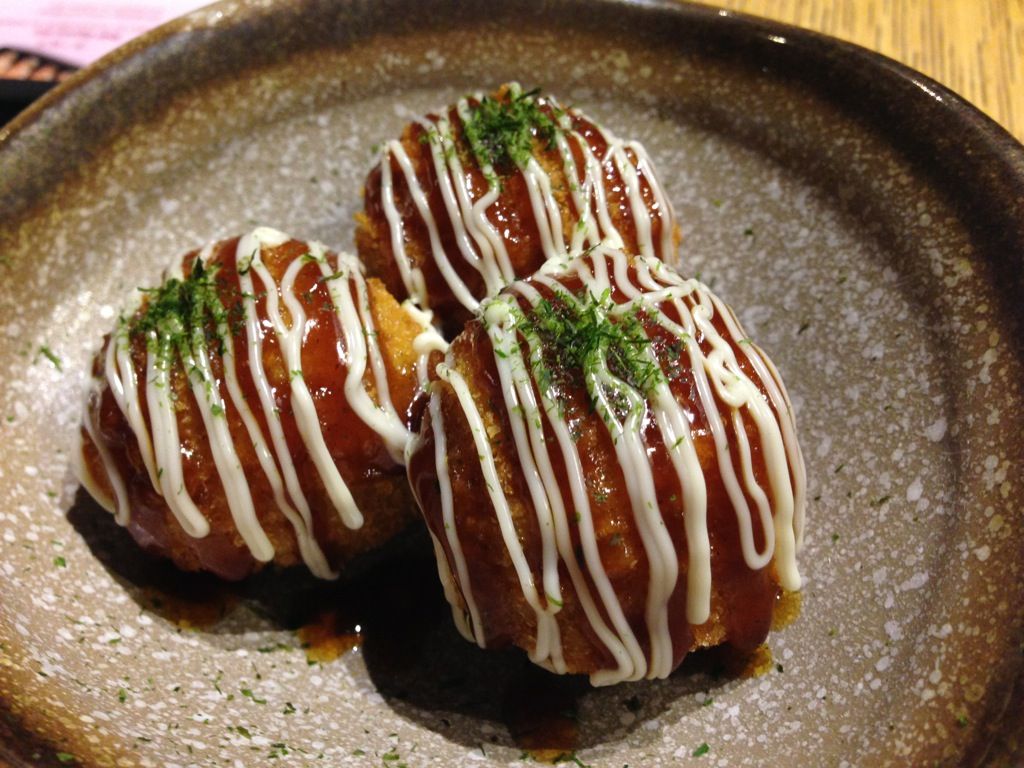 Indeed cripsy, however after eating 1, I felt a little her-lut, it may also be died to we had tried many don set earlier, and my tummy is bursting. If you are having a potluck party, you may wish to call RamenPlay up to order a few hundreds of these Crispy Dango for your party!
SANPOU TONKOTSU RAMEN S$16.80
Springy noodles are steeped in RamenPlay's traditional rich pork bone-based broth and piled with three different braised pork cuts for maximum decadence – pork jowl, pork belly in special sauce, and pork belly in Japanese Cha Shu sauce. Accompanied by half a braised egg with a perfectly runny centre, generous slivers of preserved bamboo shoots, and a measured dash of spring onions, this house special is must-try.
I remembered when RamenPlay first opened (313 Somerset outlet), i saw so many posts in FB, pictures of ramen, and saying how nice it is. So darling brought me there, and I really like their ramen. Thereafter, I brought K to the outlet at NEX, for lunch. The ramen are still good but the service is slow. Not to worry, RamenPlay is aware of this, they are training up more staff so that they have quality as well as quantity. And most importantly their food are fresh, they don't mass-cook their food, so when you ordered, they will then start cooking, this explains why the service is a little slow, but they are looking into this issue :D Hoping to see improvements soon!
THE RICE
Will intro more later!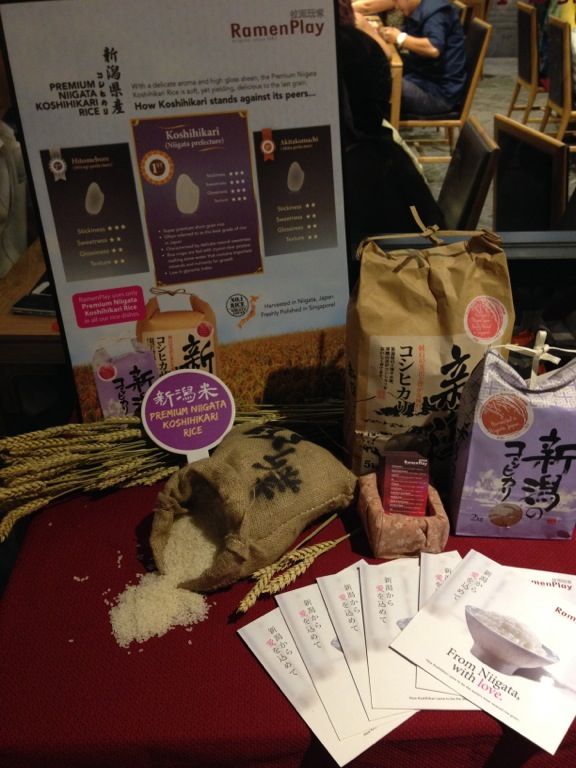 SUPER YUZU S$4.80
A very refreshing Yuzu juice, yuzu peel with soda. After eating so much, this is so needed. And it looks so refreshingly yummy.
SANPOU TONKOTSU RAMEN
Earlier on one was the real serving portion, this one is tasting portion, we each had half an egg, so nice of them! Presentation is good too!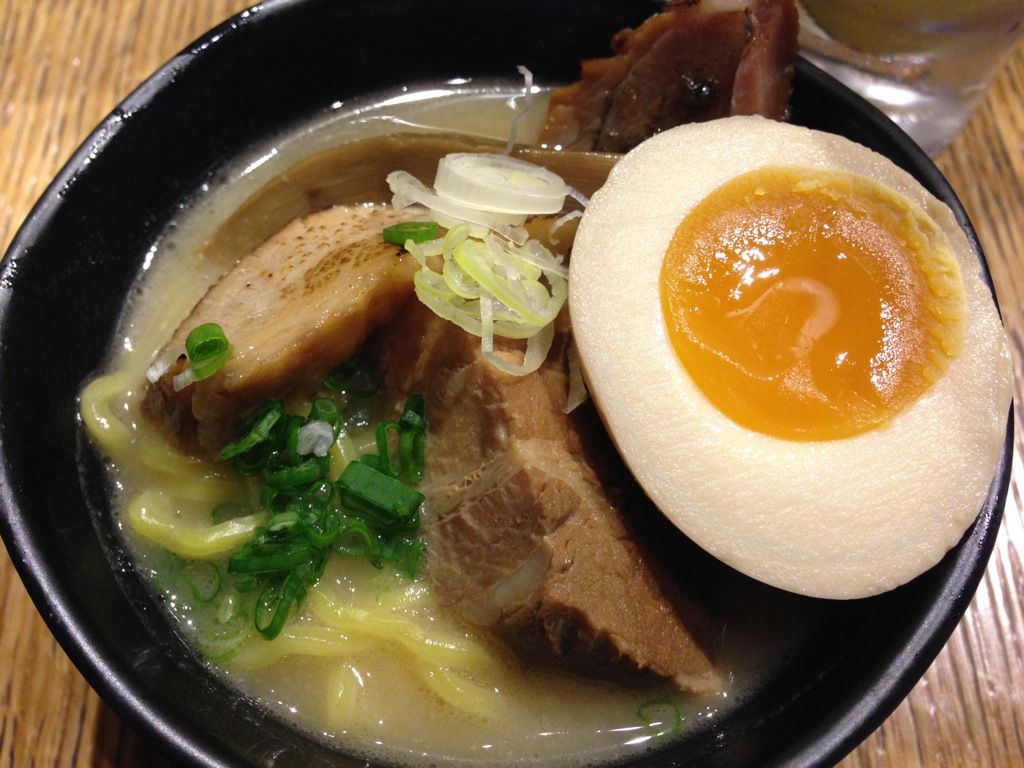 BUTARIKI ISHINABE S$13.80
Served in a heated stone pot rice bowl to ensure that it is best enjoyed at the optimum temperature, this signature dish boasts both pan-fried and barbecued pork, spring onions, seaweed, raw egg and a drizzle of RamenPlay's addictive secret sauce. Work all ingredients well with the pearly morsels of Koshihikari rice, and be prepared to be blown away by the burst of flavours!
Like what it says, ''bursting with flavour''.
Doing his thing and explaining to us at the same time.
Finally its desserts time.
CHILLED SHIRATAMA ZENZAI S$4.80
Desserts are no after-thought at RamenPlay. New on the menu is the Chilled Shiratama Zenzai ($4.80) which features a comforting combination of chewy glutinous rice balls complemented with chunky Azuki bean paste. This rendition is served chilled and a light drizzle of Kuromitsu sauce (brown sugar syrup) is added for an aromatic boost.
Had always eat this hot, this chilled version is great too!
Not for sale, this is our tasting portions and its so pretty! Could just book a portion of the restaurant for some birthday parties and get to do this for us!
WARABI MATCHA MOCHI ICE CREAM S$4.80
Be wooed by the all-new Warabi Matcha Mochi Ice Cream ($4.80); a standout bittersweet dessert comprising three elements such as the classic Vanilla ice cream, sweetened azuki beans and chewy matcha mochi cubes which are served warm upon ordering.
The warabi is so good! QQ, chewy! They are right, there is always room for desserts. Desserts' stomach space is always different.
A surprise for us, arranged so prettily for us. <3
PREMIUM KOSHIHIKARI RICE
All the donburi you see here, are made with premium Koshihikari Rice from Niigata prefecture. They produce the highest quality rice in Japan and is known for its distinctive flavour and sticky texture. We get to bring home a pack each, and I am so freaking happy because I love Japanese rice!
Only Koshihikari rice from the Niigata region in Japan is used at RamenPlay. Grown with melted snow-water that contains vital materials and nutrients, the rice is extremely rich in flavour and is characterised by a delicate natural sweetness! Home cooks will be delighted to know that they can purchase a bag of these premium rice pearls at all RamenPlay outlets. Purchase a bag of 2kg rice at $16.80* (U.P $28) and enjoy a 40% saving of $11.20.
*Prices stated are not inclusive of GST.
LOOK WHAT I DID WITH THE RICE
Was baking the other day and decided to ''play cheat'' and make lunch. Cook the rice and CP teriyaki chicken because I simply miss the don I had at RamenPlay. Cheat meal.
AT THE TASTING SESSION
SUSHI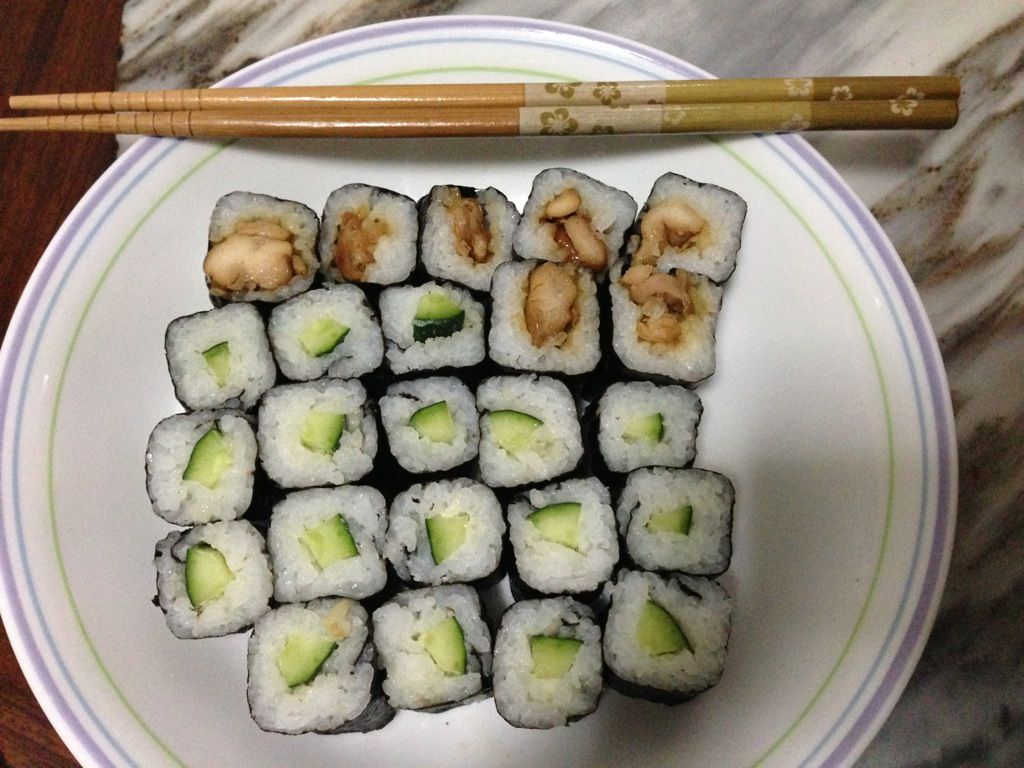 And fresh from this morning. Mum woke up at 4am, made sushi for us with Koshihikari Rice!
Lastly, thank you RamenPlay for having us, and thank you Shauna & Carlyn. It has been a wonderful night. Yum yum in our tums tums!
RamenPlay
Please click here of RamenPlay outlets.